Parade of storms brings flood threat to Northeast, cities along I-95 corridor
The next storm system will roll through on Saturday with strong-to-severe storms possible in the afternoon.
NEW YORK – After rain moved through the region Thursday, the Northeast is gearing up for even more storms this weekend. This continues the soggy summer theme for millions of Americans, whose outdoor plans have been ruined multiple times over the past two and a half months.
The next storm system will roll through Saturday, with strong-to-severe storms possible in the afternoon, according to the FOX Forecast Center. 
Strong to severe storms are possible Thursday.
(FOX Weather)
---
Enough wind shear will be in place for damaging winds, large hail and potentially a tornado or two from the Ohio Valley to New England. These storms will also be decent rainmakers, dropping heavy rain at times. 
7 FACTS YOU SHOULD KNOW ABOUT FLASH FLOODS
The rain is falling on already saturated ground from a very wet summer. So, flash flooding will be a concern through Saturday night, the FOX Forecast Center noted.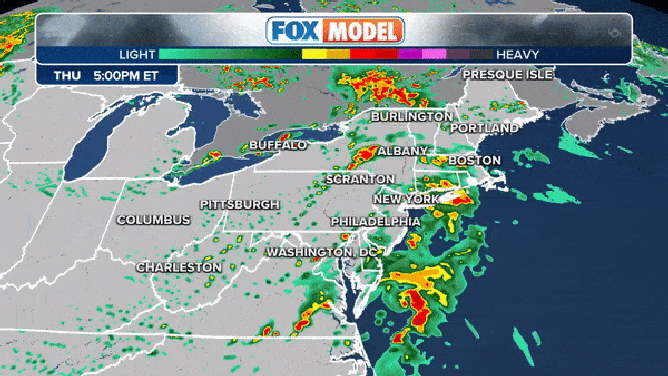 High pressure takes over briefly drying out the coast and ushering in some sun before a cold front from the next storm plows through Sunday morning. 
The next storm brings another flash flood threat for late Saturday into Sunday.
Flash floods are possible.
(FOX Weather)
---
The final system in the series arrives Monday in western New York and Pennsylvania during the day, while the seaboard will enjoy more sun until evening.
"High pressure briefly settles in again before the frontal system moves in late Monday," wrote the NWS on New York's forecast discussion. "High pressure returns for mid-week."
Soggy summer
These storms come on the heels of an early week storm that spawned tornadoes in Upstate New York on Monday and Massachusetts on Tuesday. 
Residents are still clearing downed tree limbs from yards. Memories of flash flooding and the dozens of water rescues of drivers trapped in their cars are still fresh.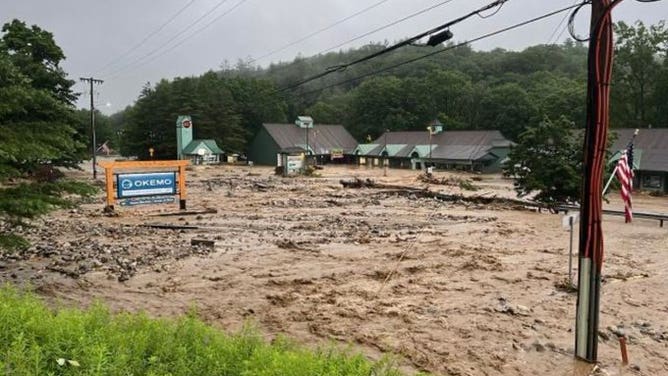 So many cities across the Northeast can't handle any more rain. 
Early July flooded much of Vermont as heavy rains forced rivers out of their banks and through towns, prompting evacuations. Rain fell at a rate of 1-2 inches per hour over Boston in late July. Water cascaded down the stairs of Fenway Park like a waterfall, and officials suspended the Mets-Red Sox game in late July.

Hartford, Connecticut, has seen a third more rain than normal for this time of year. That's almost 10 inches more. Portland, Maine; Syracuse, New York; and Albany, New York, have gotten 20% more rain than normal so far this year.