Baseball fans at Fenway Park wade through floodwater as storms force suspension of Mets-Red Sox game
The heaviest rainfall is expected in a region between the Adirondack and White Mountains, where forecast models show 1-3 inches falling through Saturday morning.
A cold front advancing through the Eastern Seaboard on Friday night created scenes that resembled movies as rainwater rushed down staircases at Boston's historic Fenway Park.
The match between the New York Mets and Boston Red Sox got underway just after 7 p.m. but during the fourth inning, umpires halted play due to an approaching storm.
Fans tried seeking shelter wherever they could but the torrential rainfall that was estimated to have fallen at rates of 1-2" per hour was too much for the 111-year-old stadium to handle.
Videos taken by spectators showed rainwater flowing down nearly every staircase that was exposed to the elements and concourses resembled lakes as fans tried to wait out the storms.
The National Weather Service in Boston issued a Flash Flood Warning for several counties in the metro region and warned that travel could be hazardous due to unknown water depths and nightfall.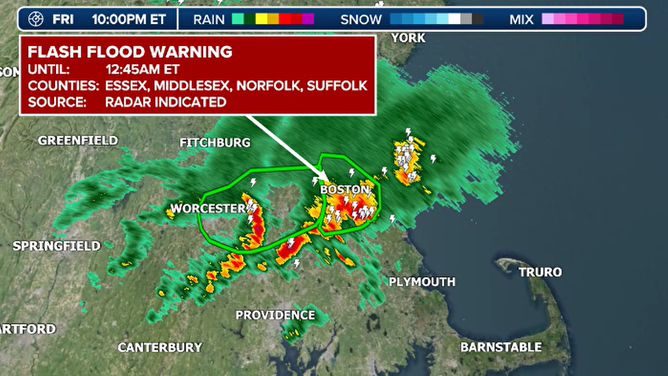 DEBUNKING 7 MYTHS ABOUT LIGHTNING
Shortly after the alert, umpires suspended play until at least Saturday afternoon, when the field should be in much better shape.
The NWS office received dozens of reports throughout eastern Massachusetts of flooded roadways, basements and water rescues but as of Friday evening any were no reports of any injuries associated with the extreme weather.
Beantown not the community that faced a flood threat
Before the latest round of wet weather, Flood Watches were in place for many communities between the Adirondack and White Mountains, where forecast models showed the heaviest rainfall was expected to occur.
Much of the region's soil was already heavily saturated from a series of rounds of rain in July that caused historic flooding in parts of New York and Vermont.
Cities in the northern part of the Green Mountain reported water levels not seen since the the Great Flood of 1927.
Fortunately, the FOX Weather Center expects the Northeast to dry out with a return to summer-like conditions next week.
7 FACTS YOU SHOULD KNOW ABOUT FLASH FLOODS