Massachusetts hit by tornadoes, amid water rescues and evacuations
Tornadoes in Massachusetts are not an everyday event. According to local meteorologists, the state typically sees less than half a dozen twisters per year. In addition to the wind damage, communities north and west of Boston saw heavy rainfall, which led to flash flooding. Lawrence, Massachusetts, reported more than 6 inches of rain, and rescues took place in Cambridge and North Andover.
BOSTON – Communities in the Commonwealth of Massachusetts experienced a wild Tuesday morning with flash flooding north of Boston and tornadoes reported along the southeast coast.
The National Weather Service office in Boston confirmed the tornadoes briefly touched in the town of Mattapoisett and Barnstable.
Photos from local emergency management officials showed several large Pine and Maple trees that were uprooted by the EF-1 twister with winds estimated to be around 95 mph around Mattapoisett.
METEOROLOGISTS CONFIRM EF-1 TORNADO TOUCHED DOWN IN SOUTHERN NEW HAMPSHIRE ON THURSDAY

According to the NWS, tornadoes are not a rarity in the state but are hardly a frequent occurrence.
During an average year, the state sees around three tornadoes, many of which are on the lower end of the Enhanced Fujita Scale.
The scale runs from an EF-0, which is considered to be the weakest of all tornadoes, to an EF-5, which has winds of at least 200 mph and is capable of incredible damage.
Tuesday's tornadoes were the third and fourth reported in Massachusetts so far in 2023.
On July 16th, an EF-0 tornado touched down in the community of North Brookfield, and on July 29th, an EF-1 caused damage in Foxboro.
Meteorological summer is when the state typically sees its most tornadic activity and is when the deadliest tornado to impact New England rolled through more than five decades ago.
According to the NWS, an F-4 tornado flattened Worcester and surrounding communities on June 9, 1971, causing 94 fatalities and a 2023 damage equivalent of more than $500 million.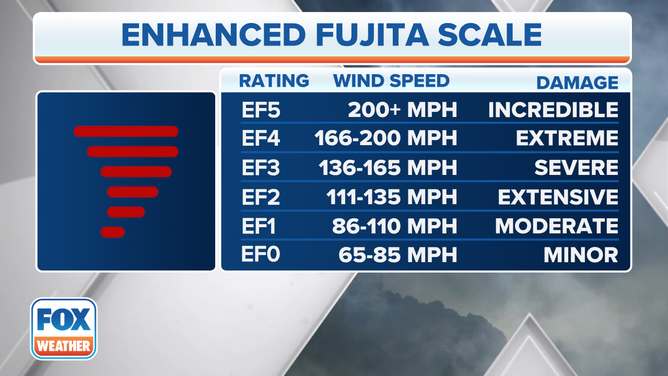 BASEBALL FANS AT FENWAY PARK WADE THROUGH FLOODWATER AS STORMS FORCE SUSPENSION OF METS-RED SOX GAME
Tuesday's storms triggered flooding and water rescues
Flooding was reported in communities north and west of Boston, as more than six inches of rainfall occurred in a period of only a few hours.
The highest rainfall tally was reported in Lawrence, and water rescues were witnessed in Cambridge and North Andover.
In Essex County, first responders reported a senior housing center with approximately 150 residents had to be evacuated due to high water.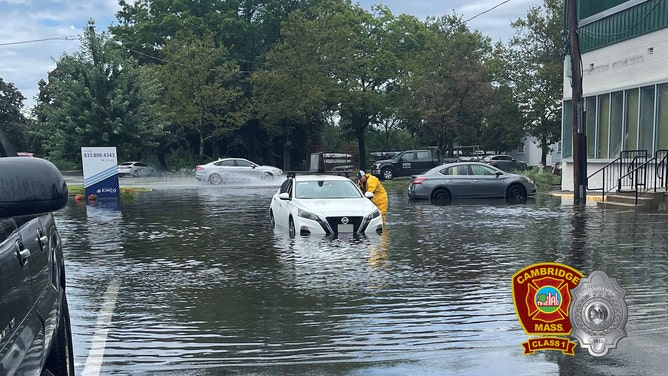 And in Cambridge, firefighters responded to a vehicle that attempted to maneuver through too high of water in a flooded parking lot.
Due to rainfall rates of between 1-2" per hour, the NWS issued a Flash Flood Warning for more than half a dozen counties throughout Massachusetts, but as of Tuesday afternoon, many of the alerts were either canceled or expired.
There were no reported injuries associated with Tuesday's wild weather, and most power was restored in the hours after the storms.