Meteorologists confirm EF-1 tornado touched down in southern New Hampshire on Thursday
The Granite State typically averages two tornadoes per year, according to the NWS. Usually, the twisters are weak and are commonly rated either EF-0 or EF-1 on the Enhanced Fujita Scale.
DUBLIN, N.H. – A National Weather Service survey team that toured communities across southern New Hampshire believes an EF-1 tornado was to blame for some of the storm damage reported around the town of Dublin on Thursday.
Dublin is about a 20-minute drive from Keene, where at least one storm spotter reported seeing the tornado and relayed the information to the NWS.
The NWS office said due to the report and rotation on radar, meteorologists issued a Tornado Warning that alerted residents in the storm's path that the twister was observed on the ground.
Authorities reported trees fell on cars and power lines. The survey team also found some siding on buildings was damaged, and a small solar farm was impacted by the winds.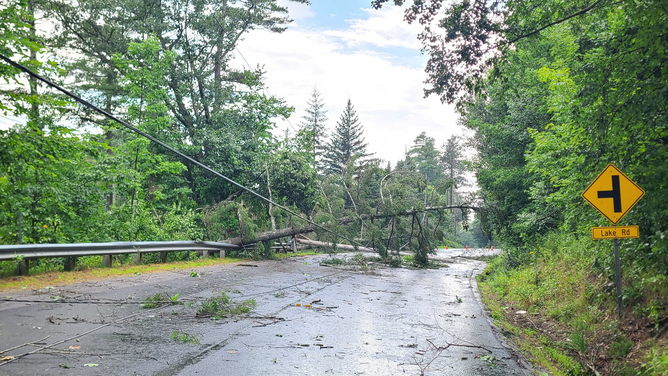 HOW ARE TORNADOES RATED? THE ENHANCED FUJITA SCALE EXPLAINED
Based on the damage, the team estimated winds reached 95 mph, which ranks on the lower end of an EF-1 on the Enhanced Fujita Scale.
The scale runs from an EF-0, which is considered to be the weakest of all tornadoes, to an EF-5, which has winds of at least 200 mph and is capable of incredible damage.
There were no reported injuries associated with Thursday's tornado, and power was restored to the impacted communities within hours.
Tornadic activity is uncommon in New Hampshire
According to the NWS office that covers the entire state of New Hampshire, the Granite State only sees about two tornadoes per year that are typically on the weak side.
In May 2022, an EF-1 knocked down trees around Charlestown. About two months later, a similar strength twister rolled through Chesterfield.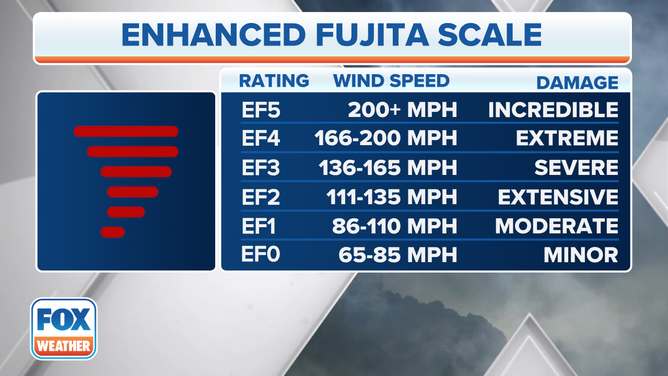 TORNADOES HIT LARGE CITIES: THIS IS WHY
The last significant tornado to impact the state happened on July 24, 2008.
A NOAA database reported the twister was given a rating of an EF-2 and was on the ground for more than an hour. Hundreds of homes were reported to have been damaged or destroyed, and a woman was killed near the town of Deerfield.
The 2008 event was the first reported tornado fatality in New Hampshire since 1946.