'Pretty scary': Vermont resident talks to FOX Weather live on-air as catastrophic flooding rages behind her
South Londonderry resident Dana Zazinski said she's never seen the West River flood like this before as it raced toward her Vermont home.
SOUTH LONDONDERRY, Vermont – Dana Zazinski woke up early Monday morning to knocks on her door after flooding began to creep toward her Vermont home.
The Londonderry Fire Department advised Zazinski to move her car and get to higher ground as the heavy rain poured down at 6 a.m. 
"I loaded up my dogs, and we tried to get up over the mountain, but the road was washed out," she said.
Heavy rain swelled the West River, forcing the water onto her property. 
"I have a three-story house, so if I have to go up higher, I will. But right now, it looks like it's going to be survivable," Zazinski said. "But not going to lie, this is pretty scary."
She says that she's never seen the West River flood like this before.
"I was told that it is a no flood zone," Zazinski says when describing the location of her home. "Sure seems like a flood zone."
State police told Vermont residents to be prepared to evacuate should floods threaten.
"Make an evacuation plan before it becomes necessary," state police said on Twitter.
And as floodwater rushes behind Zazinski, she knows exactly where she'll go.
"I have my escape route is to go up behind my house and climb the hill, the mountain that's there to the town hall," she said.

Nearly all of Vermont was facing catastrophic flash flooding Monday. The area was under a high risk for excessive rainfall, the first high risk issued for Vermont since August 2011 during Hurricane Irene.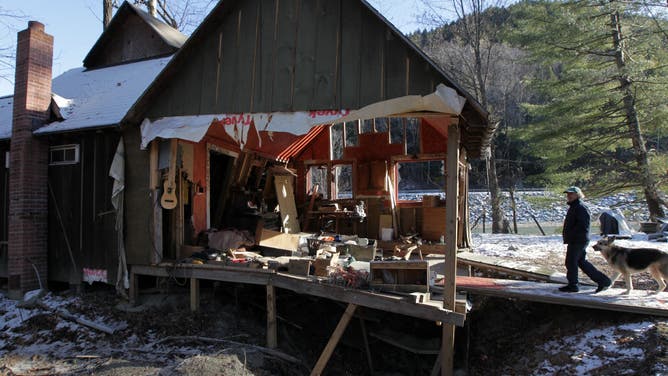 Incredible imagery is being seen across the state, including near Zazinski's home in South Londonderry.
Flash Flood Watches were in effect through at least Tuesday, and Vermont Gov. Phil Scott declared a state of emergency.