Orlando area under Severe Thunderstorm Watch as forecasters warn of large hail, damaging winds
Severe thunderstorms will pose threats of large hail, damaging winds and an isolated tornado
A Severe Thunderstorm Watch has been issued for parts of Florida as another round of storms is developing Wednesday across the Southeast.
A strong low-pressure system tracking across the region is igniting more storms as a springlike weather pattern dominates the eastern half of the U.S. The same system will spark more storms Thursday.
Warm, humid air streaming northward from the Gulf of Mexico will be ingested into this storm system, providing the instability needed for the development of severe storms packing threats of large hail, damaging winds and an isolated tornado.  Already one apparent tornado briefly touched down in Sarasota early Wednesday afternoon.
NO INJURIES AFTER SARASOTA TORNADO DAMAGES BUILDING WITH WORKERS INSIDE 
National Weather Service meteorologists gave the tornado a rating of EF-1, and said winds were estimated to be around 90 mph.
The Storm Prediction Center has issued a Severe Thunderstorm Watch for much of Central Florida until 8 p.m. Eastern. Orlando, Daytona Beach, Melbourne, Lakeland and Vero Beach are included in the watch.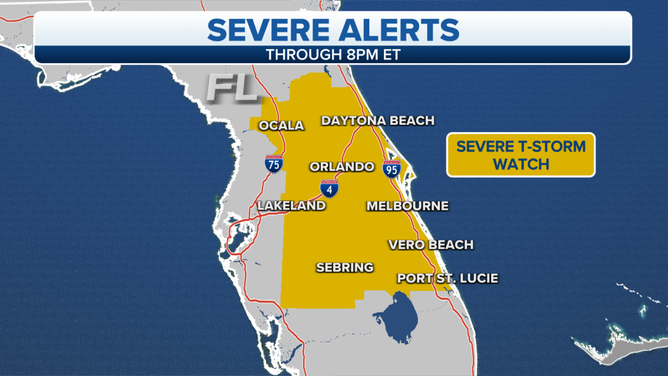 Already a funnel cloud spotted near Palm Beach Garden triggered one Tornado Warning that included the Juno Beach area Wednesday afternoon, but there hasn't been any confirmed touchdown. The warning has since expired.
HOW TO WATCH FOX WEATHER ON TV
Severe thunderstorms were first spawned Monday night in parts of northern and eastern Texas, where some areas were pelted by golf-ball-sized hail. An EF-1 tornado also touched down Monday night near the town of Leonard, Texas, about 60 miles northeast of Dallas. A few severe storms with strong wind gusts were then reported on Tuesday in Central Florida.
Here's a breakdown of the severe weather threat through Thursday. Be sure to download the FOX Weather app for the latest forecast and weather alerts for your exact location, plus our channel's 24/7 livestream.
TORNADO THAT TOUCHED DOWN IN NORTH TEXAS RATED EF-1
Wednesday
The risk of severe storms on Wednesday will be focused over North and Central Florida and parts of coastal Georgia and South Carolina.
Large hail is the primary threat, but damaging wind gusts and an isolated tornado are also possible. Spotters in New Smyrna Beach reported golf ball-size hail – around 1.75 inches in diameter – with a thunderstorm that came through Wednesday afternoon, with other nearby hail reports measuring 1-1.75 inches in diameter. 
DOPPLER DEAD ZONE: RADAR MAY MISS DETECTING SOME TORNADOES IN NORTH-CENTRAL FLORIDA
Severe storm threat on Wednesday, March 16, 2022.
(FOX Weather)
---
Thursday
More severe thunderstorms are possible on St. Patrick's Day across eastern North Carolina and southeastern Virginia.
Damaging wind gusts are the main threat in these areas.
SHAMROCKS OR SNOWFLAKES? ST. PATRICK'S DAY FORECAST FOR CITIES ACROSS AMERICA
There will be additional rounds of severe weather in parts of the South through Saturday as a new low-pressure system tracks eastward out of the Rockies.
For more on that threat, click here.