Watch: Golf ball-sized hail pelts Texas
Severe thunderstorms brought huge hail, flooding rains and possible tornadoes to the east half of Texas Monday.
Areas of Texas were pelted by golf ball-sized hail Monday night.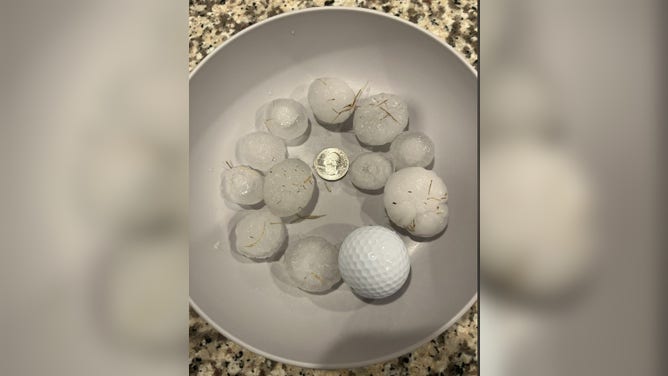 A storm over the Southern Plains pulled in warm, humid air from the Gulf which collided with a cold front exiting the Rockies which set the stage for large hail, damaging winds and possible tornados across eastern Texas, northwestern Louisiana and southeast Arkansas.

Frisco car owners sweated out the storm. 
MULTIPLE ROUNDS OF SEVERE STORMS TO RUMBLE ACROSS THE SOUTH THIS WEEK
NWS weather spotters recorded golf ball-sized hail across Wylie, Ravenna, Apple Springs and New Baden in Texas. One business owner in Apple Springs reported roof damage.
Hail near the Dallas Metro area fell heavy and fast and looked more like snow. The homeowner tweeted, "I feel like winter doesn't know what to do this year. This was out my front door and it was 60 degrees all day."

A Salina resident could barely hide from the balls of ice while taking video.
A resident in Lucas had more space to dodge the hailstones.
Several Tornado Warnings lit up the weather maps Monday too. Check out the flooded aftermath from a tornado warned storm in downtown Lufkin.
But, once Tuesday's sun starts heating the humid air, thunderstorms will again pop across the South. Florida and the Gulf Coast are the most likely targets for severe weather.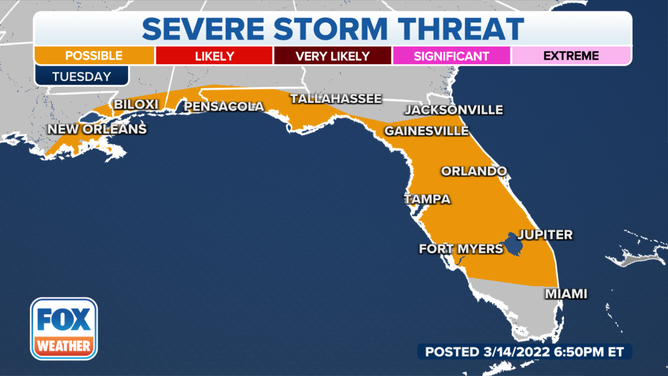 Download the FOX Weather app or watch us on TV for the very latest Watches and Warnings.