Parts of Eastern US to enjoy warm temperatures heading into the weekend
Severe weather is possible from the Gulf Coast to East Coast heading into the weekend
Millions of Americans in the eastern half of the country have been enjoying springlike temperatures this week, but with the warmth comes the risk of severe weather.
An area of low pressure will develop over the South on Thursday, and it will strengthen as it tracks to the east.
As it does so, there is a risk of some powerful storms from Oklahoma City and Dallas to the southeast across Louisiana and into southern Mississippi.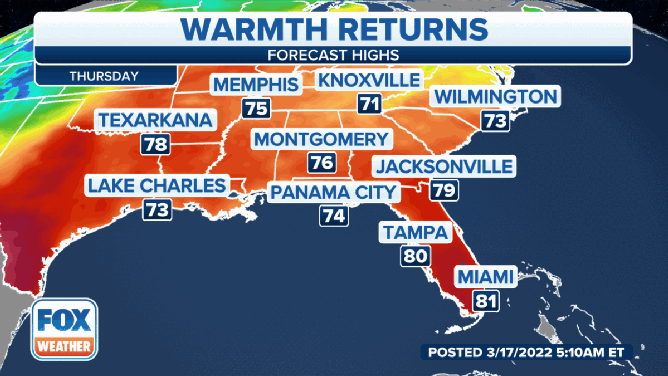 However, before that system moves through, temperatures will remain very warm across the Southern Plains and along the Gulf Coast into the Southeast.
Texarkana, Texas, will see temperatures around 78 degrees Thursday but will drop significantly on Friday with a forecast high of only 57 degrees. Temperatures will rise into the 70s again on Saturday.
Further south, in Lake Charles, Louisiana, temperatures will remain on the warm side but will fall slightly into the weekend. The area will see temperatures around 73 degrees on Thursday, 72 degrees on Friday and 71 degrees on Saturday.
Heading east into Jacksonville, Florida, temperatures will stay warm. The city can expect temperatures near 80 degrees on Thursday and will rise to about 84 degrees on Friday.
The mid-Atlantic will also enjoy warm temperatures into the weekend.
Wilmington, North Carolina, will see temperatures around 73 degrees on Thursday, rise to 76 degrees on Friday and close in on 80 degrees by Saturday.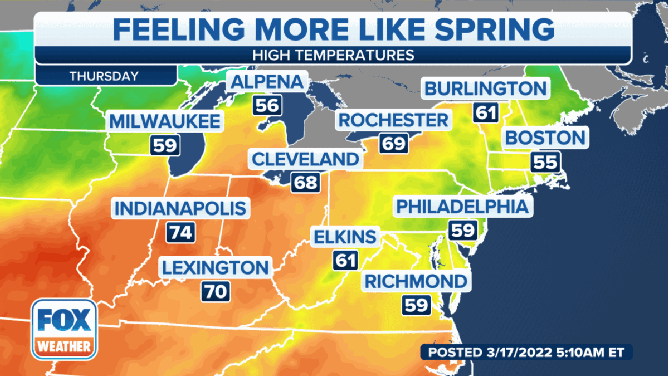 There is also the risk of severe weather as we head into the weekend along the East Coast from northern Florida into the Carolinas and mid-Atlantic as temperatures continue to rise.
Richmond, Virginia, will only get to about 60 degrees Thursday but will jump into the mid-70s on Friday. By Saturday, the area will be around 80 degrees.
Heading north into Philadelphia, it will likely be the same. It will be around 60 degrees Thursday before rising to about 76 degrees on Friday. Temperatures will fall slightly to about 74 degrees on Saturday.
Boston will be warm, too. It will only be in the mid-50s with foggy conditions on Thursday but will rise to about 70 degrees on Friday. On Saturday, things will cool down a bit to about 53 degrees.