See incredible scenes of deep mud trapping California residents, front-end loader rescue after Hilary
Rescuers had to use construction equipment to rescue trapped residents in the deep mud instead of clearing the streets.
CATHEDRAL CITY, Calif. – Two days after Tropical Storm Hilary dropped almost a year's worth of rain in one day on Cathedral City, residents are still trapped by a landslide.
Mud sits over a foot deep through roads and the ends of driveways. First responders couldn't clear the streets Monday because they had to use heavy construction equipment to rescue people instead of plowing debris off the streets.
HILARY CAUSES CHAOS IN CALIFORNIA AND NEVADA AS FLASH FLOODING DESTROYS ROADS, STRANDS RESIDENTS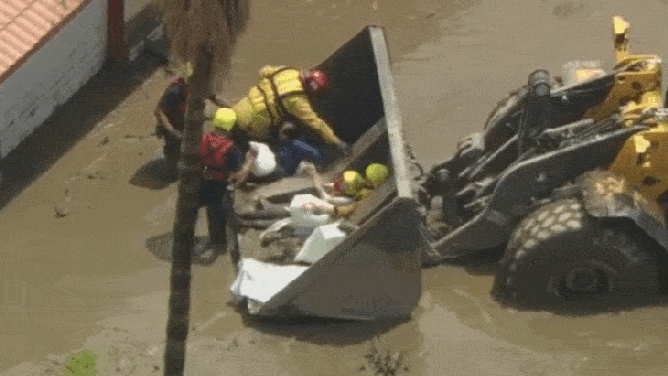 It was a front-end loader to the rescue of 14 elderly people trapped by the mud inside their senior care facility. Firefighters laid down in the scoop of the front-end loader before the seniors got in to cushion the fragile men and women from the metal.
DRONE VIDEO SHOWS DEVASTATING FLOODING IN PALM SPRINGS AFTER HILARY WALLOPS CALIFORNIA WITH TORRENTIAL RAIN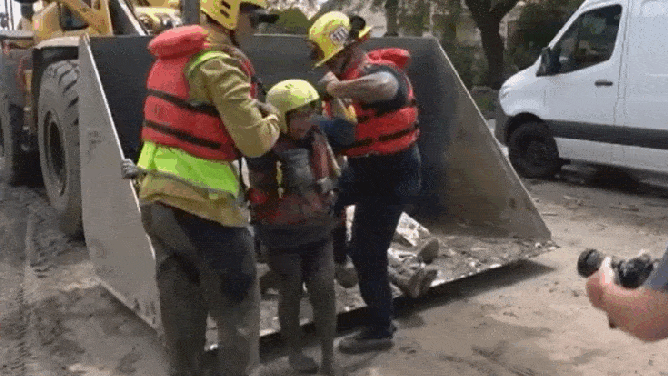 "We were running out of options just due to the dynamic of the elderly patients and the multiple threats of still moving mud," Cathedral City Fire Chief Michael Contreras told FOX Weather. "We had gas leaks in the area, and so we really had to put our minds together and get everyone, including the operator of that heavy piece of equipment who committed to the rescue." 
Rescuers evacuated a total of 46 people from their Cathedral City homes.
FOX Weather's Nicole Valdes had to wear knee-high boots to check on some residents still stuck at home Tuesday.
"This is a tough situation. There are people here trying to make the best of it. They've got some supplies at home," Valdes said. "They're out here sweeping their driveways and trying to trek through the mud barefoot if they need to."
She found a woman who was evacuated Monday but trying to get back home for some essentials she left behind. After struggling through thick mud and debris, block after block, she had to turn around unsuccessful.
WATCH: CALIFORNIA FIREFIGHTERS RUN FOR SAFETY AS HILARY TRIGGERS DEBRIS FLOW SURROUNDING STATION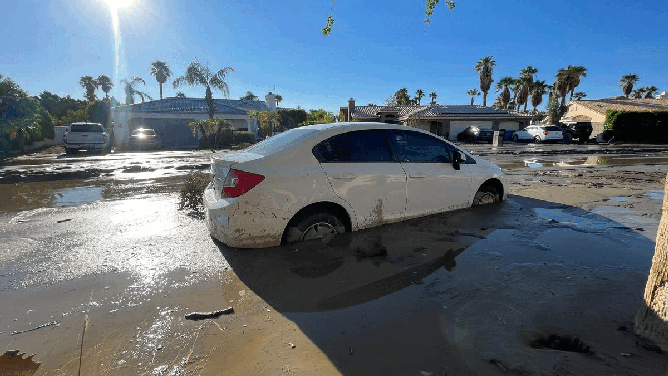 "We're just now seeing the beginning of the cleanup of this mud," said Valdes. "It's been about two days or so, where we've seen some heat and no rain. So there is some concern that all of this mud could start to harden and it be that much more difficult to get through it, to clean it up and to get these people access out of their homes to those neighborhoods." 
ALASKA AIRLINES FLIGHT MAKES HARD LANDING, SENDING SPARKS FLYING DURING INTENSE WIND, RAIN FROM HILARY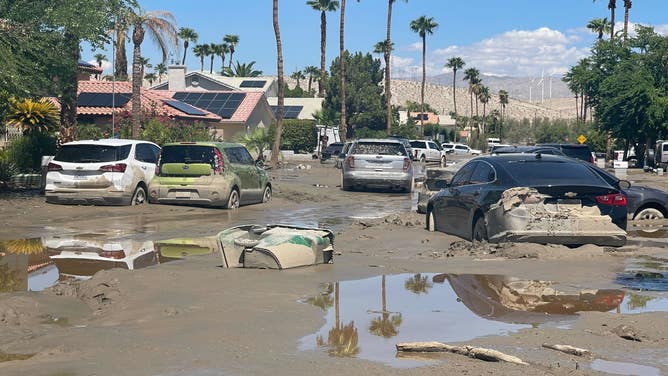 The Cathedral City Mayor told FOX Weather that the focus on Tuesday would be to clear roads to improve access to and from homes. It will not be a quick process, though.
"It's not a great situation. They (residents) know it's going to take several days to clean this up; the emergency manager here and the mayor both agreed," said Valdes. "So it's about people just trying to get through the next few days as best they can." 
HISTORIC HILARY SETS TROPICAL RAINFALL RECORDS IN 4 STATES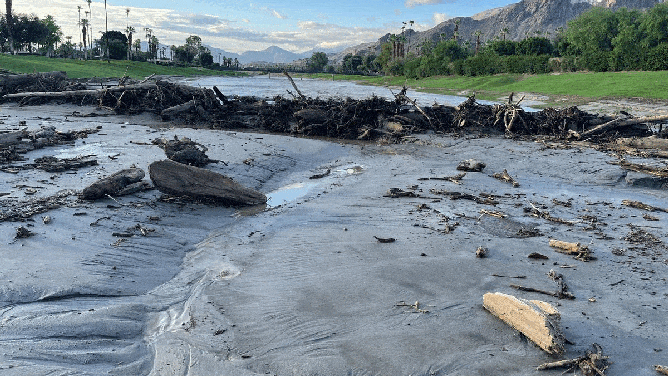 The Palm Springs Unified School District canceled school through Wednesday because of the large number of impassible roads.