Historic Hilary sets tropical rainfall records in 4 states
Several states that rarely experience tropical weather, were doused by rain from what was once a fierce Category 4, major hurricane.
Hilary, a superlative across the board, set records and prompted firsts for so many areas in the western U.S. 
Several states that rarely experience tropical weather, were doused by rain from what was once a fierce Category 4, major hurricane. Four states – Nevada, Oregon, Idaho and Montana – recorded their maximum rainfall from a tropical storm or its remnants since 1900.
A weather station in Nevada, the driest state in the nation, recorded 9.2 inches of rain from Hilary. The state only sees an average of 10.3 inches per year. This also set the state's all-time record rainfall for a 24-hour period. The previous 24-hour record was 7.78 inches on Mount Charleston, set in October 2004, according to NOAA. 
HILARY CAUSES CHAOS IN CALIFORNIA AND NEVADA AS FLASH FLOODING DESTROYS ROADS, STRANDS RESIDENTS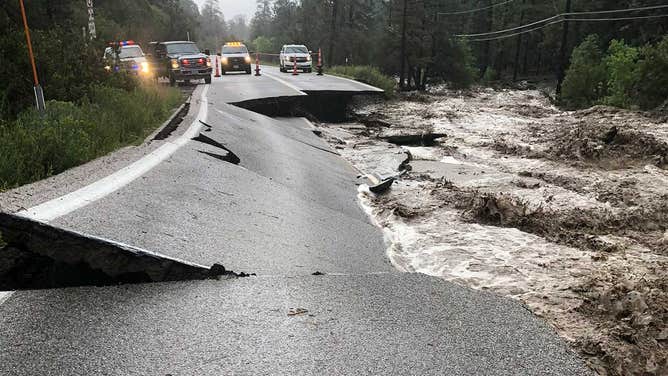 Oregon also put Hilary's rainfall in the record books. One station in the state saw 3.29 inches of rain. That amount didn't even come close to setting an all-time rainfall record in the state, though. In November 1909, Nehalem saw 11.77 inches of rain in 24 hours.
Montana got 2.3 inches from Hilary's remnants. That amount marked the tropical rainfall record for a state that isn't a hurricane magnet. The Treasure State's all-time rainfall record is five times higher – 11.5 inches fell on the town of Circle in 24 hours in June 1921.
Idaho, part of the Great Basin Desert, saw 3 inches of rain from Hilary. The amount is less than half of the state's all-time 24-hour precipitation record of 7.17 inches in Rattlesnake Creek in November 1909.
WATCH: HILARY'S DRAMATIC SCENES AS THE POWERFUL STORM BATTERS SOUTHERN CALIFORNIA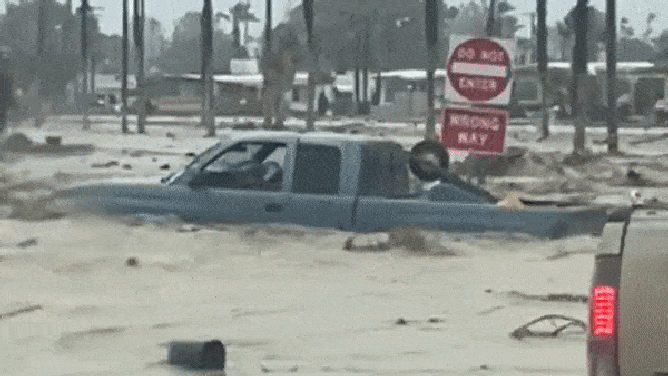 'Winners' across the US
Taking the prize for the highest tropical rainfall total is Texas. Where everything is bigger, Harvey dropped 60.58 inches or more than 5 feet of rain in 2017. That total is for more than one day, though. The state's 24-hour precipitation record was set in July 1979 when 42 inches of rain – about 3.5 feet – fell in Alvin.
Hawaii comes in second with 58 inches at Kahuna Falls from Hurricane Lane in 2018. That amount was over a couple of days. The one-day record is 49.69 inches at Waipa Garden on Kauai in April 2018.
Florida takes third place with 45.2 inches from Hurricane Easy in 1950. The amount fell in more than one day as well. Key West holds the title for record 24-hour rainfall, with 23.28 inches in November 1980.
Hilary also broke California records
Hilary prompted the National Hurricane Center to issue the first-ever Tropical Storm Warning for Southern California. Palmdale set its all-time 24-hour rainfall record with 3.93 inches. Several cities set the highest summer daily records, including Anaheim, Burbank, Long Beach, Los Angeles, Palm Springs, San Diego and Santa Monica.
DRONE VIDEO SHOWS DEVASTATING FLOODING IN PALM SPRINGS AFTER HILARY WALLOPS CALIFORNIA WITH TORRENTIAL RAIN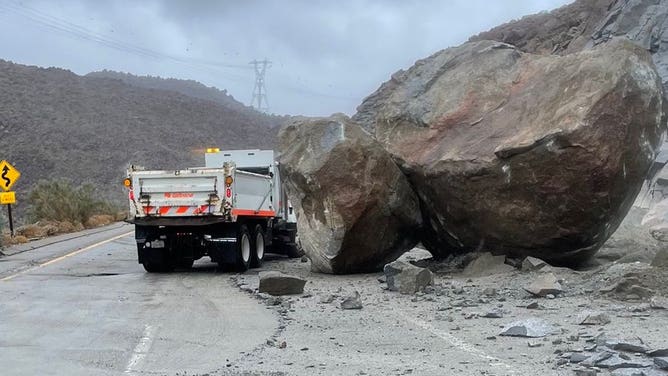 Kathleen dropped more rain on the Golden State in 1976 than Hilary at 14.76 inches. An atmospheric river-fueled storm set the state record for 24-hour precipitation in January 1943. Hoegees Camp, in the Angeles National Forest in Los Angeles County, got 25.83 inches.