Watch: California firefighters run for safety as Hilary triggers debris flow surrounding station
Southern California hasn't seen a tropical storm in a quarter-century. Some desert areas picked up a year of rain in just one day.
FOREST FALLS, Calif. – First responders needed rescuing after the hill behind their firehouse gave way and blocked the road. Tropical Storm Hilary dropped record rainfall in California, triggering landslides like this one.
Firefighters of San Bernardino Fire Station 99 heard a rumble and went out back to investigate, they told OnScene.TV. The once solid ground was flowing with what looked like a raging chocolate river, dry just hours before. Be patient with the video because, after a few moments, you can see the water begin to trickle as a massive debris flow full of boulders and tree trunks oozes downhill.
You can hear the one frantic firefighter yelling to the person capturing the scene on the phone, "Get back!" 
HILLARY CAUSES CHAOS IN CALIFORNIA AND NEVADA AS FLASH FLOODING DESTROYS ROADS, STRANDS RESIDENTS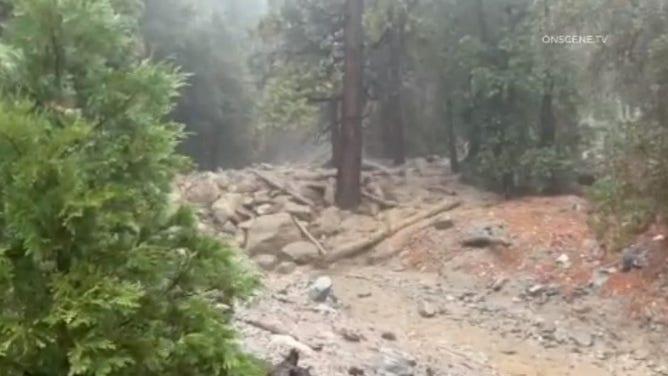 "The trees are going," said a firefighter watching the mud and rocks flatten the landscape. 
"Dude, get out!" another firefighter yelled at the photographer. "Go, go, go, go, go."
The group ran around the firehouse, away from the slide.
"Get the equipment out of here. Now," ordered someone as they approached the driveway. The road was blocked by orange cones ahead of time.
"Is it safe to tape here?" the photographer asked as the tidal wave of earth flowed across the street.
TORRENTIAL RAIN FROM HILARY CAUSES DANGEROUS MUDSLIDES, ROCKSLIDES IN SOUTHERN CALIFORNIA
He had to retreat with others as the flow closed in on the station. The crews told OnScene.TV that the slide buried the roads on both sides of the station before they could get the equipment out.
"Firefighters report that the station is completely blocked in both directions from leaving the area at this time," reported OnScene.TV. "There are no injuries to any of the firefighters, but they are blocked from responding to other areas."
Nearby Mount San Jacinto recorded almost a foot of rainfall from the storm.
WATCH: HILARY'S DRAMATIC SCENES AS THE POWERFUL STORM BATTERS SOUTHERN CALIFORNIA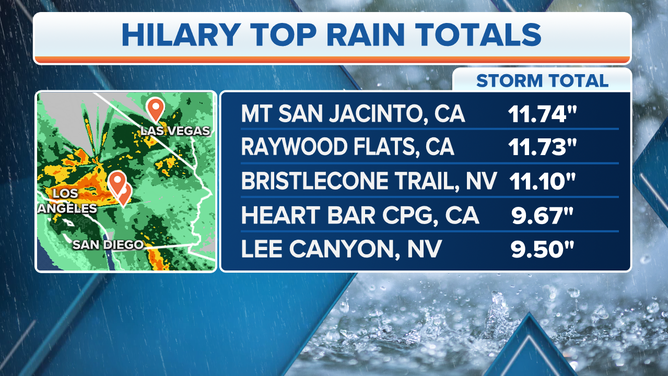 Palm Springs, at the base of Mt. San Jacinto, recorded their wettest August day ever with 3.18 inches of rain. That blew away the previous record holder from 1930 by more than an inch. Authorities declared a local emergency as floodwater swamped cars on streets and in neighborhoods.
Hilary, at one point a major hurricane, forced first-ever Tropical Storm Warnings for Southern California.