Winter storm dumping snow across South before impacting Mid-Atlantic
Nearly 80 million Americans were under winter weather alerts
A major winter storm currently impacting the South will snarl travel as it tracks from Arkansas up the East Coast with heavy snow, ice and strong winds through Monday's Martin Luther King Jr. holiday.
Snow and ice are expected to make their way into Georgia and the Carolinas on Sunday.
LIVE UPDATES: SOUTHEAST BRACES FOR BLAST OF SNOW, ICE FROM HIGH-IMPACT WINTER STORM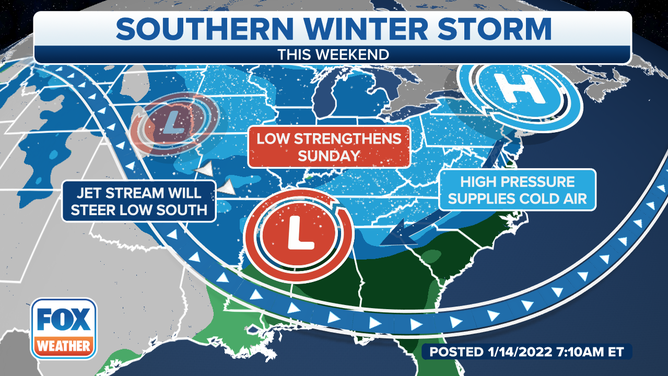 The National Weather Service has issued winter weather alerts for more than 100 million Americans.
An Ice Storm Warning has been issued from northeastern Georgia through the southern Upstate of South Carolina east to the northern Midlands of South Carolina.
POLICE RELEASE VIDEO IN HOPES THAT DRIVERS SLOW DOWN ON SLICK ROAD
Authorities warn that significant ice accumulations could make travel impossible in parts of South Carolina on Sunday.
FlightAware reported more than 2,400 flights were canceled on Sunday because of the winter weather. Airports that service Raleigh, Charlotte, Atlanta and the District of Columbia made up the top areas where delays and cancelations were reported.
Storm timing
Sunday
Snow is forecast from Kentucky and Tennessee into the Appalachians from the North Georgia mountains to West Virginia and parts of Virginia. The snow could be heavy in some of these areas.

CAN THE SOUTH HANDLE A WINTER STORM?
There's even a risk for some snow as far south as northern Mississippi and northern Alabama. Snow may also reach parts of the upper Ohio Valley and mid-Atlantic states later in the day.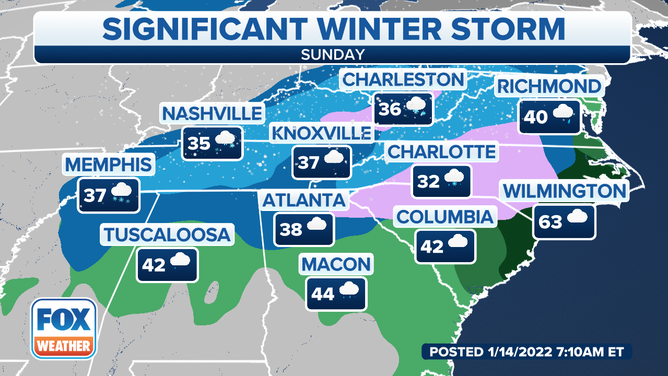 A wintry mix of sleet and freezing rain is likely from northern Georgia into South Carolina, North Carolina and parts of Virginia. Areas near the coast in the Carolinas and southeastern Virginia might see more rain than freezing rain or sleet.
Significant icing is expected for portions of this region, particularly in the Carolinas and northeastern Georgia between the Interstate 95, Interstate 85 and Interstate 20 corridors.
SNOW, SLEET, FREEZING RAIN AND HAIL: WHAT'S THE DIFFERENCE?
Strong winds are also possible Sunday in the Southeast as the area of low pressure gains strength.
The strongest winds will likely affect the region Sunday morning into the early afternoon, but winds could remain gusty overnight into Monday morning as the storm tracks into the Northeast.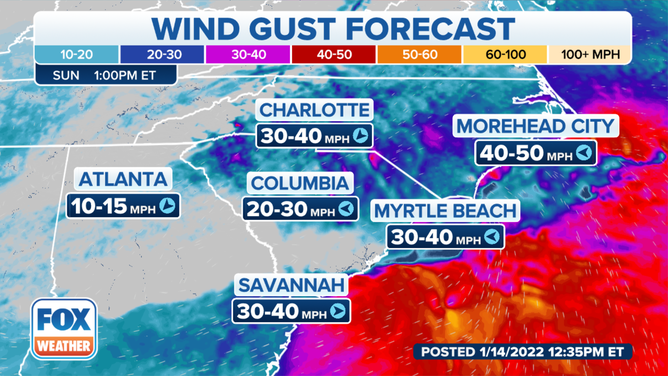 Sunday night
Snow will spread into much of the Northeast while also continuing in parts of the mid-Atlantic states, upper Ohio Valley and central Appalachians. The snow could be heavy at times. Some sleet or freezing rain might also mix in over some areas.
Areas near the Northeast Seaboard along and to the south and east of Interstate 95 are expected to see a period of snowfall change over to rain overnight as milder air is dragged onshore from the Atlantic. This includes Washington, Baltimore, Philadelphia and New York City.
Strong winds will also spread into the mid-Atlantic and Northeast as the low-pressure system continues to intensify as it moves northward.
CREWS PRE-TREATING VIRGINIA ROADS, HIGHWAYS AHEAD OF WINTER STORM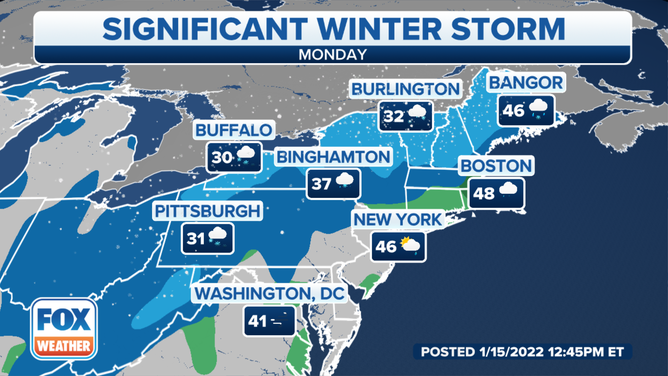 Martin Luther King Jr. Day
Heavy, wind-driven snow could impact a large portion of the interior Northeast from West Virginia and western and central Pennsylvania into New York state and western and northern New England.
Areas along the Interstate 95 corridor between Boston and Washington are more likely to see rain, though the precipitation could change over to a brief period of snow before ending in the afternoon.
Strong winds will remain possible across much of the Northeast, with the highest winds likely targeting New England because of its proximity to the low-pressure system.
WHAT MAKES A STORM A NOR'EASTER?
By Monday night, this winter storm should finally exit into Atlantic Canada. However, gusty winds will linger across the Northeast overnight.
Snow, ice and wind impacts
The heaviest snow is predicted to fall in the central and southern Appalachians and the adjacent Piedmont of western Virginia, western North Carolina, upstate South Carolina and the North Georgia mountains. At least a half-foot of snow is expected in most of these areas, with up to a foot possible in western North Carolina and the highest elevations of northeastern Georgia.
Lighter accumulations are expected from central Arkansas into northern Mississippi, northern Alabama and western Georgia.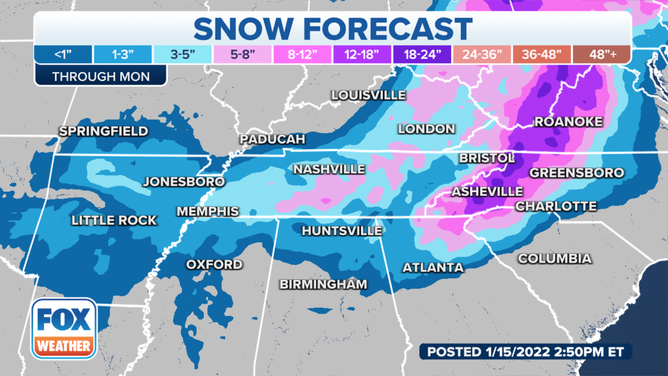 Significant ice accumulations from freezing rain are also expected this weekend from portions of northern Georgia into South Carolina, North Carolina and southern Virginia.
The region between the Interstate 95, Interstate 85 and Interstate 20 corridors in the Carolinas and northeastern Georgia could potentially see one-quarter to one-half inch of ice through Sunday. Not only will this cause roads and sidewalks to become very slick, but the ice will likely be heavy enough to take down numerous trees and power lines.
7 THINGS TO KNOW ABOUT ICE STORMS
There's also a risk of coastal flooding late Sunday night into Martin Luther King Jr. Day between southeastern New England and the Jersey Shore due to strong onshore winds. It's not ruled out that some coastal flooding could extend southward into the Virginia Tidewater and eastern North Carolina, including the Outer Banks.
Check back with FOX Weather for updates in the days ahead. Be sure to download the FOX Weather app to see more specific details for your current location.