Crews begin pre-treating Virginia roads, highways ahead of winter storm
Hundreds of cars and trucks became stranded on I-95 in the Fredericksburg area earlier this month when a winter storm dumped more than a foot of snow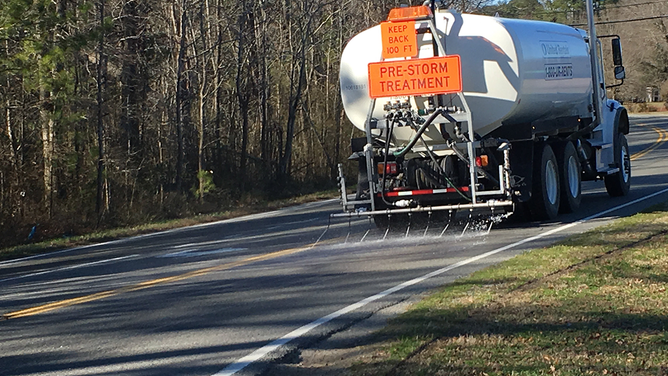 FREDERICKSBURG, Va. – Crews with the Virginia Department of Transportation have started pre-treating major roads and highways ahead of a winter storm that's expected to impact areas from the Southeast into the mid-Atlantic this weekend.
LEARN: Traveling this winter? Here's what to keep in your car in case you get stuck
Drivers were warned by VDOT Thursday morning that delays were expected along I-95 and other major roads across a 14-county region, including Fredericksburg, Northern Neck and Middle Peninsula areas.
Officials say the brine solution plays an important role in helping to prevent the buildup of ice on roads, thus reducing the risk of hazardous travel and making it easier for plows to remove snow and ice.
VDOT: 'Completely unacceptable' for drivers to be stranded for hours on interstate
Earlier this month, a winter storm with snowfall rates between 2-4 inches an hour paralyzed parts of the mid-Atlantic.
In the Fredericksburg area, more than a foot of snow fell during the storm.
"That was entirely too much for us to keep up with," said Marcie Parker, an engineer with the Virginia Department of Transportation. "Consequently, with the amount of traffic that we had on the interstate, the trucks and cars couldn't make it up and down the hills."
LEARN: 7 things you need to know about winter driving 
As a result, hundreds of cars and trucks became stuck in both the north and southbound directions of I-95 in the Fredericksburg area for more than 24 hours.
Among those stuck was Sen. Tim Kaine, who was headed to the Capitol. He spoke with FOX Weather while stranded and said it was a situation he would never forget.
What was supposed to be a 2-hour drive for Kaine turned into an ordeal that lasted more than 27 hours. He said he stayed warm by running his car to warm up, then shutting down the engine for an hour to conserve gas.
Many other drivers were not as lucky and ran out of fuel.
"Some people were not prepared for it, not dressed appropriately," said driver Rebecca Barns. "They were wearing shorts and flip-flops, obviously not thinking it through."
She said it appeared some drivers managed to meet up with a food delivery service on the other side of the highway.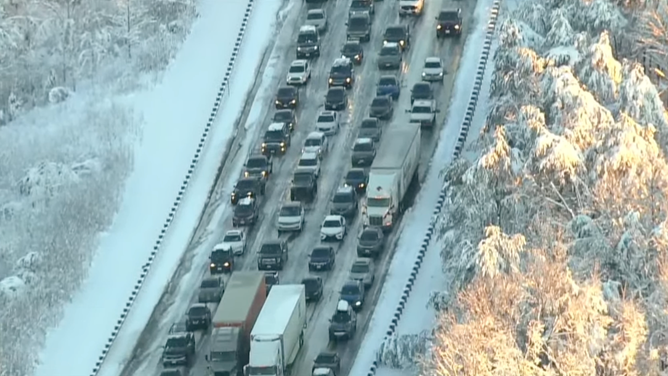 "We saw people walk through the woods and then come back with food from a delivery place," Barns said. "But I don't think (walking) was a viable option…it was dangerous to get out of the car, and the road was just a sheet of ice."
The Virginia State Patrol dispatched several troopers to walk up and down the freeway offering food and medicine to people who needed it.