First winter storm of 2022 dumped heavy snow across mid-Atlantic on Monday
Some spots in the mid-Atlantic received over a foot of snow
The first winter storm of 2022 dumped heavy snow across parts of the Appalachians and mid-Atlantic on Monday after dusting portions of the South with snow over the New Year's weekend.
A low-pressure system tracked up the East Coast and dropped heavy snow from the southern and central Appalachians to southern New Jersey. This included the Richmond, Virginia, Washington, Baltimore and Philadelphia metro areas.
In addition to the snow, gusty winds from this winter storm triggered power outages in portions of the mid-Atlantic and Southeast. As of midday Monday, more than 700,000 customers were without power in parts of Virginia, North Carolina, Georgia, Tennessee and Maryland, according to PowerOutage.us. Monday night, over 400,000 were still without power.
PRES. BIDEN DELAYED ABOARD AIR FORCE ONE UPON LANDING DURING SNOWSTORM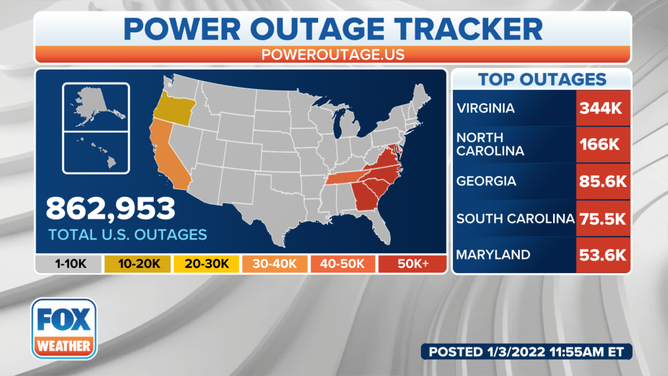 This system pushed offshore Monday evening, bringing an end to the snowfall across the mid-Atlantic.
Thundersnow was reported in six states between Sunday and Monday, including Alabama, Tennessee, North Carolina, Virginia, Maryland and Delaware.
THUNDERSNOW: WHAT CAUSES LIGHTNING AND THUNDER DURING A SNOWSTORM?
As of early Monday evening, more than a foot of snow had piled up in parts of Virginia, southern Maryland, southern Delaware and southern New Jersey.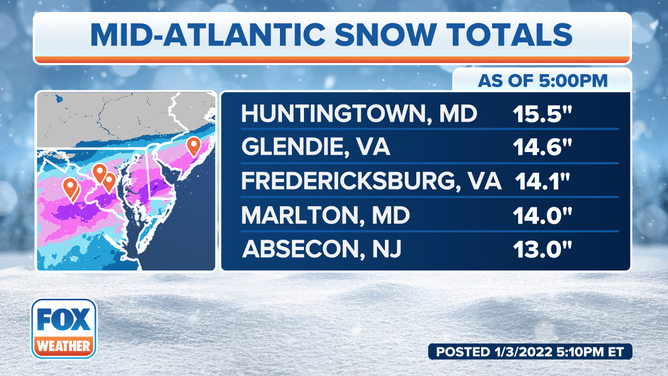 As much as 11 inches of snow fell farther south in the southern and central Appalachians Sunday into Monday.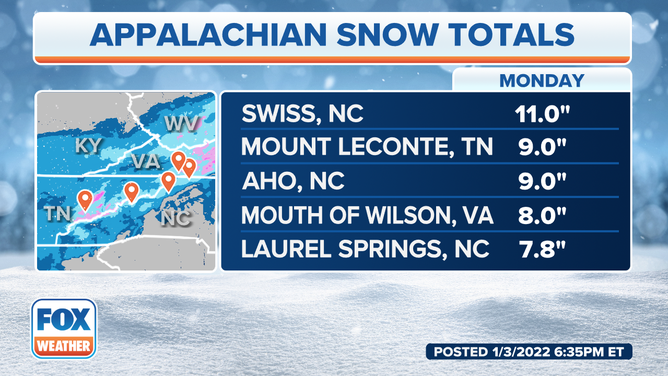 New Year's weekend snow in the South
This system brought snow to portions of the South over the New Year's weekend just one day after severe storms produced at least 10 tornadoes across the region.
10 TORNADOES CONFIRMED ACROSS THE SOUTH NEW YEAR'S WEEKEND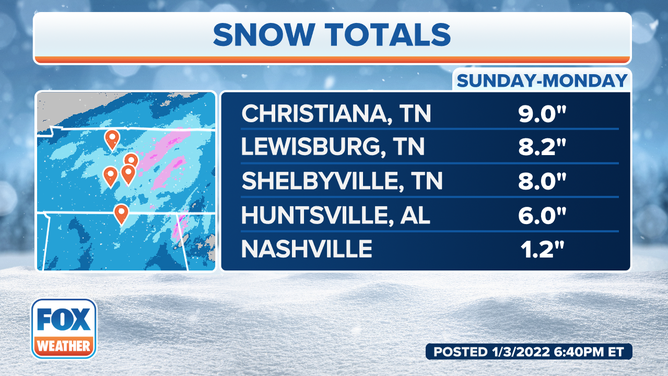 As much as 9 inches of snow was reported in parts of Middle Tennessee Sunday into early Monday. Nashville reported just over an inch of snow.
A half-foot of snow was measured as far south as Huntsville, Alabama, which is more snow than New York City has received so far this winter (0.2 inches).
CITES IN ALABAMA, TENNESSEE HAVE RECEIVED MORE SNOW THAN NEW YORK CITY THIS WINTER