Cities in Alabama, Tennessee have received more snow than New York City this winter
A nearly 30-degree temperature drop brought a half-foot of snow to Huntsville, Alabama, Sunday night
HUNTSVILLE, Ala. – Residents of Alabama and Tennessee are digging out after several inches of snow piled up over the New Year's weekend while New York City continues to wait for this winter's first inch of snow.
Severe weather ripped through parts of the South on Saturday, but then a cold front provided a sharp drop in temperature by Sunday night when snow fell as far south as the Florida Panhandle.
SAY IT AIN'T SNOW: FLAKES FALL IN FLORIDA AFTER 40-DEGREE TEMPERATURE DROP
Huntsville, Alabama, tied its daily record high of 79 degrees on Saturday (New Year's Day). Temperatures then dipped to 30 degrees just after midnight Sunday night. In fact, the temperature dropped from 58 degrees at 7 a.m. Sunday to 30 degrees by 1 a.m. Monday – a 28-degree drop in only 18 hours.
The temperature drop was accompanied by a period of snowfall overnight Sunday into early Monday morning.
Video shared with FOX Weather showed residents of Huntsville snowboarding near the City Hall building.
Security camera footage obtained by FOX Weather showed what appeared to be thundersnow in New Market, Alabama, some 15 miles northeast of Huntsville.
Thundersnow is a rare phenomenon in which lightning and thunder occur during a snowstorm.
THUNDERSNOW: WHAT CAUSES LIGHTNING AND THUNDER DURING A SNOWSTORM?
Up to 6 inches of snow was reported in the Huntsville area, according to the National Weather Service. That's more than its average snowfall over an entire season, which is just over 2 inches.
Meanwhile, New York's Central Park has measured a measly 0.2 inches of snow so far this winter. In a typical season, nearly 30 inches piles up in the Big Apple.
NEW YORK CITY ARGUABLY HAS THE MOST UNIQUE WEATHER OBSERVATIONS IN AMERICA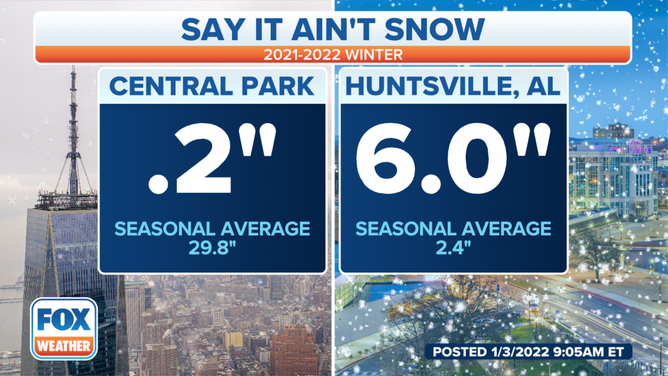 "We had spots hit 80 on the 1st, then had tornadoes that night, and 2-8 inches of snow less than 24 hours later," the NWS office in Huntsville said in a tweet. "Definitely some crazy weather here in the South."
As much as 9 inches of snow was reported in parts of Middle Tennessee Sunday into early Monday. Nashville reported just over an inch of snow.
The same system responsible for this Southern snow went on to dump heavy snow across parts of the mid-Atlantic on Monday.