Say it ain't snow: Flakes fall in Florida after 40-degree temperature drop
Fort Walton Beach went from a high of 75 to 34 degrees overnight
FORT WALTON BEACH, Fla. – Never say never when it comes to weather. With a 40-degree temperature drop overnight, the Florida Panhandle went from beach weather to snow falling from the sky.
The Okaloosa County Sheriff's Office recorded snow falling at the Lowe's on Beal Parkway in Fort Walton Beach early Monday morning.
"Well, how's this for a temperature change?" the sheriff's office wrote on Facebook. From 75 degrees at 3 in the afternoon to snow at 3 a.m."
The Florida Panhandle is experiencing near-freezing conditions as a cold front dropped temperatures overnight, allowing for the brief wintry mix. 
Snowflakes were also recorded in Walton County, Florida, on a Ring doorbell camera in DeFuniak Springs Monday morning. The high on Sunday in Fort Walton Beach was 75 degrees. Less than 24 hours later, the low on Monday was 34.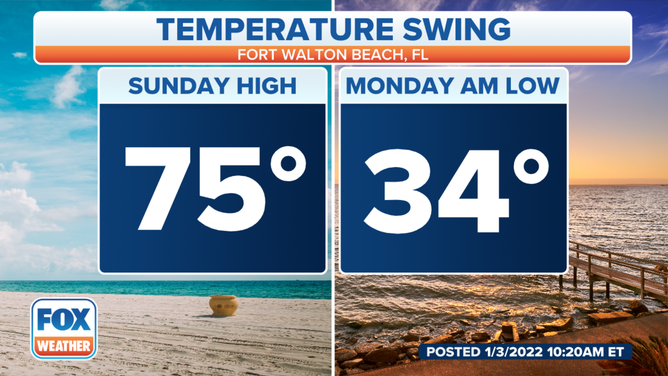 High temperatures in Pensacola and Destin will reach 49 Monday. However, according to the National Weather Service in Mobile, Alabama, the temperatures feel much colder with breezy conditions by about 10 to 15 degrees.
According to the NWS in Mobile, a band of light snow pushed across parts of southeast Mississippi and southwest Alabama Sunday night. Those flakes pushed east in the early hours of Monday morning, dropping snow in Florida.
The Florida Panhandle went from record warmth to snowflakes in about 24 hours.
According to the NWS in Mobile, Alabama, Pensacola set a new record high temperature for Jan. 2 with 78 degrees on Sunday. The previous record was 77, set in 1966.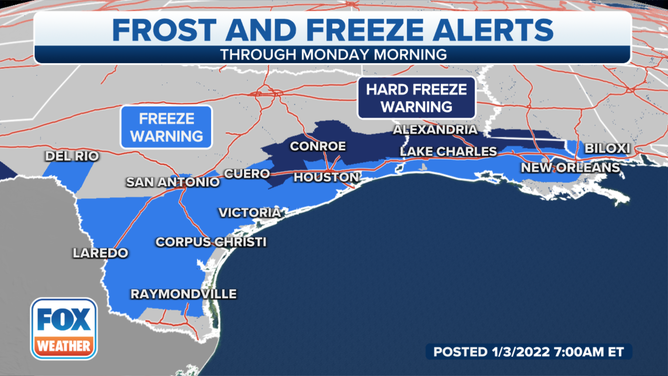 Just further west beyond the Panhandle, freeze warnings are in place for portions of southern Mississippi and southeast Louisiana until 10 a.m. CT.