Pres. Biden delayed aboard Air Force One upon landing during snowstorm
More than a half-foot of snow could fall in parts of the mid-Atlantic on Monday
ANDREWS AIR FORCE BASE, Md. - President Joe Biden was briefly delayed aboard Air Force One after landing at Andrews Air Force Base in Maryland during Monday's snowstorm.
Heavy snow has been falling across the mid-Atlantic since early Monday morning, and more than a half-foot could fall by the time the system moves out of the area later in the evening on Monday.
Forecasting for a president: It's no ordinary pilot brief for Air Force One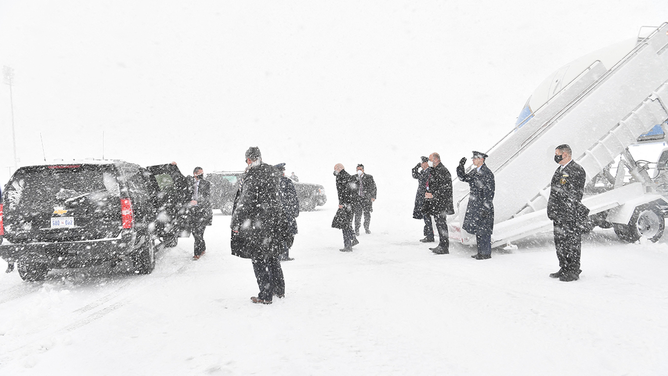 Reporters awaiting Pres. Biden's arrival say heavy snow covered the tarmac, and there were issues getting stairs close enough to the aircraft.
That issue caused Biden and members of the press to be delayed getting off the aircraft but eventually were able to deplane.
Reporters say roads in the Washington, D.C. area are very slick, so the trip back to the White House was longer than usual. According to reports, the speed of the motorcade stayed around 20 mph as they traveled down Pennsylvania Avenue, but in some spots, speeds were even lower.
The motorcade was also stopped for several minutes and observed vehicles on the opposite side of the road that had spun out due to the conditions.