Major storm crossing US will bring severe thunderstorms, heavy snow and flooding rain this week
The peak time for this storm's most significant impacts in the central and eastern US should occur between Wednesday night and Thursday
A major storm tracking across the United States will bring severe thunderstorms, heavy snow, flooding rain and high winds as it moves from the West into the Plains, Midwest, South and East through the end of the week.
The developing storm system is dropping south and eastward across the western U.S. while spreading snow across the Intermountain West and Rockies. From there, it will slide into the Central Plains, Mississippi Valley and Great Lakes Wednesday into Thursday as it ingests moisture from the Gulf of Mexico.
The peak time for this storm's most significant impacts in the central and eastern states should occur between Wednesday night and Thursday.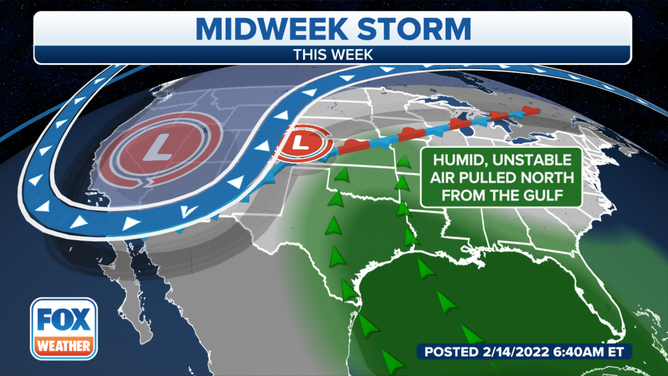 Here's what you can expect from this week's major storm as it crosses the country. Be sure to download the FOX Weather app for the latest forecast and weather alerts for your exact location, plus our channel's 24/7 livestream.
WHY DO PEOPLE BUY ALL THE MILK AND BREAD BEFORE SNOWSTORMS? HERE'S WHY
Timing the severe weather and flooding threats
Wednesday-Wednesday night
On Wednesday, the storm system will begin to pull in moisture from the Gulf of Mexico, causing a widespread area of rain and thunderstorms to develop by Wednesday night from the South into the Ohio Valley and southern Great Lakes. Locally heavy rainfall might lead to flash flooding in some areas.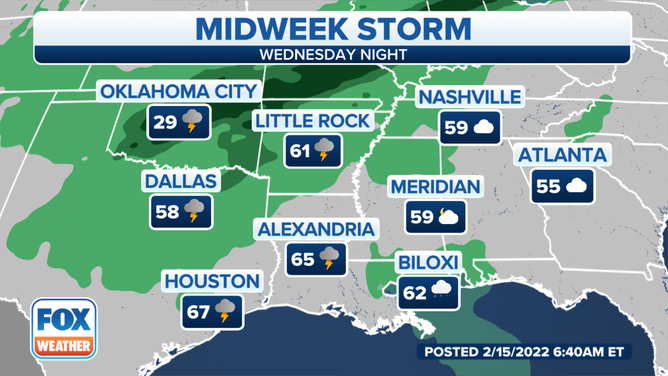 Severe thunderstorms are possible Wednesday evening through the overnight hours from Central Texas and western Oklahoma into portions of Arkansas and northwestern Louisiana. This includes the Dallas/Fort Worth Metroplex, Oklahoma City and Tulsa, Oklahoma, Fort Smith, Arkansas, and northern parts of the Shreveport, Louisiana, metro area.
Damaging wind gusts and large hail are the main threats, but a few tornadoes are also possible.
NIGHTTIME TORNADOES FAR MORE LIKELY TO TURN DEADLY THAN THOSE DURING THE DAY
Thursday-Thursday night
On Thursday and Thursday night, a soaking rain will drench areas from the Deep South into the Ohio Valley and Northeast. The rain might be heavy enough in some spots to result in localized flash flooding.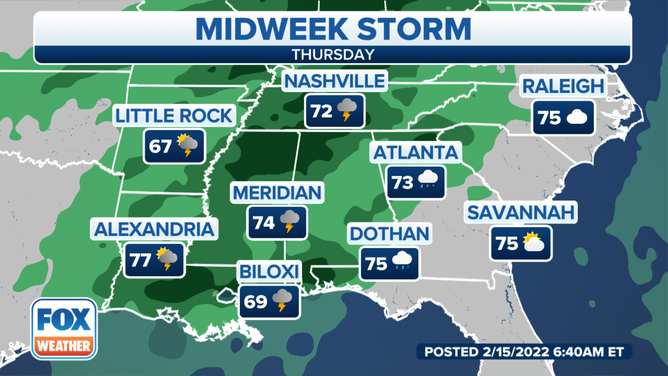 The severe weather threat will shift eastward on Thursday into parts of the lower Mississippi Valley, mid-South and Southeast. Thunderstorms will already be ongoing in those regions Thursday morning and are expected to continue throughout the day. 
WHIRLWIND ROMANCE FOLLOWS AFTER TORNADO CRASHES KANSAS COUPLE'S WEDDING
The main threats are again expected to be damaging wind gusts and large hail, though a tornado or two is still possible.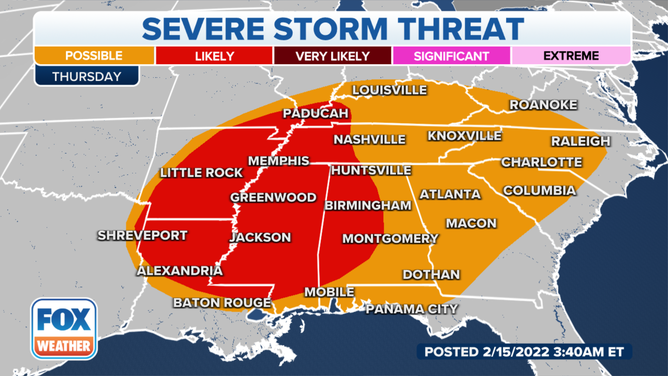 Timing the snow threat
Wednesday-Wednesday night
On Wednesday and Wednesday evening, snow is expected to fall from the Rockies into the adjacent High Plains, including Denver and the Interstate 25 Front Range Urban Corridor. By Wednesday night, snow and a narrow zone of sleet and freezing rain will overspread areas from the Central Plains to the western and northern Great Lakes.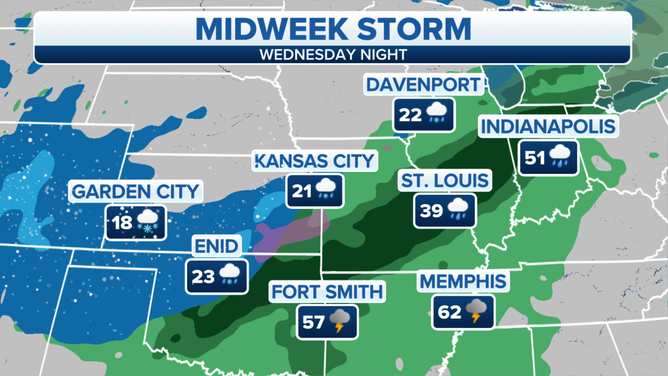 Thursday-Thursday night
Snow is likely on Thursday from portions of northern Oklahoma and eastern Kansas into parts of Missouri, central and northern Illinois, northern Indiana, northern Ohio and Lower Michigan.
High winds are also expected over a large portion of the Plains, Midwest and South. In areas where snow is falling, that could result in blowing and drifting snow with low visibility.
WHAT YOU SHOULD KNOW ABOUT BLOWING, DRIFTING SNOW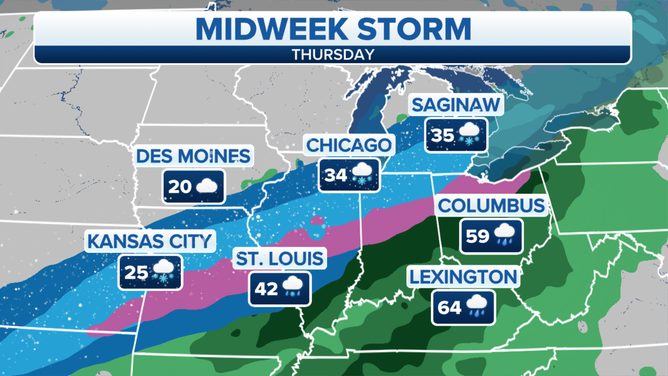 Rain and gusty winds should reach the East Coast Thursday night into Friday morning, including the Boston-to-Washington Interstate 95 corridor.
Enough cold air might arrive overnight for the rain to change over to a period of snow in portions of the Ohio Valley, interior Northeast and northern New England. However, areas near Interstate 95 will likely stay warm enough for all rain.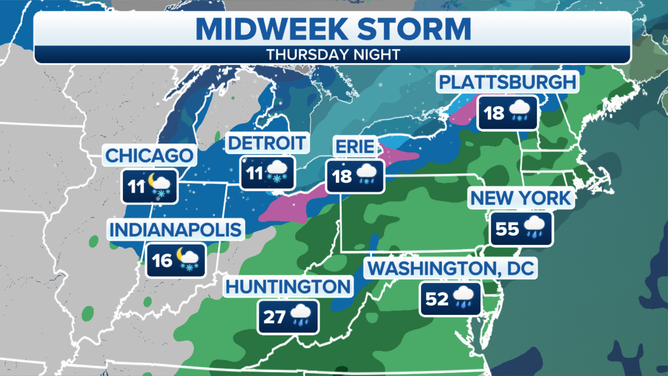 The storm will push off the Eastern Seaboard on Friday afternoon, ushering in another blast of cold air to start the weekend.
Snow and rain forecast
Light to moderate snow is expected for much of the Intermountain West and Rockies through midweek. This is good news for the Western ski resorts following a recent dry spell across the region.
SKIERS IN WEST 'GETTING GRUMPY' AS DRY FORECAST PERSISTS AND SNOWPACK FADES
Once the storm moves east of the Rockies, it will drop several inches of snow from parts of the Central Plains to the mid-Mississippi Valley and southern Great Lakes. More than 6 inches could pile up in a narrow corridor stretching across those regions.
Some snow is also possible in portions of the Ohio Valley, interior Northeast and northern New England depending on how much cold air is available when the storm system reaches those areas Thursday night into early Friday.
The exact locations that are predicted to see the heaviest snowfall might change as the forecast details come into better focus over the next day or two, so be sure to check back with FOX Weather for updates.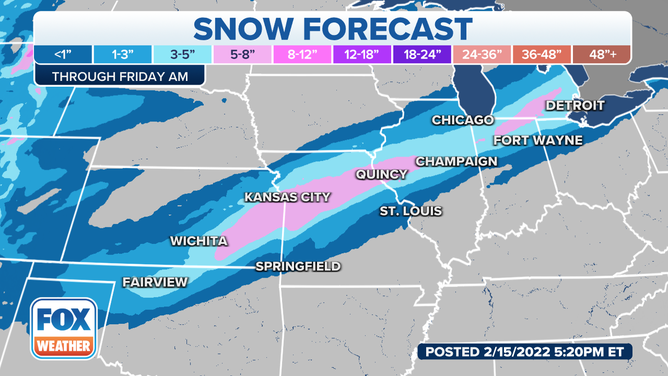 Additionally, high winds will accompany the snow in some areas, likely resulting in blowing and drifting snow with low visibility. That would make driving conditions even more dangerous than they already would be from the snow alone.
On the warm side of this storm, at least an inch of rain is expected over a broad area from the Ohio Valley to the Deep South.
Locally higher rainfall totals between 2 and 3 inches are possible in some locations.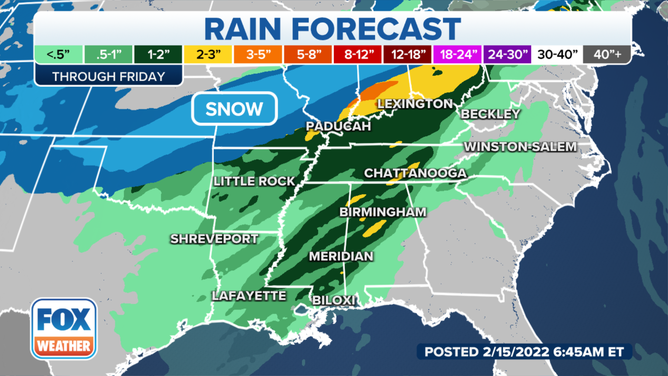 The rain could lead to flooding in parts of those regions.
As a result, Flood Watches have been hoisted by the National Weather Service from central Illinois into Indiana, southwestern Michigan and northwestern Ohio.
EXPLAINING FLOOD ALERTS ISSUED BY THE NATIONAL WEATHER SERVICE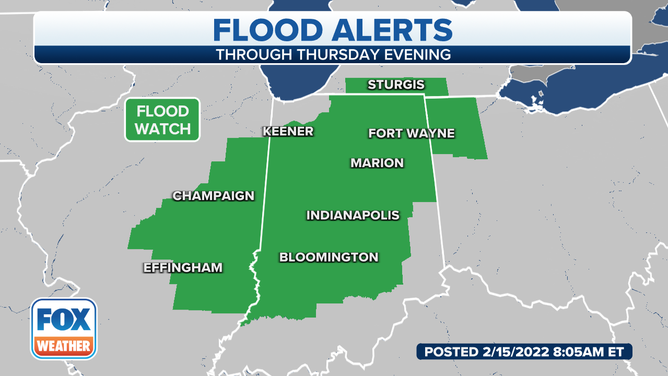 In addition, ice jams are a concern on rivers in the southern Great Lakes region, particularly in Illinois and Indiana, due to warmer temperatures ahead of the storm followed by locally heavy rainfall when the storm arrives.