Wind alerts issued in West as burst of snow blankets Cascades to northern Rockies
The storm is dropping widespread rain and mountain snow from Washington to the Four Corners region, which will continue through midweek
A storm system is moving through the West, dropping rain and snow in several states.
As much as 5 to 8 inches of fresh snow is expected from the higher elevations of Idaho to Montana to Wyoming through Tuesday.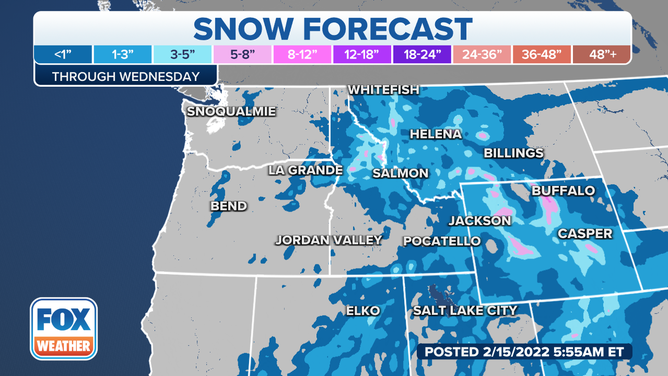 The National Weather Service in Cheyenne, Wyoming, said Winter Weather Advisories have been issued for late Tuesday night through Thursday morning. 
Snow accumulations of 2 to 4 inches are expected in the lower elevations of the advisory area, while 3 to 6 inches is possible in the mountains. Farther east of the Laramie Range, 1 to 3 inches of snowfall is possible. 
The NWS in Los Angeles said the fast-moving winter storm will bring increasing northwest to north winds across southwestern California on Tuesday along with a chance of rain and snow showers – an area in desperate need of moisture.
Most areas will only see light showers, with likely rainfall accumulations up to 0.25 inches across the Los Angeles County mountains through Tuesday night. 
A Wind Advisory is up from California to New Mexico, where winds will be a concern through Tuesday night.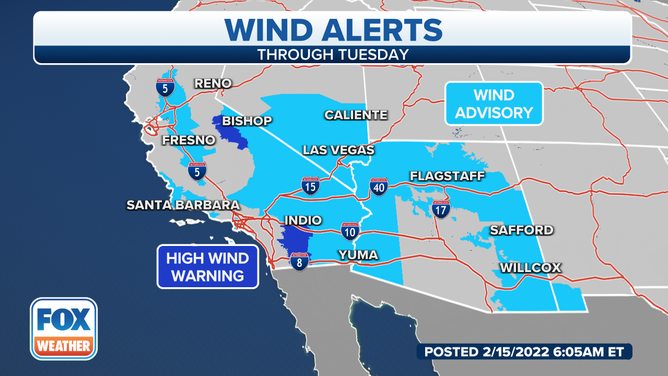 Winds will be gusting 35 to 50 mph in the mountains and 20 to 35 mph across many valleys and coasts on Tuesday, along with much cooler conditions than in recent days. 
The NWS said gale-force winds Tuesday will also bring above-normal to high-surf conditions with waves of 9 to 12 feet on the Central Coast and 4 to 7 feet for the Ventura and Los Angeles County coasts through Wednesday. 
In Tucson, Arizona, a Red Flag Warning and Wind Advisory will be in effect from 11 a.m. to 8 p.m. Tuesday as sustained winds of 25 to 35 mph with gusts 35 to 50 mph are likely. Any fires that do start will have the ability to spread rapidly, the NWS said.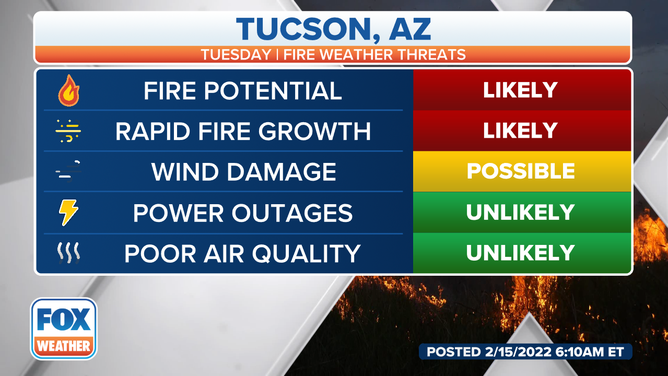 Blowing dust will be possible over the lower elevations of eastern Arizona that may reduce visibility.