Lee lashes Maine, Canada with whipping winds, heavy rain as thousands remain without power
Officials say a 15-year-old boy in Florida and a 50-year-old man in Maine were killed due to the effects of Lee.
BAR HARBOR, Maine - The cleanup is underway in Maine and Canada after Post-Tropical Cyclone Lee blasted heavy rain and strong winds that knocked out power to hundreds of thousands of customers and killed at least two people.
On the heels of Lee, another storm system will be swooping into the Northeast, bringing the risk of more heavy rain for the third time in less than a week.
Lee leaves at least 2 dead in Florida, Maine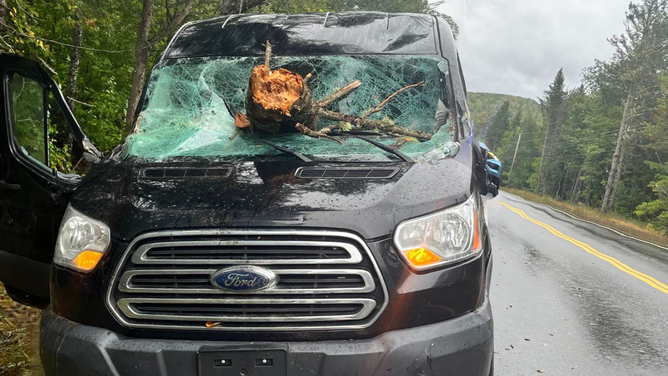 At least two deaths have been attributed to Lee so far, and other Lee-related injuries have been reported.
The first death occurred in Florida earlier this week as then-Hurricane Lee churned up the Atlantic Ocean and caused dangerous rip currents along the coast. Officials in Fernandina Beach said a 15-year-old boy drowned.
FLORIDA, MAINE REPORT FATALITIES CONNECTED TO LEE
Officials said the teen was swimming with two other people when he disappeared after falling off a raft. The two other swimmers were helped back to shore, but a search was launched for the missing teen, and his body was eventually found.
On Saturday, police said winds from Post-Tropical Cyclone Lee knocked down a tree onto a car in Searsport, Maine, killing a 50-year-old man inside.

Officials said the tree also took down power lines, and first responders needed to wait for power to be cut to reach the victim, who has been identified by FOX 23 Maine as Gary Phillips. They eventually reached Phillips and took him to a local hospital, where he later died.
According to the report, Phillips was getting ready to celebrate his 5-year-old daughter's birthday. A GoFundMe has since been set up to help the family.
A group of people driving in Moro Plantation, Maine, had a close call when a large tree fell across Route 11.
Maine State Police said the driver of a van swerved to avoid the tree but was unable to avoid it. The top of the tree then went through the windshield, narrowly missing the driver and his passenger.
The driver received minor injuries, and no injuries were reported to any of the passengers.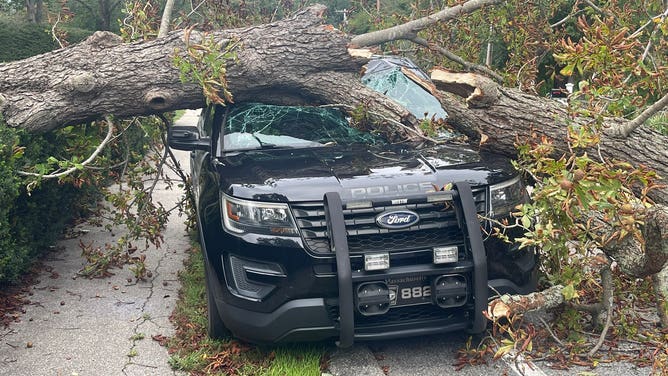 A police officer was able to escape injuries in Cohasset, Massachusetts, after winds from Lee brought down a large tree. Police said an officer responded to reports of low-hanging wires in the area of South Maine Street and River Road on Saturday.
While the officer was outside his cruiser, he heard a loud snap and saw a large tree falling toward him. He was able to run and get out of the way before the tree landed on his cruiser.
What's next for Lee?
Here's a look at the current power outages across the Northeast.
(FOX Weather)
---
More than 300,000 customers in the U.S. and Canada lost power during the peak of Lee; however, crews have been out in full force making repairs to downed utility lines to bring customers back online.
WHAT'S THE DIFFERENCE BETWEEN A TROPICAL STORM AND A SUBTROPICAL STORM?
As of Sunday afternoon, there were about 22,000 customers in the dark in Maine, while just over 57,000 were without power in Nova Scotia and New Brunswick.
Cell phone service was also reported to be spotty in the region, which was likely a result of widespread power outages.
Here's a look at the latest with Post-Tropical-Cyclone Lee.
(FOX Weather)
---
Lee made landfall just after 4 p.m. on Saturday in Long Island, Nova Scotia, with winds of about 70 mph. As of Sunday afternoon, Post-Tropical-Cyclone Lee had maximum sustained winds of 45 mph with higher gusts and was moving to the northeast at 22 mph. The NHC said it would no longer issue advisories on Lee after 11 a.m. on Sunday.
Boat breaks free, slams into Maine pier
On Saturday morning, FOX Weather meteorologist Michael Estime was covering the storm from Bar Harbor, Maine, when he witnessed a boat being forcefully propelled by strong waves towards a concrete pier before it slammed into a seawall.
"We watched as one of these boats … became unhinged and the boat was rocking and rolling … and within 30 seconds that wind took that boat and smacked it up against the seawall right behind Pier No. 2, and then we lost it as it sailed out of our field of vision," he said.
Police in Provincetown, Massachusetts, were able to help a lost seal that had become stranded in a marshy area when the tide went out on Saturday night.
In a Facebook post, police said they received reports of the lost gray seal that had wandered into the middle of a roadway near the AWOL Hotel around 9 p.m.
Officers said they worked to clear a path for the seal so it could make its way back to the beach and the ocean.
The seal eventually made it back and police said it wasn't injured when it returned to its natural habitat.
Lee caused whipping winds from New England to Canada
Here's a look at Lee's top wind reports.
(FOX Weather)
---
Lee produced hurricane-force wind gusts in both the U.S. and Canada before making landfall.
In Perry, Maine, near the Canada–U.S. border, a wind gust reached 83 mph early Saturday morning. A gust on Canada's Grand Manan Island reached 93 mph while Halifax, Nova Scotia, hit 73 mph. An observation site in New Brunswick reported a wind gust of 93 mph.
At the higher elevations, Lee helped produce a wind gust of 96 mph at Mount Washington in New Hampshire.