Florida, Maine report first fatalities connected to Hurricane Lee
Hurricane Lee traveled through a large part of the southwest Atlantic as a major storm. The hurricane sent swells towards U.S. beaches and helped increase the risk of rip currents from Florida through Maine.
Authorities in at least two states have reported deaths associated with Hurricane Lee during its excursion along the eastern seaboard.
The fire department in Fernandina Beach, Florida, said a 15-year-old boy drowned while in rough waters of the Atlantic on Wednesday and the Waldo County Sheriff's Office reported a 50-year-old man was killed when a tree fell on his vehicle on Saturday morning.
Tree falls on vehicle in Maine
The Waldo County Sheriff's Office said a 50-year-old man has died after a tree fell on his vehicle while he was driving in Searsport, Maine on Saturday.
The region was under a Tropical Storm Warning when the incident happened around 9 a.m.
A Tropical Storm Warning mean sustained winds of 39-73 mph are likely, which can cause damage.
Crews said the falling tree also took out power lines, and responders had to wait until the electricity was shut off to reach the victim.
Florida rip current death
Authorities believe they have found the body of a missing 15-year-old swimmer who disappeared in rough surf conditions along the coast of Northeast Florida on Wednesday despite warnings from agencies of rough surf from Hurricane Lee.
The Fernandina Beach Police Department said the teen was swimming with two other people when he disappeared after falling off a raft. The two other swimmers were helped back to shore and transported to a local medical center while multiple agencies deployed resources to search for the teen.
Red flags warning swimmers of the treacherous conditions were posted, and lifeguards were alerting beachgoers, but it is unknown if the teen and the group he was with from Georgia were aware of the dangers.
"We have had extremely dangerous rip currents as forecasted by the weather service and feel the extreme conditions are associated with Hurricane Lee and the other storms in the Atlantic," Ty Silcox, the fire chief of Fernandina Beach, stated. "When we arrived on scene, there were several rip currents in that area, as a matter of fact, where witnesses were pointing. There was a rip current in that particular area."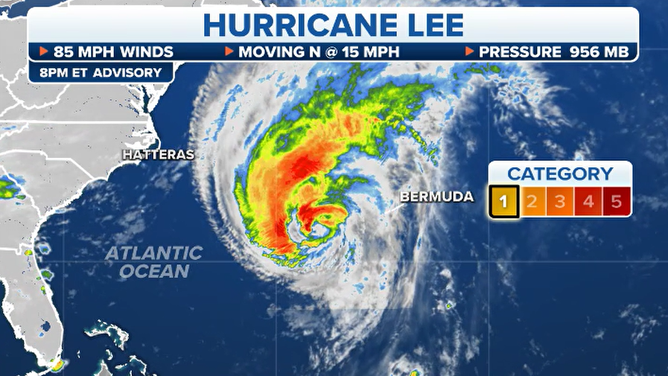 HURRICANE LEE LIVE TRACKER: PROJECTED PATH, SPAGHETTI COMPUTER MODELS, CONE OF CONCERN AND MORE
The large waves and increased rip currents have led to dozens of rescues on the east coast of the Sunshine State from Jacksonville through Central Florida and beaches southward, but there have been no other reported fatalities directly associated with the rough waters produced by Lee.
National Weather Service meteorologists warned that rip currents created in part by Hurricane Lee "can sweep even the best swimmers away from shore into deeper water."
Despite the rough conditions, beaches were not closed to swimmers, and everyone was reminded to swim at their own risk.
Wave heights have started to decrease along the beaches of Florida and Georgia, but the increased threat of rip currents is expected to remain heightened into next week.
The latest death brings the U.S. fatality count to 77 from events such as strong currents, high surf and rip currents, according to a NOAA database.
The majority of those deaths were reported in Florida and involved out-of-towners venturing into waters that are considered to be rough and unpredictable.
NOAA advises all beachgoers to swim near a lifeguard in the event of needing help while in the ocean.