History of Hurricane Lee
Lee was the thirteenth storm to reach tropical storm status in 2023 and was the season's third major hurricane. It made landfall as a post-tropical cyclone on Saturday, September 16, 2023.
For the latest information on Major Hurricane Lee visit FOX Weather's live news story: Read more here.
Hurricane Lee formed from a tropical wave that left the coast of Africa on September 2. The system struggled to gain organization until it reached the central Atlantic and became Tropical Depression Thirteen a few days later.
TD 13 was upgraded to Tropical Storm Lee on September 5 and took about 24 hours to reach hurricane status, with winds of at least 74 mph.
By Thursday, September 7, the hurricane had made it far enough west in the basin that a Hurricane Hunter aircraft was able to investigate the storm and determine that a period of rapid intensification was underway. As of Friday morning, Lee had sustained winds of around 165 mph and gusts near 185 mph.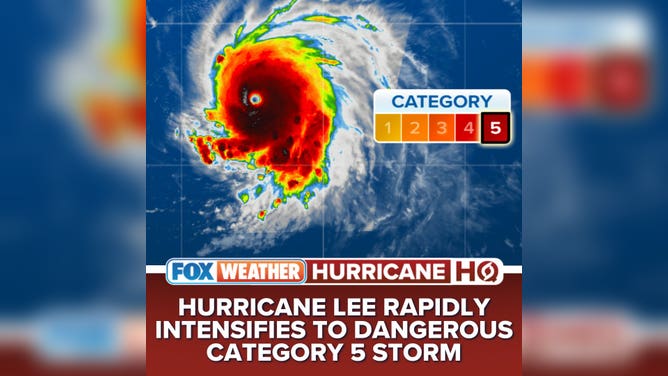 Its increase in wind speed of 85 mph over 24 hours made it one of the fastest intensifying storms ever seen in the Atlantic basin, only to have been outdone by Hurricane Felix in 2007 and Hurricane Wilma in 2005.
The hurricane didn't stay an intense Category 5 for long- a sudden rush of upper-level winds helped cripple the inner workings of the storm, and its strength plummeted to a Category 3 on the Saffir-Simpson Hurricane Wind Scale.
Lee was the first hurricane of the 2023 season to reach Category 5 status and was stronger than both Hurricanes Franklin and Idalia, that formed weeks before.
HURRICANE LEE LIVE TRACKER: SATELLITE, SPAGHETTI COMPUTER MODELS, CONE OF CONCERN AND MORE
Impacts to the Caribbean Islands
The islands that make up the Lesser Antilles, Puerto Rico and the U.S. and British Virgin Islands have all reported increased swells and rough seas.
Due to the hurricane passing some of the island nations, neither Tropical Storm nor Hurricane Watches were issued for locations such as Antigua and Barbuda, Guadeloupe or Dominica.
The National Hurricane Center, in coordination with local weather service offices, have the ability to either issue a Hurricane Watch or a Tropical Storm Watch when sustained winds are possible within the next 48 hours.
The U.S. Coast Guard set port operating conditions to X-Ray in Puerto Rico and the U.S. Virgin Islands, which alerts vessels to at least gale force conditions possible within 48 hours.
The Coast Guard warned seas greater than 10 feet hampers their ability to respond to distressed boaters.
HURRICANE LEE MAINTAINS STRENGTH WITH COASTAL IMPACTS ARRIVING TO US BEACHES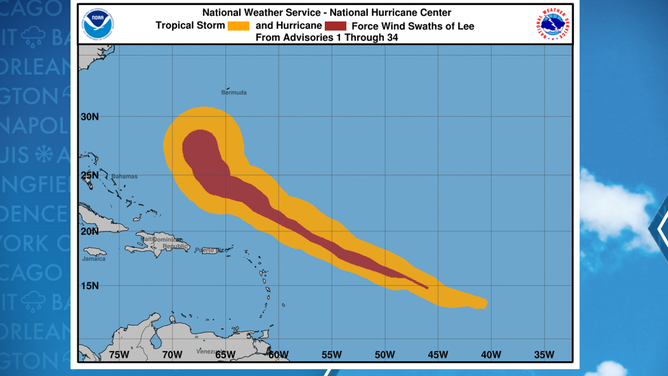 Southeast sees rough surf and rip currents
Hurricane Lee maintained significant strength through the weekend, sending powerful swells towards Florida, the Southeast Coast and the mid-Atlantic.
The National Hurricane Center on Wednesday issued Hurricane, Tropical Storm and Storm Surge watches for most of New England due to the threat of damaging winds within the next 48 hours.
Authorities in Fernandina Beach, Florida, said a 15-year-old swimmer is missing after witnesses reported seeing the teen disappear in the rough surf on Wednesday afternoon.
The beachgoer was with two other people who were plucked out of the water, but according to the Coast Guard, there have been no signs of the missing teen.
Ground, air and marine units spent hours looking for the swimmer, as the hurricane passed more than 500 miles off the coast.
Flags along beaches in Northeast Florida warned swimmers of the dangerous conditions, and it is unclear if the group was aware of the rough water.
The North Carolina Department of Transportation had crews stationed along the Outer Banks to monitor for overwash and shore up weak spots along the islands.
During peak tide cycles on Thursday and Friday, overwash was reported on several islands but locals said the coastal flooding only led to minor delays.
"High tide has come and gone, and NC12 remains open and traffic is flowing! There's a thin layer of sand and ponded water at locations from Kitty Hawk to Ocracoke. Conditions have relaxed at Hatteras & Ocracoke as Lee moves north," NCDOT told travelers on Friday morning.

Canada prepares for hurricane-force winds
On the same day as the NHC issuing alerts for the U.S. coast, the Canadian Hurricane Center issued a Hurricane Watch for the coast of New Brunswick and Nova Scotia.
Many of the communities under alerts were impacted by Hurricane Fionna in 2022 which caused at least 500,000 power outages.
Nova Scotia Power said it is activating its Emergency Operations Centre ahead of the storm.
"Our team has been monitoring Hurricane Lee for several days and using that information to finalize plans, so we're ready to respond," Matt Drover, Nova Scotia Power's storm lead, said in a statement. "We are expecting winds to be the biggest challenge with this storm, both from a safety standpoint and impact on our equipment. We are taking every precaution and will be ready to respond as safely and efficiently as possible."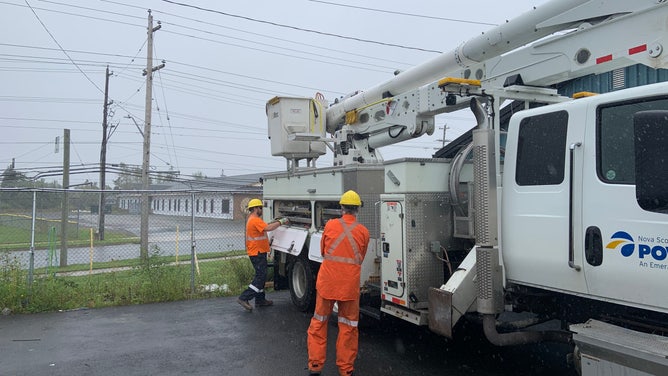 Northeast U.S. impacts
In the hours and days before the arrival of Lee, governors in Massachusetts and Maine declared states of emergency in order line up resources for preparations and the response after the storm.
Additionally, dozens of National Guard members were activated, in the event of high-water rescues and President Joe Biden signed an Emergency Disaster Declaration for Maine ahead of the storm.
During the height of the winds and rains more than 100,000 customers across New England were impacted by power outages.
Out of the half a dozen states that make up the region, Maine was the hardest hit with outages reaching around 100,000.
Lee becomes post-tropical cyclone and makes landfall in Canada
Hurricane Lee transitioned into post-tropical cyclone on Saturday before making landfall in the province of Nova Scotia. Maximum sustained winds were estimated to be around 70 mph, but the wind field extended outward hundreds of miles away from the circulation center.
Also on Saturday, authorities confirmed the second death from the storm. Waldo County Sheriff's Office deputies said a 50-year-old man was killed after his vehicle was crushed by a falling tree in the town of Searsport.