January ends hopes of continued drought improvements
271 cities had one of their driest Januarys on record
Hopes that a wet weather pattern would continue into the new year were dashed after hundreds of cities from coast-to-coast reported drier than average conditions during the first month of the year.
The dry weather was accompanied by cold temperatures, which impacted most of the country.
More than 270 cities reported January as being one of their driest record, with 45 of those locations either tying or setting a new record.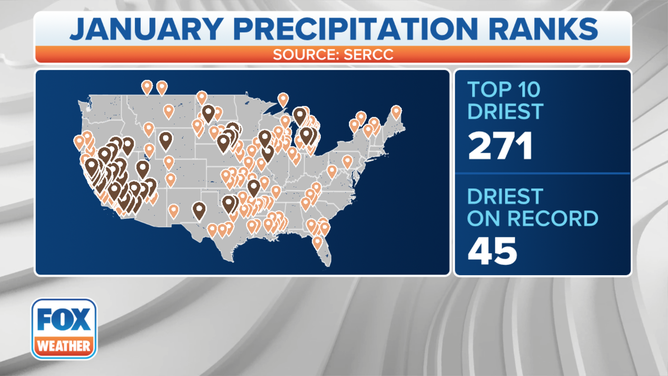 Some of the cities that set records included Stockton, California; Reno, Nevada; and Frenso, California.
Areas that saw above-average precipitation were limited to the extreme Pacific Northwest and the Mid-Atlantic.
SNOWFALL CONSIDERED CRUCIAL FOR LONG-TERM DROUGHT MITIGATION
The lack of snow and rain for many areas caused the expansion of drought conditions, mainly in the western half of the country.
The latest drought monitor reported that more than half of the lower 48 were at least experiencing moderate drought conditions, with only 27 percent of the U.S. not in some type of precipitation deficit.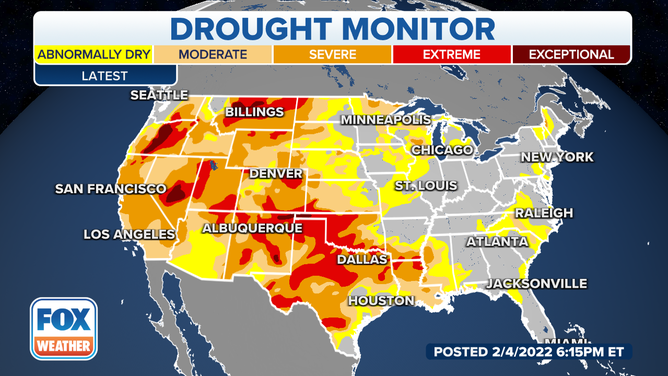 Many regions of the West depend on snowfall melt for residential and commercial uses during dry months, so any lack of precipitation during the winter months is concerning to meteorologists.
The same weather patterns that brought in the dry weather also brought chilly temperatures.
On average, January is typically the coldest month for the country, and the start of 2022 stuck to expectations.
FOX Weather meteorologists found at least 122 locales that reported January 2022 as one of their top 10 coldest starts to the new year.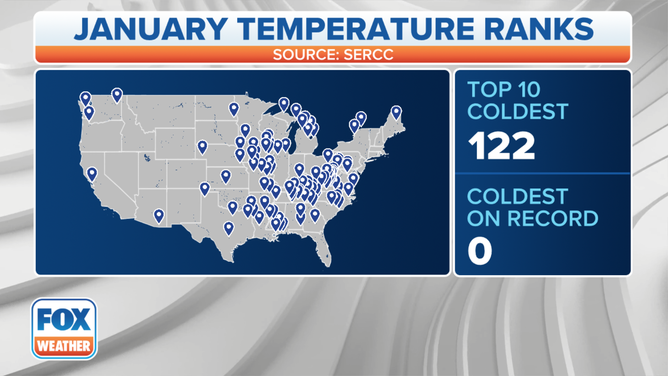 The cold air was not enough to break all-time records, and no city reported seeing their coldest January ever.
The cold month was a reversal from December when 546 cities reported seeing one of the warmest Decembers on record. 
Long-term climate outlooks from the National Oceanic and Atmospheric Administration show most of the country could be in store for a warm-up to end the winter season.