The heat was on: 159 cities see warmest December on record
The list of cities stretches across Texas, Oklahoma, Louisiana, Alabama, Mississippi, Kentucky and Virginia.
DALLAS – For a wide swath of the nation, December must have felt like winter took its own vacation as temperatures soared again and again and several all-time heat records not only be broken but obliterated.
FOX Weather Senior Weather Data Specialist Shane Brown found that 159 stations across the south and east broke their all-time records for warmest December on record!  The list of cities stretches across Texas, Oklahoma, Louisiana, Alabama, Mississippi, Kentucky and Virginia.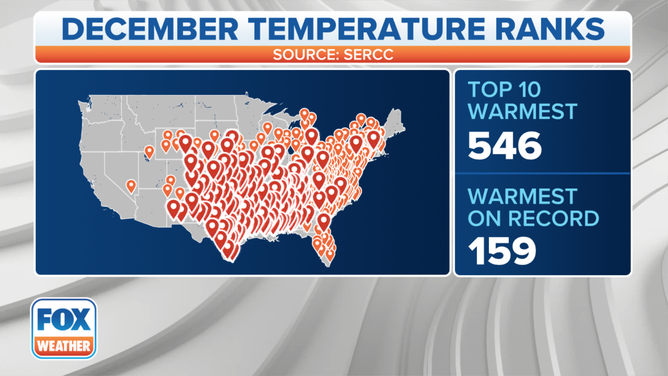 Dallas was the king of the record-shatterers, with an average December temperature of 61.3 degrees, beating their all-time warmest December by 7.3 degrees. Overall, the month was 13 degrees above average. December had eight days reach at least 80 degrees amid four different stretches of warmth and had an average high temperature of 72.6 degrees -- warmer than their March.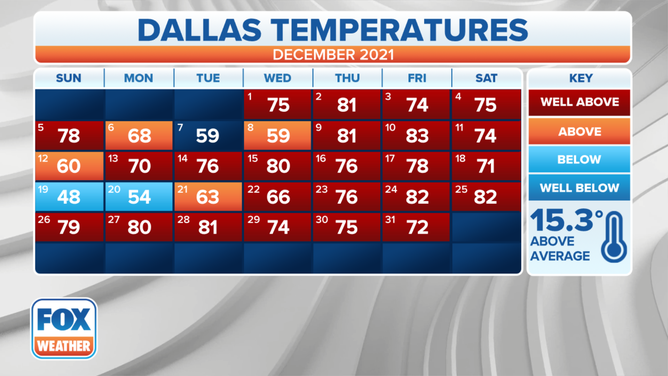 Down the state in Galveston, the average high of 75.5 degrees was warmer than any month in 2021 for San Francisco, Oakland, or coastal Los Angeles (LAX).
Other cities that broke their all-time December monthly temperature records: Tulsa, Pensacola, Oklahoma City, Norfolk, New Orleans, Montgomery, Houston, Lubbock, Baton Rouge, Birmingham and Austin.
On the other hand, while it was cool in the west, only 13 locations ranked in their Top 10 coldest Decembers; Forks, Washington ranked No. 5
It was wet in the West and North
Brown found that dozens of locations had among their wettest Decembers on record, including Los Angeles (2nd), Saint Cloud, Minnesota (3rd), International Falls (3rd), San Francisco (4th), Sacramento (5th), Reno (6th) and Duluth (9th.)
Meanwhile, a few spots in the Midwest had their driest December, including Dodge City, Kansas, Wichita, Kansas, and Amarillo, Texas. Atlantic City, New Jersey had its second driest, while Washington, D.C (3rd), Baltimore (6th), Newark (8th) and New York (10th) finished in the Top 10.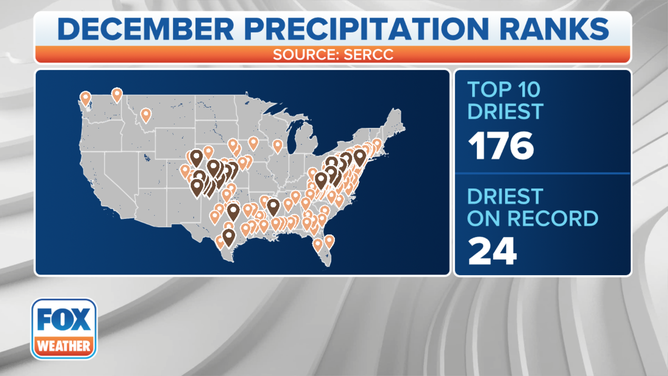 Triple the Tornado Threats in December
Aside from the relative heat, December will be memorable for its multiple severe weather outbreaks. There were 200 tornado reports in December alone, according to Brown. 
That's more than triple the average amount of tornado reports. Two tornadoes reached EF-4 status during the Dec. 10-11 outbreak in the Mid-South.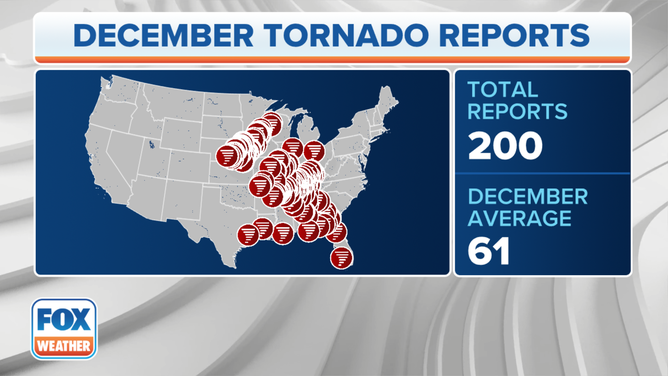 For the year, though, there were 1,374 tornado reports, about 150 fewer than average, Brown said.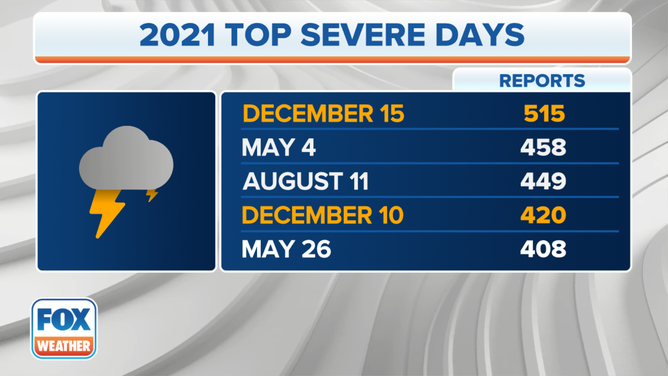 Texas led with 129 tornado reports, followed by Alabama and Mississippi.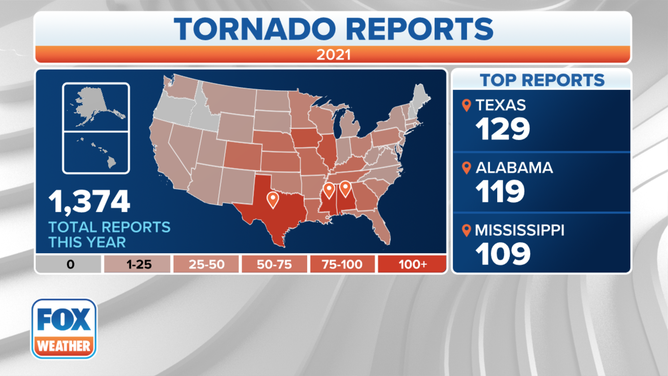 Tornadoes were reported in 44 states in 2021, leaving out Maine, New Hampshire, Idaho, Oregon, Alaska and Hawaii.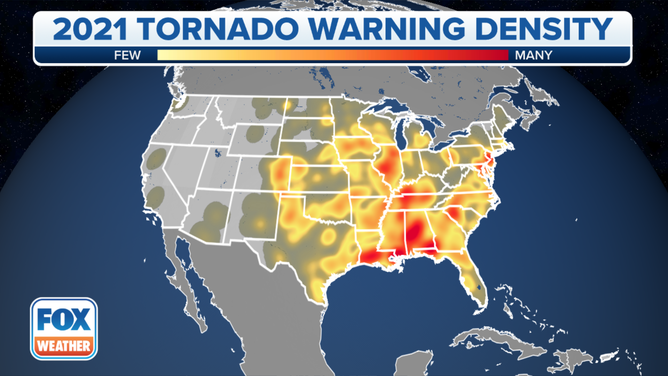 Neary 1,000 wind reports in December
Brown says the derecho that brought 90-100 mph winds to the Midwest in December brought 400 severe wind reports on its own -- nearly double the entire monthly average. But overall, there were close to 1,000 severe wind reports spread across 39 states.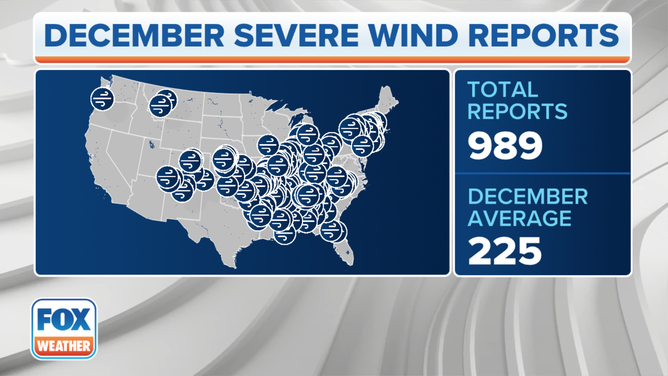 Pennsylvania had the most wind reports for the entire year at nearly 1,500. Virginia and New York round out the Top 3. Still again, overall, wind reports were about 1,700 reports below average, with 13,336 reports in the nation in 2021.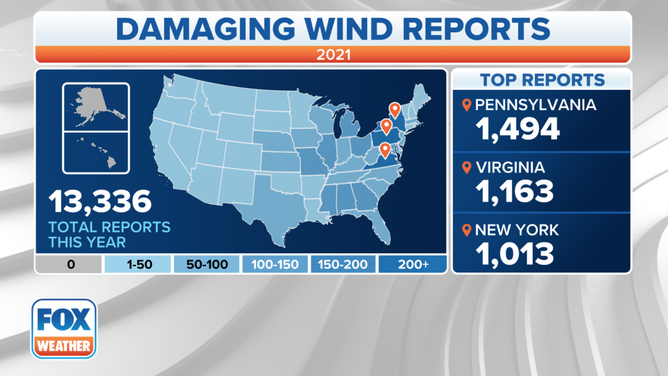 Pennsylvania also led the nation in flash flooding reports with over 500 -- the second year in a row the Keystone State has led the nation. Texas and Arizona rounded out the top 3.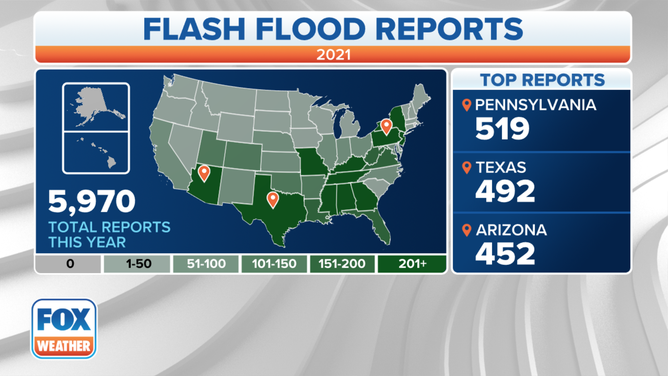 Texas: Still The Hail Capital of the U.S.
In another rarity for December, a softball-sized hailstone was reported along I-35 near Emporia, Kansas, Brown said.
That event was one of Kansas' 461 reports of hail this year, netting them the second spot for most hail reports in 2021.
Texas reigns supreme at 1,129 large hail reports. Nebraska came in third. But every state in the Lower 48 had at least one hail report, Brown said.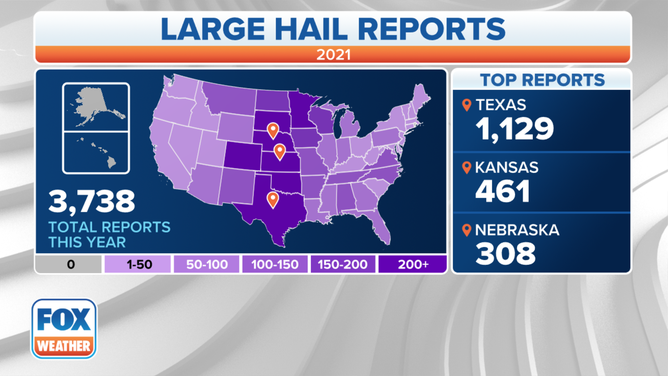 Overall though, 2021 was light on the hail. The U.S. totaled 3,738 reports of large hail (1" or greater diameter), which is well below the long-term average of over 8,000, Brown said.