Atmospheric river event did little to reduce California's long-term drought, experts say
California climatologists estimate the state needs around 140% of its yearly precipitation to reach normal levels.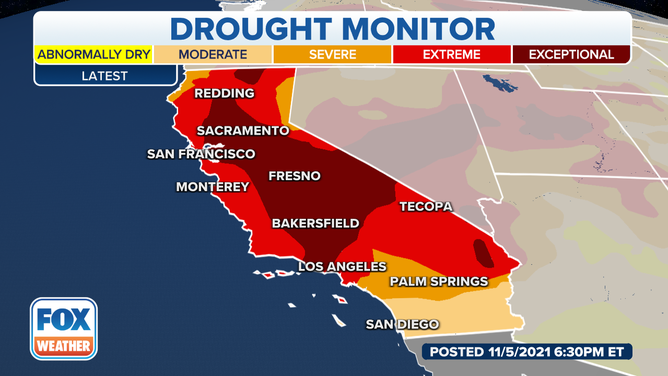 Despite recent heavy rainfall events, especially in Northern California, climatologists say much more precipitation is needed to end the state's multi-year drought.
As of early November, the entire state was experiencing drought conditions that ranged from moderate to exceptional.
Richard Heim, a meteorologist at the National Oceanic and Atmospheric Administration's National Centers for Environmental Information, said recent rainfall events helped the short-term deficits but barely made a dent in the long-term drought and the replenishments of reservoirs.
As of early November, most of the state's significant reservoirs only reported being between 16% - 35% of capacity.
The U.S. Geological Survey estimates that the state's major reservoirs usually hold about half of the water stored in all of California's more than 200 reservoirs.
Experts consider the reservoirs vital to the state's water grid and help control the supply needed for everything from residents' consumption to power generation. 
Much more precipitation is needed
Dr. Michael Anderson, a state climatologist for the California Department of Water Resources, estimates that the state needs to see a year with 140% of normal precipitation to end the drought and get runoff flowing again into the state's reservoirs.
Experts are paying close attention to the northern and central parts of the state, where 75 percent of California's usual precipitation falls.
Because recent storms brought in warmer air, freezing levels remained high, causing rain to fall in the higher elevations instead of snow.
"The current circulation pattern is causing precipitation to fall more often as rain than snow. This does not bode well for the winter mountain snowpack, which is crucial during the spring and summer melt season," Heim stated.
Meteorologists say the intrusion of cold air and the combination of moisture would help increase the snowpack and ensure that there is a steady flow of water into the reservoirs during the dry season.
Unfortunately for the state, La Niña could dominate weather patterns well into 2022, which means warmer weather in areas hoping for a break in the drought.