Warmer-than-average winter predicted in South and East; below-average temperatures favored in Northwest
La Niña is expected to play a role in winter temperatures and precipitation
A warmer-than-average winter is predicted for the southern and eastern United States, while below-average temperatures are favored in the northern tier of the nation with the emergence of a La Niña for the second straight year, according to NOAA's 2021-22 winter outlook released Thursday.
The outlook covers the three-month period known as "climatological winter," which extends from December through February.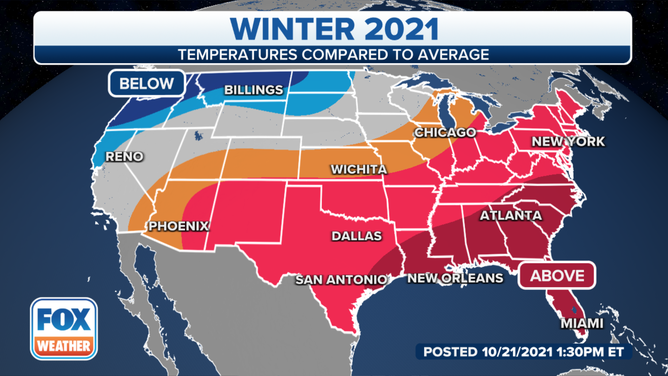 "Consistent with typical La Niña conditions during winter months, we anticipate below-normal temperatures along portions of the northern tier of the U.S., while much of the South experiences above-normal temperatures," said Jon Gottschalck, chief of the Operational Prediction Branch at NOAA's Climate Prediction Center.
NOAA's outlook suggests areas from southern and eastern Texas to the Carolinas have the greatest likelihood of a warmer-than-average winter.
Meanwhile, the highest odds for below-average temperatures are predicted from the Pacific Northwest eastward to the Northern Plains, as well as for southeastern Alaska. The upper Mississippi Valley and a small portion of the upper Great Lakes are forecast to have temperatures close to average this winter.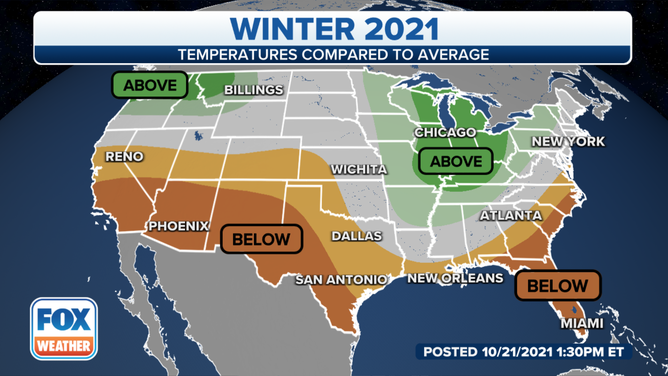 NOAA also expects this winter to be wetter than average in the Pacific Northwest, northern Rockies, Great Lakes, Ohio Valley and western Alaska.
Drier-than-average conditions are predicted in Southern California, the Southwest, the Southeast and south-central Alaska. The forecast for the remainder of the U.S. shows near-average precipitation between December and February.
This is unfortunate news for drought-stricken California and the southwestern U.S., who badly need a wet winter to help alleviate the ongoing drought. 
Widespread severe to exceptional drought continues to dominate the western half of the continental U.S., the Northern Plains and the Missouri River Basin.
NOAA said drought conditions are forecast to continue or worsen from Central and Southern California to the Rockies and Northern Plains, while drought conditions are likely to develop in the Southwest and Southern Plains.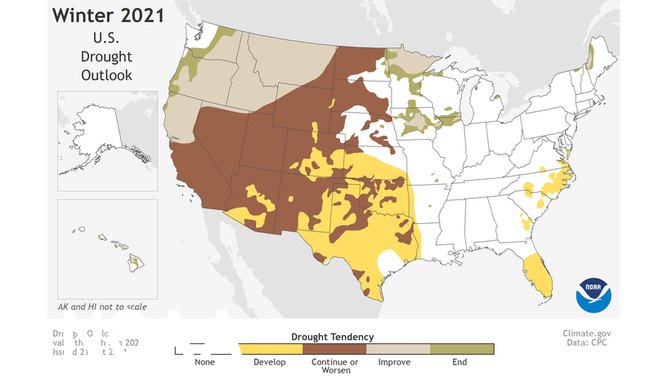 "The Southwest will certainly remain a region of concern, as we anticipate below-normal precipitation where drought conditions continue in most areas," Gottschalck said.
However, the drought is expected to improve or end in the Pacific Northwest, Northern California, the upper Midwest and Hawaii due to the wet weather anticipated this winter.
One important caveat to keep in mind with NOAA's winter outlook is that it shows the overall conditions expected over a three-month period. An individual cold front or an upper-level ridge of high pressure can bring a period of colder or warmer temperatures, respectively, that differs from the predicted three-month trend. Similarly, the same cold front or high-pressure system can bring a period of enhanced rain or snow or a dry spell, respectively, that doesn't follow the overall three-month pattern.
NOAA also noted that it does not include seasonal snowfall projections in its winter outlook because snow forecasts are generally not predictable more than a week in advance.