Record heat, gusty winds fuel extreme fire danger in Montana, across the Northwest
The ongoing Western heat wave could send temperatures in Montana into the triple digitals, with potential record highs that will add to the fire risk.
Extreme heat in the western U.S. will drive an extreme and critical fire risk in Montana and Idaho on Wednesday, which could lead to rapidly spreading wildfires. 
The most serious concern will be in parts of northern Montana, including Great Falls, up to the Canadian border, where the FOX Forecast Center is tracking an extreme fire weather risk.
Billings, Montana, and Lakeview, Oregon, are also under a critical fire risk, with an elevated risk across Boise, Idaho, and Jackson, Wyoming.
The dangerous fire weather will challenge ongoing firefights in the West on Wednesday and Thursday. 
HOW TO WATCH FOX WEATHER ON TV
Parts of Northern California experiencing ongoing deadly wildfires are included in the elevated fire risk. Crews battling the Ross Fork Fire east of Boise will face extreme heat and dry winds on Wednesday under an elevated fire risk. 
Regarding timing, the highest risk will be in the afternoon when temperatures are the warmest and relative humidity is extremely low.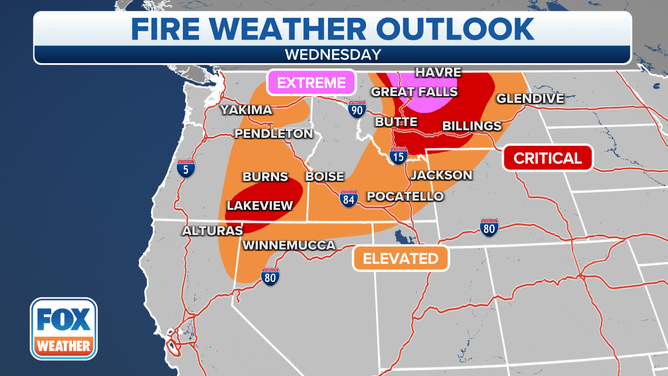 There is also the possibility of isolated and scattered dry thunderstorms on Wednesday afternoon. Dry thunderstorms, low relative humidity and heat are a recipe for quickly spreading fires in already-dry areas. 
WHY DRY THUNDERSTORMS POSE WILDFIRE, DUST STORM RISKS
"As if that wasn't enough, we do have isolated thunderstorms in the forecast that will be dry thunderstorms. That means we have the risk of lightning and gusty winds, two things that are not great for wildfire spread," FOX Weather meteorologist Britta Merwin said. "Unfortunately, we don't get any rain which would be the only benefit of this."
CALIFORNIA MANAGES UNPRECEDENTED POWER DEMAND AS HISTORIC HEAT WAVE IN WEST ENTERS 4TH DAY
The ongoing Western heat wave could send temperatures in Montana into the triple digitals, with potential record highs that will add to the fire risk. 
According to the Montana Department of Natural Resources and Conservation, there are 61 active fires across the state, including two new starts within the past 24 hours. 
Temperatures in the Northwest could reach triple digits on Wednesday, contributing to the fire danger.
(FOX Weather)
---
Relative humidity will be under 10% in fire-critical areas on Wednesday. 
Boise, Idaho, Salt Lake City and Winnemucca, Oregon, are forecast to have single-digit relative humidity on Wednesday.
On Wednesday, powerful winds forecast for parts of Oregon, Idaho and Montana could rapidly spread fires if one sparks.
Wind gusts up to 40 and 50 mph are possible in Helena, Montana.
WHAT SHOULD BE IN YOUR EVACUATION 'GO' BAG DURING WILDFIRE SEASON
"It's extremely dry air in place, we've got the bright sunshine that dries everything out, and we have low relative humidities. If you get those below the 15% margin, you start to get some concerns," FOX Weather meteorologist Amy Freeze said.
The fire threat will continue through Thursday, dropping into northern Utah and parts of the Central Plains. 
"High heat, sunny conditions, that dries out the vegetation. Everything is ready to burn," Freeze said.
Temperatures won't drop to near or below average until this weekend when a wild weather swing could bring snow to the highest elevations in Montana.