What should be in your evacuation 'GO' bag during wildfire season
Officials suggest designating a bag or backpack as your 'GO' bag and filling it with these important items that you'll need if you'll suddenly be away from home for a few days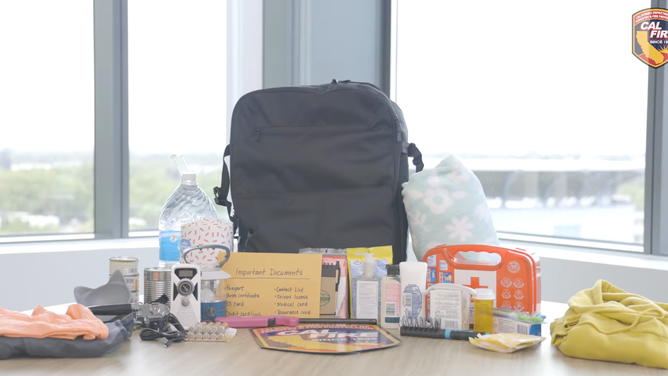 SACRAMENTO, Calif. – When conditions are dry and windy, a small spark can suddenly turn into a raging wildfire that quickly races across the region. And if you live in an area that is prone to these fires, you may only have moments to minutes to escape the advancing flames.
Firefighters recommend all those who could ever find themselves in harm's way to have an evacuation "GO" bag at the ready.
HOW TO BEST PREPARE YOUR HOMES FOR WILDFIRES
"Leaving quickly and early when a wildfire approaches your community is a vital part of keeping your family safe," officials with CAL Fire wrote on Facebook. "Having an emergency supply kit – also called a 'go bag' - stocked and ready is an important step in being able to 'Go!' at a moment's notice."
Officials suggest designating a bag or backpack as your GO bag and filling it with these important items that you'll need if you'll suddenly be away from home for a few days.
MEET THE METEOROLOGISTS WHO HEAD TOWARD THE HEART OF A FIRE
Essential items:
Portable all-purpose first aid kit
Some canned goods – plus, don't forget the can opener
Cans of pet food and a portable pet food bowl (if needed)
A roll of toilet paper
Feminine products
Toothbrush and toothpaste
Extra prescription meds
5 gallons of water – 3 days' worth
Essential gadgets:
Phone charger cable/plug
Portable radio
Batteries
LED portable lanterns/flashlights
Lighter
Comfort Items:
Small bottles of shampoo and/or conditioner
Bar of soap
Deodorant
Hairbrush
Razor
Hand sanitizer
Hand wipes
Rain poncho
Blanket
Extra hoodie
Extra shirt and leggings/pants
Also, don't forget to toss in these important documents:
Passport
Birth certificates
Social Security card
Credit cards and some cash
Contact list
Driver's license
Medical card
Insurance card
Having many of these items in a bag already will save time if an urgent evacuation is warranted. 
WHAT TO DO IF A WILDFIRE PROMPTS A POWER OUTAGE
Remember even if a mandatory Level 3 evacuation isn't in place yet, if your area is placed in a Level 1 or Level 2 evacuation zone, that is the time to make sure your supplies bag is fully stocked and ready to GO!
WHAT DO LEVEL 1, 2, AND 3 EVACUATIONS MEAN DURING WILDFIRES
And don't leave without your car keys and cell phone.
Find out more you can do to be ready for wildfire season at ReadyForWildfire.org