What do Level 1, 2, and 3 evacuations mean during wildfires?
Emergency managers will use three levels to convey the urgency of the situation.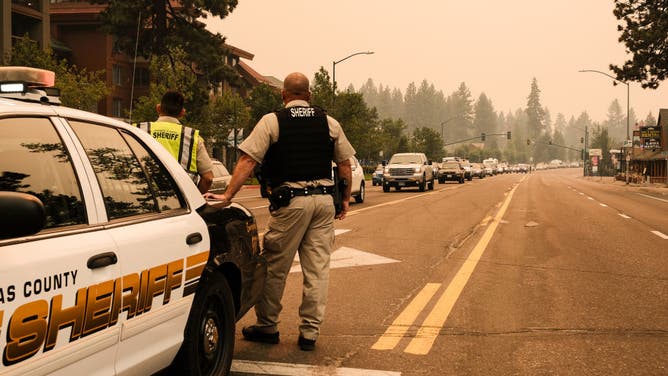 When a wildfire is burning in your region, you need to pay close attention to emergency managers who may have to issue evacuation notices -- sometimes on extremely short notice -- to make sure you and fellow residents can get to safety.
Emergency managers will use three levels to convey the urgency of the situation, according to the U.S. Forestry Service:
Level 1 Evacuation Alert: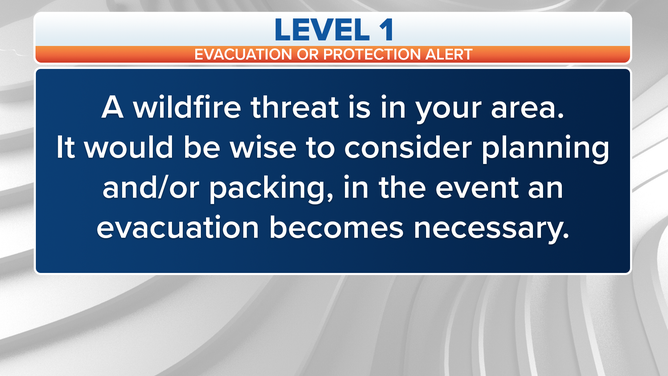 A Level 1 notice means that a wildfire threat is in your area, and you should begin plans and preparations to evacuate if the situation becomes more dangerous.
Level 2 Evacuation Alert: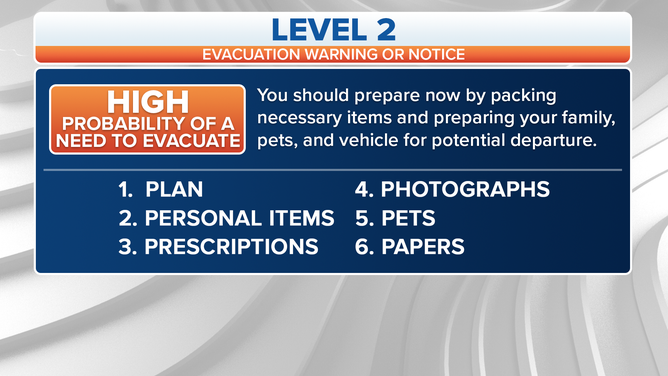 Level 2 notices go out when emergency managers feel that an evacuation order will eventually be needed. You should begin urgent preparations to leave your home. The US Forestry Service recommends these six actions:
1) Have a plan for everyone in your family, including a meeting place should you get separated.
2) Pack personal items, including toiletries, food, and water, for 2-3 days, as well as any special personal possessions.
3) Make sure you have packed an ample supply of prescriptions.
4) Pack all photographs and mementos that can not be replaced.
5) Pack all necessary papers, including reference phone numbers and account numbers, etc.
6) Have a plan for your pets, including ensuring they're secured so frightened pets don't escape fenced yards or kennels.
Have the car packed and ready to go at a moment's notice.
Officials also recommend moving any people with mobility or medical issues to a safe place outside the area in a Level 2 alert as they might need more time to leave. The same advice goes for livestock or large animals — prepare them now as if you're evacuating already.
Emergency officials stress you can use common sense and leave any time you feel unsafe or see active fire behavior.
Level 3 Evacuation Alert -- GO NOW!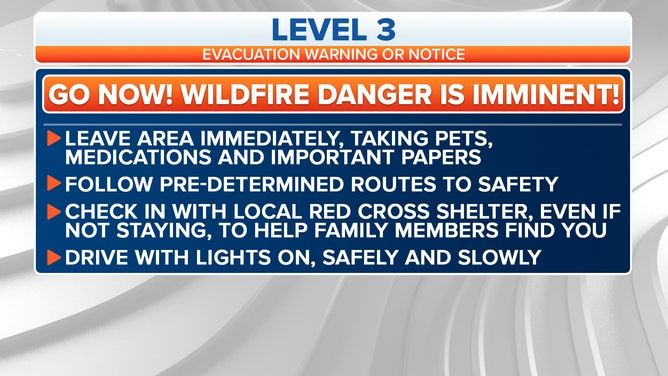 If your neighborhood is placed in a Level 3 evacuation alert, that means your location is in grave danger, and it's time to evacuate now!
Officials warn that usually, perimeter roadblocks will be in place, and officials will shuttle you out by pre-designated routes. When driving away from the area, go slowly with lights on and remain aware of your surroundings.
Officials ask that you check in with the nearby Red Cross shelter even if you don't plan to stay there so any family members that come looking you can know where you are.