California firefighters brace for Kay's high winds as deadly wildfires explode in size
Tropical Storm Kay will bring rain and cooler temperatures to the Los Angeles and San Diego metro areas, which could help firefighting efforts. However, the winds could make things worse.
Before bringing beneficial rain, Tropical Storm Kay's winds could help fuel wildfires across California that have claimed four lives this week and destroyed whole communities.
According to California's fire authority, CAL Fire, there are 11 active wildfires burning in the state, consuming more than 40,000 acres of land. 
California Gov. Gavin Newsom expanded the state of emergency to Riverside, El Dorado and Placer counties due to the ongoing wildfires threatening communities and lives. Newsom declared a state of emergency for Siskiyou County last Friday and said federal assistance would help with firefighting efforts.
Firefighters have been facing tough conditions as they try to contain fires and prevent new ones from sprouting in the midst of a heat wave setting records across the state. Crews have been suffering from extreme exhaustion as they work to contain some uncontrolled blazes in the Golden State. 
Throughout the week, widespread high temperatures are expected to reach into the upper 90s and triple digits throughout the Southwest and central valleys of California. 
HOW TO WATCH FOX WEATHER ON TV
There could be some heat relief arriving Friday for Southern California, but winds up to 70 mph will arrive before beneficial rain. 
Tropical Storm Kay, tracking off the Pacific coast of Mexico, will bring rain and cooler temperatures to the Los Angeles and San Diego metro areas. This will be a welcome change as Excessive Heat Warnings are in place for most of the state through Friday. Parts of Southern California woke up to Excessive Heat Warnings and Tropical Storm Warnings on Friday morning.

The FOX Forecast Center is tracking heavy rain, and high winds across Southern California and southwestern Arizona on Friday and Saturday as the center of the storm slides north, and tropical moisture surges into the region.
Kay's strong winds could also increase the fire danger in California. Wind gusts could reach as high as 75 to 80 mph in the mountains, with gusts between 55 and 60 mph expected in the valleys. These high winds will have the potential to knock down trees and power lines, with the possibility of widespread power outages.
Southern and Central California: Fairview and Radford fires prompt evacuations
A fast-moving brush fire started in Southern California on Monday, burning nearby homes, prompting evacuations and closing schools after rapidly growing within hours.
Now the largest wildfire in California, the Fairview Fire has exploded in size Friday. The blaze started Monday afternoon near Hemet, California. Firefighters said when they first responded, it had only burned 20 acres but quickly stretched to 500 acres within an hour.
According to CAL Fire officials, the blaze has tripled in size over the past three days and now stands at 27,463 acres with 5% containment, prompting new evacuation orders and warnings. For the latest evacuation map, click here.
Fire officials warn shifting winds ahead of Tropical Storm Kay will drive the fire to spread west due to more than 40 mph winds forecast.
The Fairview Fire is burning near Hemet, California
(FOX Weather)
---
CAL Fire officials confirmed two people died in the fire, and a third was injured with burns and hospitalized. Officials said the two victims were killed in the same area while trying to evacuate. Their identities have not been released.
The blaze has destroyed 12 structures, including several homes. 
Schools in Hemet will be closed throughout the week due to the ongoing fire threat.
South of Big Bear in the San Bernardino National Forest, crews made significant progress containing the Radford Fire after beneficial rain helped reduce fire activity on Thursday.
The Radford Fire is 40% contained at 1,088 acres. 
The fire began on Tuesday and quickly spread, prompting evacuation orders from the San Bernardino County Sheriff's Office. San Bernardino National Forest officials said more rainfall is in the forecast through the weekend, allowing evacuation orders to be downgraded to warnings.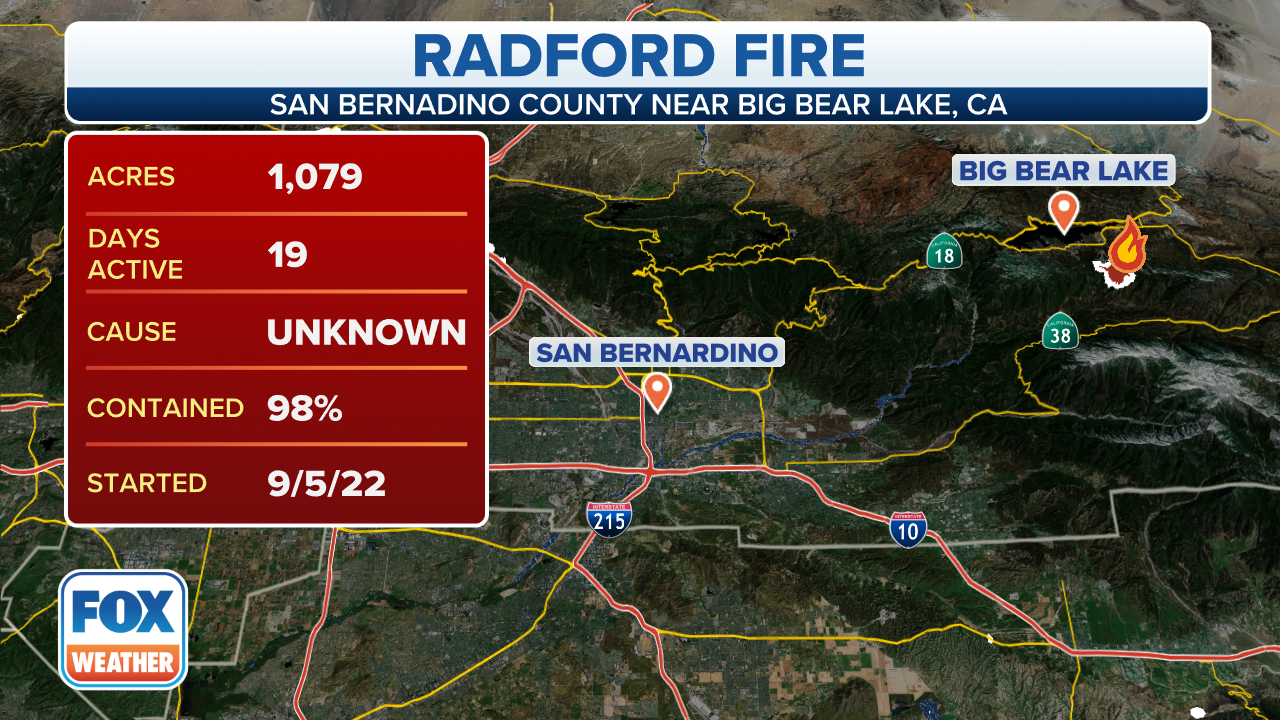 The Radford Fire is burning near Big Bear.
(FOX Weather)
---
Not far from Fresno, firefighters are battling the Power Fire near the town of Auberry. CAL Fire reports the over 130-acre blaze is burning through mostly rural lands, but at least five firefighters have been transported to hospitals for various injuries.
Northern California: Mill Fire and Mountain Fire
The Mountain Fire and Mill Fire in Northern California began on Sept. 2 and intensified over the Labor Day weekend. 
WHAT SHOULD BE IN YOUR EVACUATION 'GO' BAG DURING WILDFIRE SEASON
More than 118 structures have been destroyed by the Mill Fire in Siskiyou County. As of Friday, firefighters had made significant progress with 80% containment on the 3,935-acre fire. 
CAL Fire reports two people died in connection to the Mill Fire, and three people have been injured.
A 66-year-old woman and a 73-year-old woman were found dead after flames tore through Weed, according to the Siskiyou County Sheriff's Office. Both were found in different locations, and neither victim's identity has been released.
The Mill Fire is burning near Weed, California.
(FOX Weather)
---
Southwest of the Mill Fire and south of Gazelle, crews are working to contain the Mountain Fire, which also started on Sept. 2, prompting evacuations and destroying at least four structures. 
As of Thursday, the fire has grown to more than 11,690 acres and is 55% contained.
The Mountain Fire has consumed more than 11,690 acres.
(FOX Weather)
---
On Tuesday, a fire started in the Tahoe National Forest. Three days later it remains uncontrolled and has more than doubled in size. The Mosquito Fire is burning in very steep and inaccessible terrain near Oxbow Reservoir and is currently uncontrolled, according to CAL Fire. 
The Mosquito Fire has now burned approximately 23,000 acres with 0% containment. Over 1,000 structures are threatened, according to the Placer County Sheriff's Office.
The Sheriff's Office reports due to smoke conditions flights to survey the fire size have been unable to accurately map the fire perimeter.
The Mosquito Fire is burning in Placer and El Dorado counties. Evacuation orders are in place for six zones in Placer County and some Volcanoville residents in El Dorado County. For the latest evacuation map, click here.
Overnight into Friday, the Placer County Sheriff's Office issued mandatory evacuations for residents in Todd Valley. For the updated evacuation map, click here.