State of emergency issued in parts of Virginia as flooding rain tracks east
Rain is from the same system that has produced flooding across America's heartland this week
Flooding and multiple water rescues took place Thursday in southwestern Virginia and an emergency declaration is in place across parts of West Virginia as a slow-moving system that has dumped heavy rain and created deadly flooding in Kentucky and Missouri this week continues to move east.
The Wise County Sheriff's Office was evacuating residents in the town of Pound, Virginia after floodwaters began to creep into homes. Significant flooding is also impacting Wise and Bondtown. Residents who live in flood-prone areas were told early Thursday to evacuate or be prepared to shelter in place until the water recedes.
HOW TO WATCH FOX WEATHER ON TV
Appalachia Swift Water Rescue Team is conducting evacuations and rescues in the affected areas. More help is on the way from the Virginia Swift Water Rescue Team and the Bristol Swift Water Rescue Team. The Wise County Hazmat Team has been deployed for multiple incidents with fuel tanks in the river.
Deputies said several roads in the town are flooded and inaccessible due to high water, mudslides and debris. Route 23 and several other roads are closed, and drivers should avoid the area. 
HERE'S WHAT TO DO AFTER YOUR CAR FLOODS
Approximately 6 inches of rain has already fallen across southwest Virginia since midnight, according to the National Weather Service in Morristown, Tennessee. 
West Virginia Gov. Jim Justice has declared a State of Emergency for Fayette, Greenbrier, Logan, McDowell, Mingo and Wyoming counties after heavy rains and high winds this week caused significant local flooding, downed trees and power outages.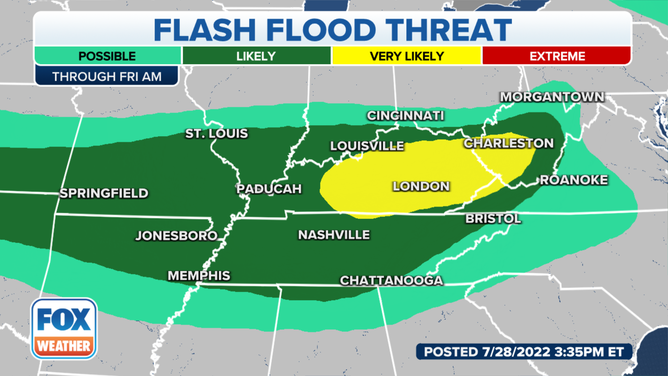 "We were prepared for this. We knew that these rains were coming and that our people were going to have to be super, super careful," Justice said in a statement. "We reached out to emergency management officials across the state this morning and determined that we had several counties in need of this emergency declaration, but we're just thankful that it wasn't worse. Very luckily, we have not yet seen any major life-threatening impacts from these storms."
The governor of Virginia also took similar efforts and declared a state of emergency for western parts of the state that were impacted by torrential rainfall.

"Southwest Virginia continues to be impacted by flooding after heavy rainfall in the area yesterday," Governor Glenn Youngkin said in a statement. "With more rainfall forecasted over the next few days, we want to lean forward in providing as many resources possible to assist those affected. Our team will continue to monitor the situation and provide assistance as needed."

The same system dumping heavy rain across southwest Virginia previously created a deadly flooding emergency in eastern Kentucky, where homes are being swept away by floodwaters.
Nearly 9 inches of rain has already fallen in Hazard, Kentucky, and more rain is forecast later on Thursday.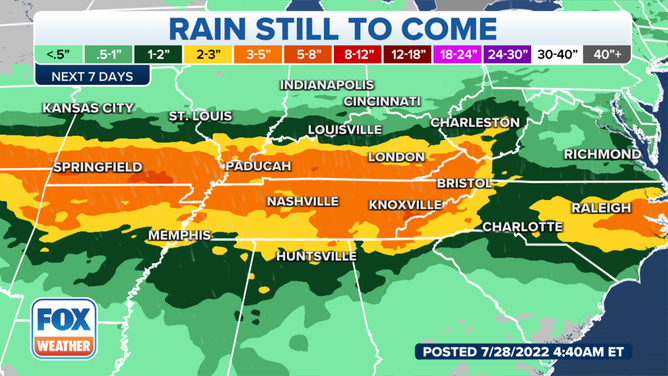 The relentless flooding is due to a devastating and stubborn weather pattern that has set up across America's heartland. The atmosphere is pumped full of tropical moisture from the Gulf of Mexico, providing fuel for storms along a stationary frontal boundary that has remained nearly locked in place all week.
Meanwhile, weather disturbances flow east along the frontal boundary, triggering a series of thunderstorms with torrential rains that keep "training" over the same areas along the font, as if locked in a path following train tracks.
OVER 9 INCHES IN 24 HOURS: HOW THE ST. LOUIS RECORD RAINFALL CAME TO BE
What's worse, a process called orographic lift enhances the flash flood threat in the Appalachians, including Kentucky. Orographic lift occurs when air is forced up a mountainside and cools to the point of water vapor forming. The increased moisture can cause extensive cloud cover and heavy rainfall.
Rainfall amounts in both the deadly St. Louis and eastern Kentucky floods are on the order of 1 in 1,000-year frequency -- as in they each had about a 0.1% chance of happening in any given year.
The North Fork of the Kentucky River near Whitesburg rose more than 16 feet in about 9.5 hours, setting an all-time record crest that so far is nearly 5 feet higher than the previous record.
The front will remain draped across the heartland through Friday and into the weekend, creating the potential for additional heavy rain and flooding events, especially in the western parts of the Appalachian Mountains.
CLICK HERE TO GET THE FOX WEATHER UPDATE PODCAST
The FOX Weather app is a great resource that can be used to alert you of any watches or warnings issued for your area. The free FOX Weather livestream is also available 24/7 on the website and app and on your favorite streaming platform. The FOX Weather Update podcast also provides weather information for the entire country.