1 dead, at least 26 injured in Texas during Monday's severe weather outbreak
Nearly 59,000 people are without power as of Tuesday in Texas
FOX Weather is live with the FOX Weather Wire covering live updates on the multiday outbreak threatening the South, impacting millions of Americans. Click here for live updates.
JACKSBORO, Texas -- An elderly woman has died and more than two dozen others have been injured after multiple Tornado Warnings were issued in Texas on Monday.
Grayson County Emergency Management Director Sarah Somers said a 73-year-old woman of Sherwood Shores in Grayson County, Texas, died in the storm. Ten others were injured and treated at local hospitals.
As of Tuesday, FOX Weather can confirm at least 16 others were also injured during this severe weather outbreak. Three were seriously injured between Cooper and Crockett, Texas, after an apparent tornado ripped through the area, four suffered minor injuries near Ore City, Texas, from a possible tornado, and nine others were injured in Jacksboro, Texas.  
MORE: Teams Fan Out Across Texas to Survey Damage from Monday's Storms
So far, meteorologists count 21 tornadoes in Texas and one in Oklahoma for Monday, according to the Storm Prediction Center. Nearly 59,000 people are without power as of Tuesday in Texas, according to PowerOutage.us.
So far, the strongest-rated tornado struck Jacksboro, which is located about 60 miles northwest of Fort Worth. 
Jacksboro High School received some of the heaviest damage in the area. Its roof partially collapsed, leaving the gym filled with debris, according to FOX 4 Dallas. There was also damage to the football field.
Jacksboro High Principal Starla Sanders told FOX 4 she was made aware the storm was turning severe just after 3 p.m. So she let the 300 high schoolers who could drive leave early. But the bus riders and all staff were forced to take shelter. 
Just moments after the storm passed, Sanders was also told her roof at her house was gone.
"It just brought tears to my eyes. I have lived here for 15 years, and I love this place. It is hard," she said. "Haven't seen, but I hear I don't have a roof on my own house. My kids are safe, and my husband is safe and all the students are safe. That is what is important."

Emma Gass, a 14-year-old freshman, couldn't drive to safety, so her golf coach loaded kids up into his car and sped to the middle school just up the road. There, they all took shelter in the library.
"Lots of thunder, chaos, people talking and freaking and anxiety going on," she recalled. "Just a feeling comes over you, and you're like things can disappear that fast."
Just across from the high school was the elementary school housing 500 kids. Its gymnasium also had walls collapse.
Children waiting for the parents to pick them up were rushed to the interior of the building.
Parents were waiting in the parking lot to pick up kids, but they jumped out of their cars and into the building for shelter. There is now a line of flipped-over cars with the windows blown out.
A school spokesperson confirmed there were no injuries to students or staff.
There are reports of more damage to homes and an animal shelter on the west and northwest side of the city.
National Weather Service storm survey teams rated the tornado an EF-3 on the Enhanced Fujita Scale, with estimated wind speeds of 145-150 mph. 
HOW METEOROLOGISTS DETERMINE IF A TORNADO IS TO BLAME FOR DAMAGE
US Highway 380 and US 281 were both closed near Jacksboro due to downed trees and power lines, according to the Texas Dept. of Transportation.
'Great Deal of Damage' in Bowie
A second tornado was reported in Bowie and early reports indicate extensive damage. An emergency manager in Montague County reports "a great deal of damage to residences" in Bowie including reports of "houses flattened" on Salona Highway north of Bowie.  First responders were going through debris, according to FOX 4 Dallas.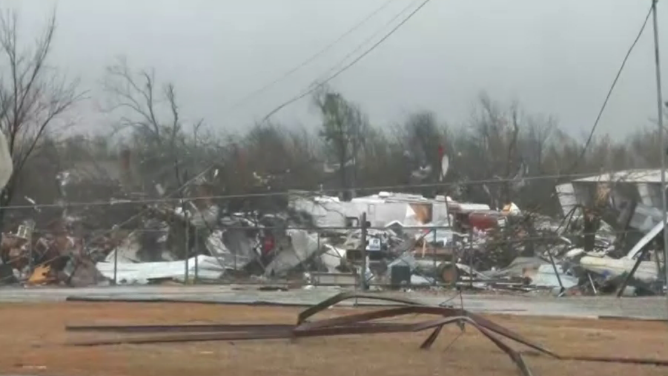 The fire chief there also reports property damage at the gas plant off Highway 59 just south of Bowie. 
Another tornado swept through Crockett Monday evening, leaving significant damage in its wake. Storm survey teams with the National Weather Service office in Houston made it their first stop amid many planned to investigate tornado damage in the region. 
"We can determine this is an EF-2 tornado at least – maybe a strong EF-2," said Jeff Evans with the storm survey team. "125-130 mph winds came through here last night."
Another tornado that hit Fort Bend County was responsible for some injuries was given a preliminary rating of EF-1, according to the National Weather Service. 
Tornadoes track across Central Texas
Multiple reports and video evidence that the city of Round Rock and Elgin, Texas was hit by a tornado that crossed I-35. 
Officials say multiple tornadoes were spotted including in Round Rock, one northeast of Luling, in Taylor, and a confirmed large and extremely dangerous tornado over Granger, according to FOX 7 Austin. 
Round Rock Police Chief Allen Banks said there was severe damage to buildings and vehicles, but luckily no deaths or serious injuries. 
PEOPLE RUN FOR THEIR LIVES, SEEK SHELTER IN ROUND ROCK WALMART
 Two temporary shelters were established in Round Rock, according to FOX 7.
In Elgin, another tornado damaged several homes and knocked over trees and power lines. 
"This is an incredible experience to see in person," said Andrew Messersmith, who is a meteorology student and storm chaser. "We were just southwest of Elgin when we saw the funnel touch down and cross the road a few minutes ahead of us and into the town of Elgin -- unfortunately we did see some damage in there."
Messersmith said he saw some houses with siding taken off.  "There was some barbed wire and debris in the road, power lines were down and trees were down," he said.
Storm chaser Brian Emfinger captured two viral videos of the tornado over Elgin – one, a birds eye view from a drone:
The other as the tornado swept across a highway in Elgin, sweeping up a teen driver in his truck, causing the truck to roll over before being blown upright. 
Storm chaser Marcus Reynolds also witnessed the truck's wild ride and briefly chatted with the 17-year-old driver after the ordeal.
"He was just in kind of shock and processing everything," Reynolds told FOX Weather.  Reynolds let the teen use his phone to call his parents while he summoned a nearby medic to treat a cut on the driver's arm.
In Cooke County, multiple barns and outbuildings were reported damaged or destroyed near Valley View and Lindsay.
Emergency managers report a structure collapse along Highway 101 and structure damage near Paradise.