Teams confirm at least 54 tornadoes impacted South, Midwest
The tornado terror kicked off on Monday in the Lone Star State, where many of the tornadoes moved through
National Weather Service teams from Texas to North Carolina are continuing to examine damage and determining how many tornadoes struck the South during a multiday severe weather outbreak.
According to initial survey results and observations, at least 54 tornadoes impacted seven states, with many more areas still under investigation.
The tornado terror kicked off on Monday in the Lone Star State, where many of the tornadoes moved through.
An elderly woman died and more than 26 people were injured from the storms across the state.
Tuesday's severe weather outbreak was centered farther east and included the states of Louisiana, Mississippi and Alabama.
At least one person was killed and several injured when a large tornado moved through the east side of New Orleans. Survey crews with the NWS said they found damage consistent with at least an EF-3 tornado.
The NWS teams will continue to survey storm damage across the South to determine whether tornadoes were responsible for the damage and assign ratings from the Enhanced Fujita Scale to any confirmed twisters. Read more about how a storm survey works here.
It may take several days to complete the surveys, according to the NWS.
Here is a map of the 54 confirmed tornadoes so far.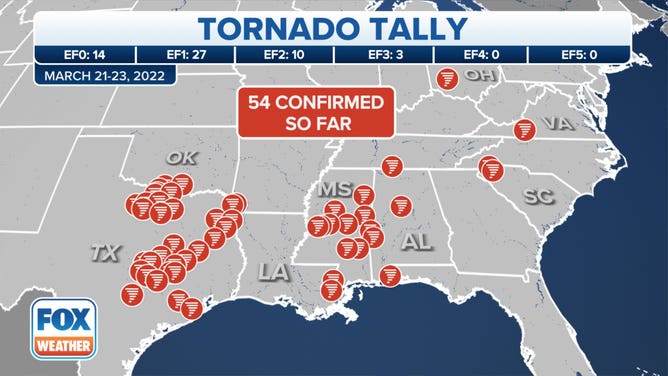 Dallas/Fort Worth area
Several tornadoes happened across North Texas on Monday. One of the hardest-hit places was Jacksboro, where the high school was heavily damaged. This is one of more than a dozen places where teams will be headed during the next few days.
According to the NWS office in Fort Worth, the following locations are being surveyed: 
Jack County near Jacksboro (confirmed EF-3)
Montague County near Bowie (two confirmed EF-1s)
Gainesville in Cooke County (confirmed EF-1)
Grayson County near Gordonville
Bell County near Bartlett (confirmed EF-1)
Palo Pinto County near Santo
Tarrant County near River Oaks (confirmed EF-1)
Dallas and Denton counties near Carrollton
Decatur in Wise County (confirmed EF-0)
Possum Kingdom Lake (confirmed EF-1)
Nocona (confirmed EF-1)
River Oaks (confirmed EF-1)
Carrollton (confirmed EF-0)
Sherwood Shores (confirmed EF-2)
Groesbeck (confirmed EF-0)
Other locations that may be surveyed in the coming days include:
Milam County near Buckholts
Falls County near Rosebud
McLennan County near Mart
Austin area
Several tornadoes also occurred in the area of the state capital, Austin. The town of Round Rock, just northeast of Austin, sustained heavy damage on Monday from an EF-2 tornado.
According to the NWS office for San Antonio/Austin, there are at least six areas that are being surveyed:
Round Rock (confirmed EF-2)
Elgin in Bastrop and Travis counties (confirmed EF-2)
Kingsbury in Guadalupe County (confirmed EF-2)
Jarrell (confirmed EF-1)
Giddings (confirmed EF-1)
North of Sun City to south of Prairie Dell
East of Seguin to west of Luling
Houston area
Tornadoes caused damage north and west of Houston. Teams from the NWS office for the Houston/Galveston have confirmed the following twisters:
Crockett to Mapleton (confirmed EF-2)
Snook (confirmed EF-0)
Fort Bend/Wharton county line (confirmed EF-1)
Houston County (confirmed EF-2)
Wixon Valley in Brazos County (confirmed EF-1)
College Station and Snook in Burleson County (confirmed EF-0)
Beasley (confirmed EF-1)
Madisonville (confirmed EF-1)
Danbury (confirmed EF-0)
Southeastern Louisiana
Severe thunderstorms produced several swaths of damage about 7:30 p.m. Central Tuesday evening in southeastern Louisiana.
Two tornadoes, one in New Orleans East and another in Lacombe, were confirmed by Doppler radar and a number of videos, the NWS said.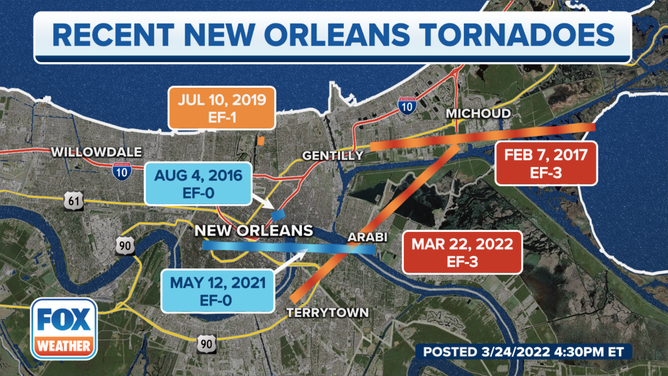 The most significant and concentrated damage occurred in Arabi. Officials said one person was killed and several were hurt when the twister moved through.
The New Orleans East tornado was given a rating of at least EF-3. With maximum winds of 160 mph, the Arabi tornado is considered the strongest tornado on record in the New Orleans metro area.
 The Lacombe twister has been assigned an EF-1 rating with maximum winds of 90 mph.
Alabama and Mississippi
The NWS has confirmed five tornadoes in Mississippi and five in Alabama during storm surveys.
The strongest started in Damascus, Mississippi as an EF-3 with max wind speeds of 145 mph. The most powerful tornado in Alabama was recorded in Toxey with max winds of 110 mph as an EF-1.