The Daily Weather Update from FOX Weather: Severe storms possible in Southeast and your spring forecast
Start your day with the latest weather news – Severe storms will bring more rain to parts of the South this week while those looking ahead to spring will want to check the new 3-month outlook released Thursday.
What luck! You've clicked on the Daily Weather Update from FOX Weather. It's Friday, March 17, 2023, and St. Patrick's Day. 
Start your day the right way with everything you need to know about today's weather. You can also get a quick briefing of national, regional and local weather whenever you like with the FOX Weather Update podcast.
Severe storms, flash flooding possible in Gulf Coast Friday
Those with outdoor plans may be out of luck along the central Gulf Coast states as isolated to scattered severe thunderstorms will remain possible Friday. The main threat appears to be damaging wind gusts, but a tornado or two is also possible.
The severe weather outlook for March 17, 2023.
(FOX Weather)
---
Heavy rains of 1 to 2 inches are likely across the Southern Plains and Southeast, too as the front sweeps the region.
Things to know:
Storms leave damage around Dallas Thursday
Crews around the Dallas-Fort Worth area were cleaning up as thunderstorms swept through on Thursday, dropping large hail and punishing winds. 
Gusts reached over 55 mph in Dallas, and one car dealership sustained heavy damage when part of its roof facade collapsed.
"We were standing on the porch and filming clouds, and we saw rotation, and we thought, 'we've got to get inside,' " David Mullens, general manager of Autos of Dallas, told FOX Weather. "The minute we walked inside the facade blew over, and the wind was blowing and… it was terrible. I don't know how fast (the wind) was blowing, but it was sideways." 
No one was injured. Spotters reported hail as large as 2-3 inches in diameter around the area.
Spring forecast unveiled and… is that green from envy?
NOAA released its annual spring forecast Thursday, and those in the snow-weary North and West may want to check flights to the South and East.   
With dry soils in the region and above-average water temperatures hugging the Gulf and Atlantic Coasts, odds are for a warmer-than-average spring along much of that area.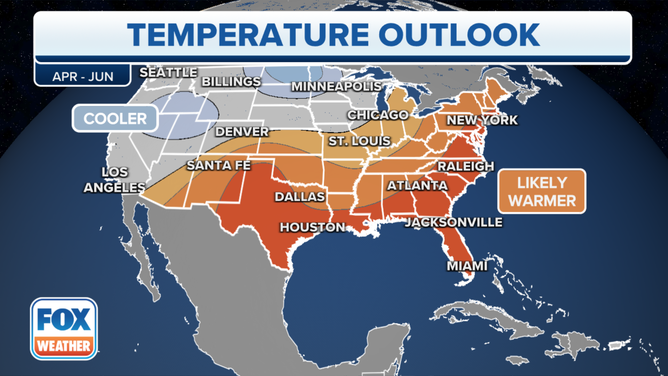 Meanwhile, once lawns are rediscovered after the spring snowmelt, they should stay green as wetter-than-average conditions are expected to remain in the Great Lakes and Northern Plains.
HOW WARM WILL SPRING BE? NOAA SEASONAL OUTLOOK SHOWS WHO CAN PACK UP THOSE WINTER COATS
Today's tidbit: 
California's 154 primary intrastate reservoirs have gained 9.9 million acre-feet of water between Nov. 30, 2022, and Feb. 28, 2023. California's storage at the end of February, 23.2 million acre-feet, was 96% of the historical average for this time of year.
Bonus Reads:
Need more weather? Check your local forecast plus 3D radar in the FOX Weather app. You can also watch FOX Weather wherever you go using the FOX Weather app, at foxweather.com/live or on your favorite streaming service.