The Daily Weather Update from FOX Weather: August begins with nearly 50 million baking under heat alerts
Start your day with the latest weather news – The dangerous heat in the South isn't going anywhere, as nearly 50 million there will experience brutal heat and humidity on Tuesday.
Welcome to the Daily Weather Update from FOX Weather. It's Tuesday, August 1, 2023. Start your day the right way with everything you need to know about today's weather. You can also get a quick briefing of national, regional and local weather whenever you like with the FOX Weather Update podcast.
Dangerous heat continues to bake the South
The dangerous heat in the South isn't going anywhere, as nearly 50 million in the region were under Heat Advisories or Excessive Heat Warnings on Tuesday.
 The FOX Forecast Center says that record hot highs and warm low temperatures are widely possible in these regions next week.
Areas under heat alerts on Tuesday.
(FOX Weather)
---
Southwest monsoon brings flood chances
A shift in the upper-high eastward looks to be bringing monsoon moisture back into the Great Basin, Rockies and High Plains. Storms will be more widespread, and rain chances increase each afternoon through the week across the region. 
The monsoonal showers and storms will bring a bit of relief from the heat to parts of the Southwest through at least midweek but also pose a significant flooding threat.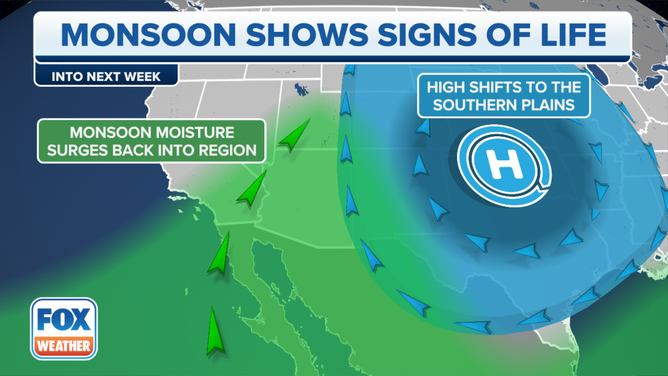 Hurricane HQ: Plenty to track in the Atlantic and Eastern Pacific
The National Hurricane Center continues to track Invest 96L and Invest 97L in the Atlantic basin. 
Forecasters say that 96L's chances of development have waned a bit – now down to a moderate chance of developing into a tropical depression by early this week. The area of low pressure is located about 600 miles east-northeast of the Leeward Islands. 
Area to watch in the Atlantic Ocean.
(FOX Weather)
---
The second area, Invest 97L, is situated several hundred miles south of Nova Scotia. 
The NHC says that the area of showers and thunderstorms has a 10% chance of formation over the next two and seven days. 
Second area to watch in the Atlantic Ocean.
(FOX Weather)
---
In the Eastern Pacific, forecasters are monitoring several areas of concern. 
Tropical Storm Dora was anointed Monday night, strengthening from Tropical Depression Five-E earlier Monday. It's swirling several hundred miles south of southwestern Mexico. 
Dora is expected to strengthen to hurricane strength by midweek but poses no threat to land. 
The latest on Tropical Depression Five-E in the Eastern Pacific Ocean.
(FOX Weather)
---
A second area is located just to the west of Tropical Storm Dora. Forecasters say this area has a 10% chance of development over the next seven days. 
Bonus reads
Before you go, here are a few stories you might want to read.
Need more weather? Check your local forecast plus 3D radar in the FOX Weather app. You can also watch FOX Weather wherever you go using the FOX Weather app at foxweather.com/live or on your favorite streaming service. 
You can share your weather pictures and videos with us anytime, anywhere, by emailing them to weather@fox.com or by adding the hashtag #FOXWeather to your post on your favorite social media platform.