York Fire spawns 'fire whirls' while flames scorch the landscape inside California's Mojave National Preserve
Firefighters battling the York Fire on the northern side have observed fire whirls, which are also known as whirlwinds and can resemble a dust devil or tornado
MOJAVE NATIONAL PRESERVE, Calif. - A large wildfire that ignited within California's Mojave National Preserve on Friday crossed over into Nevada Sunday night while strong winds and dry conditions have been making the situation worse.
Officials say the York Fire has currently scorched about 77,000 acres of land and is 0% contained as of Monday evening.
The latest information on the York Fire.
(FOX Weather)
According to officials with the Mojave National Preserve (MNP), the California Interagency Incident Management Team 12 was briefed about the ongoing situation and took over command of fire suppression efforts at 8 a.m. PDT Monday.
The fire is holding within rocks on the west side, limiting growth. On the east side, the fire is "backing" into the wind or moving in the opposite direction of the wind which officials said could mean a slower spread.
Limited visibility due to the thick smoke has been a challenge for the more than 200 firefighters working to extinguish the blaze.
Visibility has been limited to a mile or less, and that has impacted firefighting efforts both on the ground and from the air.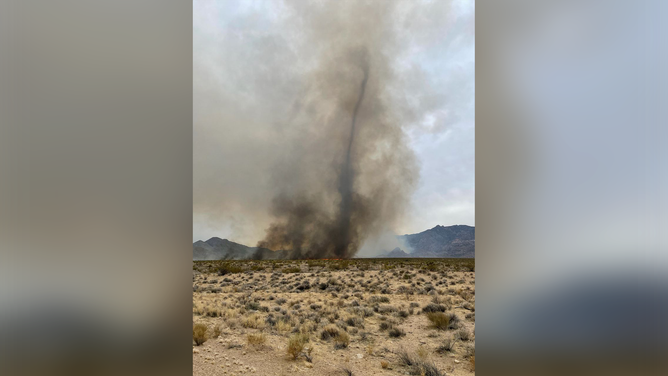 Firefighters battling the blaze on the northern side have observed fire whirls, also known as whirlwinds, according to officials with the MNP.
"While these can be fascinating to observe, they are very dangerous natural phenomena that can occur during wildfires," the MNP said in a Facebook post.
A fire whirl is a vortex of smoke and flames that form when intense heat and turbulent winds combine, creating a spinning column of fire that resembles a tornado.
"These fire whirls are similar to dust devils but are specifically associated with the heat and energy released by a wildfire," the MNP said. "They can range in size from a few feet to hundreds of feet in height, and their rotational speed can vary widely."

The situation is extremely dangerous for firefighters because the fire whirls can spread embers across all directions, which can then ignite new fires.
In addition, the fire whirls can change directions quickly, making them unpredictable.
"Firefighter crews encountering fire whirls poses significant risks, and safety protocols along with strategies must carefully be planned and executed to minimize potential harm," the MNP said.
Officials in Nevada's Clark County said there are no plans for any evacuation orders in any residential areas, including the cities of Nipton, California, and Searchlight, Nevada.
"The fire, at this time, remains some distance from these areas, and CCFD (Clark County Fire Department) continues to coordinate response and resources with partner agencies, and mobile command has stood up," officials said in a statement.