Southwest monsoon season ramps up, increasing flood threats for Denver this week
Stronger storms could produce localized flash flooding and wind gusts up to 60 mph. Winds could stir up dust in dry areas creating visibility concerns.
DENVER-- Monsoon season in the Southwest finally appears to be getting into full swing, with increasing moisture that's bringing storms and possible flooding, including the Denver area.
Since the official start of the monsoon season on June 15, the monsoon rains have been slow to start this year, thanks to El Niño.
But a shift in the upper-high eastward looks to bring monsoon moisture back into the Great Basin, Rockies and High Plains this week. This will help to increase the amount and coverage of daytime thunderstorms across the region. 
SOUTHWEST MONSOON SEASON IS HERE: WHAT YOU NEED TO KNOW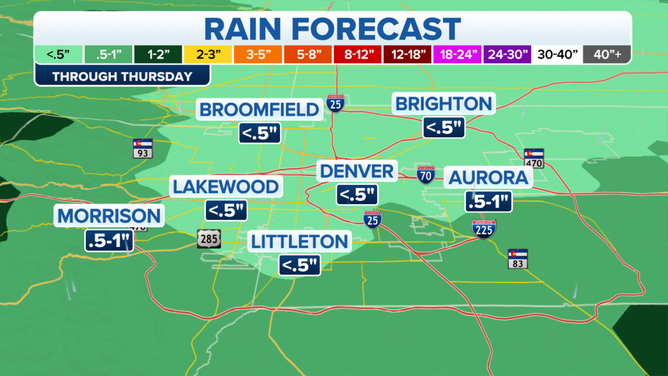 The flood threat continues through Tuesday night as some slow-moving storms will bring a possible threat of flooding across Arizona, southern Nevada, Colorado and Wyoming. Stronger storms could produce localized flash flooding and wind gusts up to 60 mph. Winds could stir up dust in dry areas creating visibility concerns. 
A Flash Flood Watch is in effect for Denver, Fort Collins and western Nebraska and Cheyenne, Wyoming.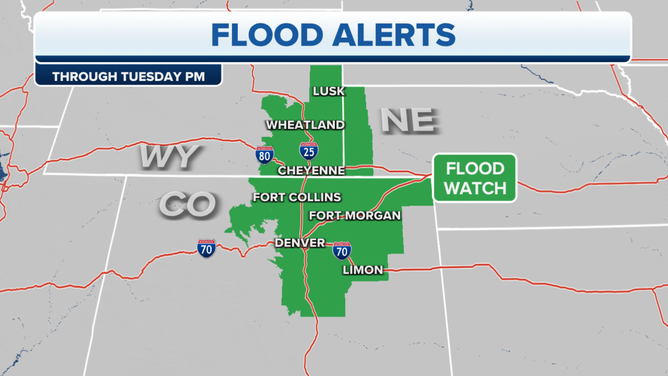 By Thursday and Friday, the flash flood threat spreads north into parts of Montana, Idaho, South Dakota and southern North Dakota. 
Already a stormy start to the week due to monsoon moisture
Monsoonal moisture already got a head start over the weekend and into this week. 
Scenes from the Grand Canyon show dark storm clouds raining down on the national park over the weekend as monsoon moisture started edging in. Late last week, storms typical of the monsoon damaged homes in the Phoenix Metro area.

Monsoonal storms then brought heavy rain and hail to northern Colorado on Monday. 
The National Weather Service in Boulder received more than a dozen reports of flooded roads in Fort Collins and Wellington.
A rain gauge in Fort Collins picked up 3.51 inches of rainfall. 
Weather watchers in Fort Collins and Parker captured storm clouds rolling into the front range and flashing lightning on Monday night. 
"Some of that moisture can get up into the Colorado front range by the way, and so it feeds up there, and it can really do a number," FOX Weather Meteorologist Amy Freeze said. "But we have not seen this widespread across the Southwest on a consistent basis."
Still no rain for Phoenix
The monsoonal rains will be welcome in parts of the Southwest experiencing a lengthy dry streak. The Southwest Monsoon Season is essential for those states which receive the most rain from June through September. FOX 10 reporter Anita Roman has called this year so far a "non-soon."
Arizona has been getting monsoon rain, just not at Sky Harbor International Airport in Phoenix.
Temperatures averaged 100 degrees in Phoenix throughout July, and the city has spent 38 days with temperatures above 100. 
Phoenix dry streak continues.
(FOX Weather)
---
March 22 was the last day of measurable rain in Phoenix. That 131-day dry streak could end this week as monsoon season gets going after a late start.
Phoenix averages about 7 inches per year and, from July through September, gets about 1 inch in July and August.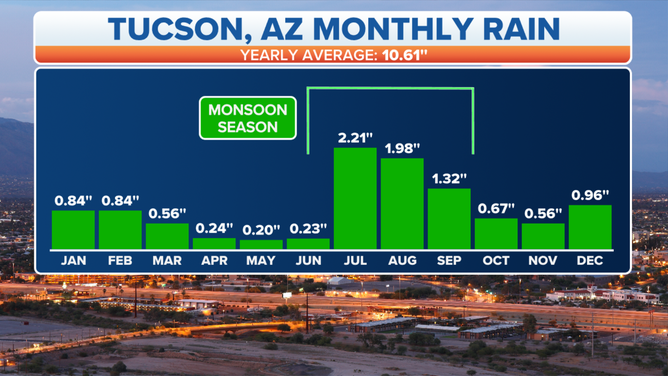 Meanwhile, Tucson sees an average of 10.61 inches of rain yearly and sees the most rain in July and August, with about 2 inches of rain on average.