The Daily Weather Update from FOX Weather: Heavy rain to bring severe weather, flooding risk to Plains, South
Start your day with the latest weather news – A potent storm system will bring a soaking rain and the chance of severe weather this week. Plus, below-average temperatures are in store for more than 200 million as we start the workweek.
Welcome to the Daily Weather Update from FOX Weather. It's Monday, April 24, 2023. Start your day the right way with everything you need to know about today's weather. You can also get a quick briefing of national, regional and local weather whenever you like with the FOX Weather Update podcast.
Storms to soak Plains, South
Another storm system will bring a soaking rain to parts of the Plains and South this week, bringing much-needed rainfall to the drought-stricken areas of Texas, Oklahoma and Kansas.
In addition to the heavy rain, there's also a threat of severe storms in central and east-central Texas on Tuesday. Damaging winds and large hail will be the primary concerns, but an isolated tornado can't be ruled out.
The severe storm threat on Tuesday, April 25, 2023. 
(FOX Weather)
---
Things to know
More than 200 million to feel below-average temperatures this week
The FOX Forecast Center said most of the Lower 48 will enjoy a week of below-average temperatures due to a change in the jet stream.
More than 200 million Americans will feel the temperature swing for the last week of April, wiping away last week's warmth felt in much of the East.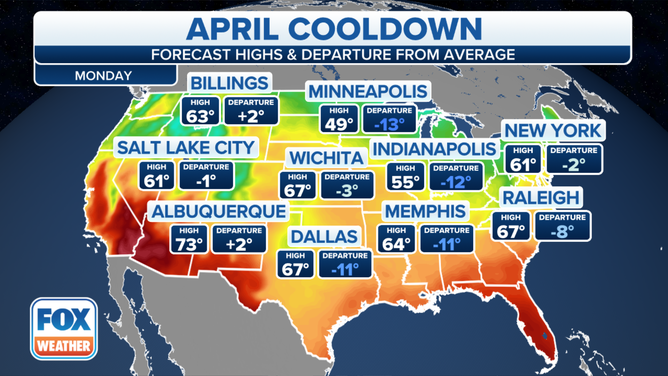 Bonus reads
Need more weather? Check your local forecast plus 3D radar in the FOX Weather app. You can also watch FOX Weather wherever you go using the FOX Weather app at foxweather.com/live or on your favorite streaming service. 
You can share your weather pictures and videos with us anytime, anywhere, in our America's Weather Watchers community on Facebook, email them to weather@fox.com or add the hashtag #FOXWeather to your post on your favorite social media platform.