Kentucky man reels in likely world-record alligator gar from Texas river
This Kentucky angler just snagged a gigantic river monster on a journey where no man has gone before while it swam in a Texas river.
TRINITY RIVER, Texas – To say Arthur Weston was holding on tight is an understatement.
The Kentucky angler just snagged a gigantic river monster on a journey where no man has gone before while it swam in a Texas river.
When Weston stepped aboard the "Garship Enterprise" with Captain Kirk Kirkland, little did he know he would add another notch to his belt of 40 world records.
He was fishing last Sunday about an hour and a half from Houston when a 251-pound alligator gar landed on his line.
 TEXAS TROPHY: MAN HOOKS 300-POUND ALLIGATOR GAR OUTSIDE HOUSTON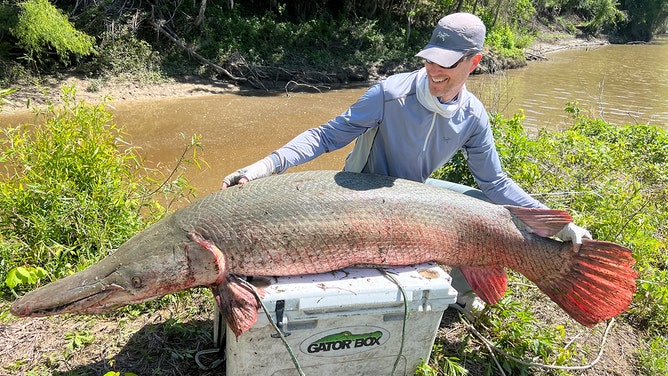 The Union, Kentucky, world record holder said he flies to Houston to target alligator gar, where he fishes alongside Kirkland, a species specialist.
As a record hunter, Weston is a member of the International Game Fish Association as an angler to accomplish global notoriety. This particular trip focused on the line class records. 
"I already have a couple of alligator gar line class records, and on this particular trip, prior to this large fish, I had two new records that I obtained for two smaller fish on a different line," he said.
This was the third record he was going for which happened to be on an 80-pound test line. Prior to Weston's catch, the largest fish on record for that was 191 pounds set in 2015 by another angler.
"I crushed it," he laughed.
'SHE THINKS WE'RE JUST FISHING': VIRAL VIDEO OF FATHER-DAUGHTER FLORIDA FISHING TRIP REMINDS US TO PAUSE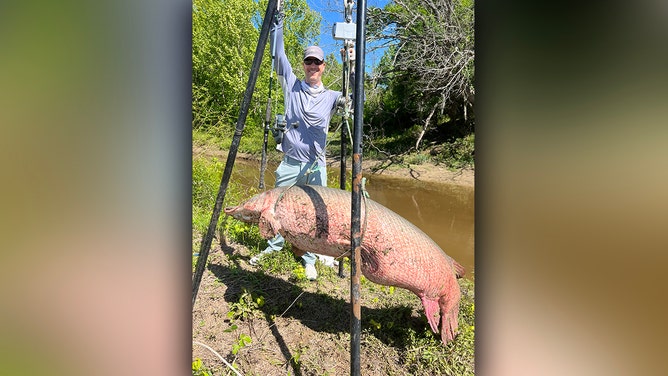 'It literally pulled our boat around in circles'
Weston said he was using pieces of carp as bait and waited by the bank until the river monster showed up. 
"They're kind of an interesting fish," he said. "They don't gobble down their food right away. They will run with the bait in their mouth, and it takes a while for them to move it past their teeth and down into their throat, where traditionally you can set the hook and land the fish."
So, fishermen must chase it around – sometimes for hours before it's lifted out of the water.
"What was interesting about this one … it had had not done the traditional thing where it would start to move around before it would swallow the bait," Weston said. 
At one point, Weston and Kirkland thought this catch might be an actual alligator because it was so strong.
"It literally pulled our boat around in circles," Weston said. "It was pulling us around the river."
As the fish finally started to get close enough to the boat where Weston was able to start to raise it, the alligator gar came up from underneath the boat. Weston had only seen the nose of it when Kirkland said, "That's the one that you want." 
As Weston got a glimpse of it, he started to lift it up into the front of the boat, where his guide was able to lasso around the line and cinch it, which is a legal way of landing the fish.
The whole catch took about 25 minutes.
MISSOURI BOW FISHERMAN SHOOTS WORLD RECORD-SIZED BROWN BULLHEAD

"It's very, very uncommon … to catch one at 250 or plus is like less than 1%," Weston said. The fish was officially recorded as 45.5 inches around and 90.5 inches long. It was not the 279-pound all-tackle record that was set in 1951, but it was the biggest one of any other IGFA record.
The fish is estimated to be 80 to 100 years old at that size, Weston said.
"If you were just a generic angler with a common rod and reel set up, it probably would have been impossible to catch it," he said.
After well-documenting the fish's size and weight for record purposes, it was released alive back into the water.
Weston said his most impressive record was also an alligator gar he caught last year. 
"I caught a 110-pound alligator gar on 2-pound test line," he said. "Which means with your hands, it's like baby hair you can pull it and the line would break."
That record took over 2.5 hours to catch – a near-impossible catch, but a tale Weston still loves to tell.
As for his latest fishing adventure, Weston admits there was some luck that the fish bit his line.
"But we were pretty well-prepared for anything, which helps a lot when you're record hunting," he said.