The Daily Weather Update from FOX Weather: Storm system brings blizzard after weekend of severe storms
Start your day with the latest weather news – A storm system will bring more than a foot of snow to places in the Upper Midwest after dropping baseball-sized hail over the weekend.
Welcome to the Daily Weather Update from FOX Weather. It's Monday, April 17, 2023. Start your day the right way with everything you need to know about today's weather. You can also get a quick briefing of national, regional and local weather whenever you like with the FOX Weather Update podcast.
Say it ain't snow: Blizzard conditions blast Upper Midwest
A cold front is bringing blizzard conditions to parts of the Upper Midwest.
Winter weather alerts are posted for parts of northeastern Iowa, southeastern and northeastern Minnesota, northwestern Illinois, western and central Wisconsin and the western Upper Peninsula of Michigan. These include Blizzard Warnings for the Arrowhead of Minnesota, northwestern Wisconsin and the western Upper Peninsula of Michigan, where more than a foot of snow combined with high winds is expected in areas along Lake Superior.
The same weather system bringing snow to parts of the northern U.S. also brought tornadoes, baseball-sized hail and wind gusts near 100 mph to Missouri over the weekend.
Additional snow totals expected through Monday.
(FOX Weather)
---
Cold plunge after a week of record-breaking temps
After a brief taste of summer last week, millions will feel temperatures plunge back to average for mid-April.
Last week's summerlike heat broke more than 200 record-high temperatures.
Chicago, for example, felt temperatures in the 80s but is now seeing snow showers on Monday.
And it'll be a cold and wet start for runners at the Boston Marathon as temperatures along the 26.2-mile race route will be much cooler than the region saw last week.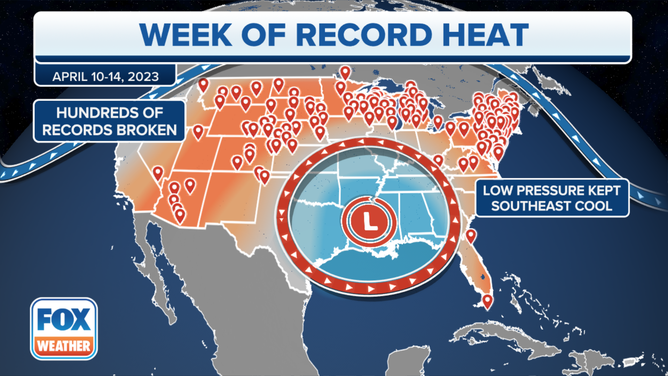 Bonus reads
Before you go, here are some stories we think you might enjoy.
Need more weather? Check your local forecast plus 3D radar in the FOX Weather app. You can also watch FOX Weather wherever you go using the FOX Weather app at foxweather.com/live or on your favorite streaming service. 
You can share your weather pictures and videos with us anytime, anywhere, in our America's Weather Watchers community on Facebook, email them to weather@fox.com or add the hashtag #FOXWeather to your post on your favorite social media platform.