Quiet weather, warmer temperatures expected for most of the country this week
A high-pressure system will prevent bitterly cold air from invading from the north
It's been a bumpy ride over the past few weeks, with a blizzard impacting the Northeast at the end of January and a major winter storm bringing snow, ice and rain to more than 100 million Americans just a few days ago – but relief is on the way.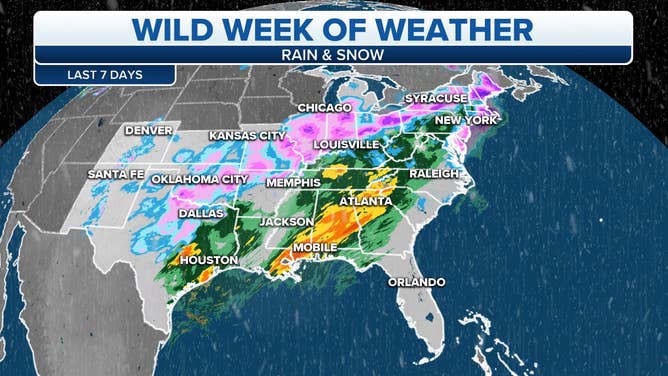 Last week, a storm system brought several inches of rain along the Gulf Coast into the Southeast. Many areas also saw dangerous ice accretions between a half-inch to three-quarters of an inch.
And anywhere from several inches to more than a foot of snow was reported from Texas and New Mexico into the Plains, Midwest, Great Lakes and Northeast.
TENS OF THOUSANDS STILL WITHOUT POWER AFTER LAST WEEK'S STORM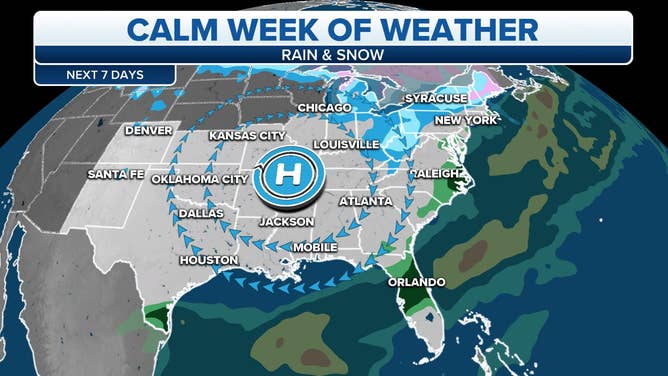 And after all of that – finally, a break.
A large area of high pressure will be in control as it sits over the central part of the country.
The system will prevent any bitterly cold air from moving into the country, with the exception of the extreme northern United States.
In fact, the central U.S. will enjoy temperatures 20 to 30 degrees above average this week.
On Monday, a low-pressure system will move up the East Coast, bringing some snowy and icy conditions to the region. However, the storm's impact is expected to be minimal.
And the western United States will also be enjoying the warm weather. Records could be set from southern Oregon to Southern California by the end of the week.