Tens of thousands still without power after last week's storm
Power crews are, "literally trying to chisel their way through [ice] some of these lines to get into some of these utility boxes to continue. That work is really painstaking work, and even though they have brought in extra resources, it is still just going to be a long while before everybody is back to normal," reported FOX Weather's Will Nunley.
Over 100,000 customers were still without power nationwide Sunday night after a storm that stretched over 2,000 miles, from border to border, ravaged states with ice, snow and flooding rains last week.
MEMORABLE SIGHTS FROM THE GROUNDHOG WEEK STORM OF 2022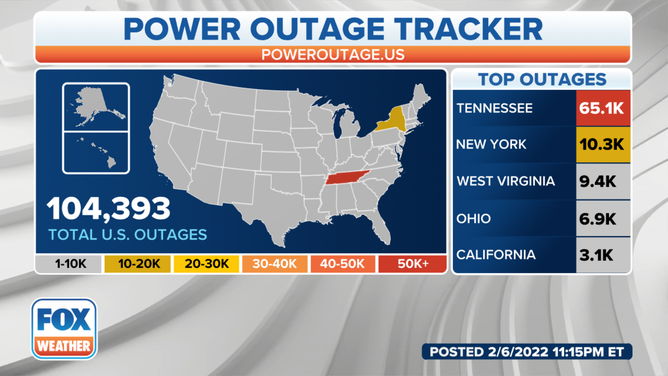 Tennessee leads the pack, 65,000 of the state's homes and businesses are still without power. "Utility leadership expects to have power restored to at least 90% of all MLGW customers by Monday, 11:59 p.m, February 7," said Memphis Light, Gas and Water (MLGW) in a statement. "For the remaining 10%, it maybe Thursday before restoration is complete.
That means 6,500 will still be without power until Thursday. Memphis low temperatures have been in the 20 and are forecast to be until Tuesday. Tuesday, Wednesday and Thursday warms slightly but lows will still be in the 30s. The highs will be in the 50s by midweek.
"There's been a slight uptick in house fires being reported in the area and that could be tied to the fact that so many people are trying to heat their homes with alternative methods overnight," FOX Weather's Will Nunley reported Sunday.
"The Memphis Tigers actually opening up their arena Saturday night, giving out free tickets to a basketball game, trying to get people to come in and stay warm," continued Nunley on the University of Memphis' effort to keep residents safe. "And so it is going to be left up to some of that creativity of some local warming centers and community locations to try to find ways to keep people warm."
Other states are still plagued by outages from the storm as well according to PowerOutage.US:
New York: 9,466 customers without power
West Virginia: 8,514 customers without power
Ohio: 6,893 customers without power
Pennsylvania: 2,233 customers without power
Texas: 1,144 customers without power
The Northeast, Midwest and Mid-South will see a warm-up in the early part of the work week.