After days of bitter cold, temperatures to rebound in the Northeast
Temperatures could be 10 to 20 degrees above average
Temperatures in the Northeast will begin to rebound this week after several days of bitterly cold air left people shivering across the region.
However, a coastal storm will first bring an icy wintry mix to parts of the East Coast during the day on Monday and will then bring some heavy snow to parts of northern New England Monday night into Tuesday.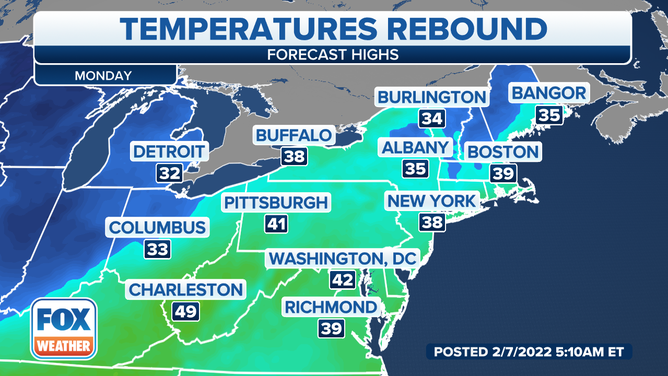 While that storm system moves up the coast and into northern New England, temperatures won't be budging much.
Temperatures in the mid-30s will be felt in Bangor, Maine; Burlington, Vermont; and Albany, New York. Northern New England will be colder, especially in the higher elevations.
Boston and New York City will be in the upper 30s, which is warmer than it has been since a winter storm brought snow and ice to the region at the end of last week.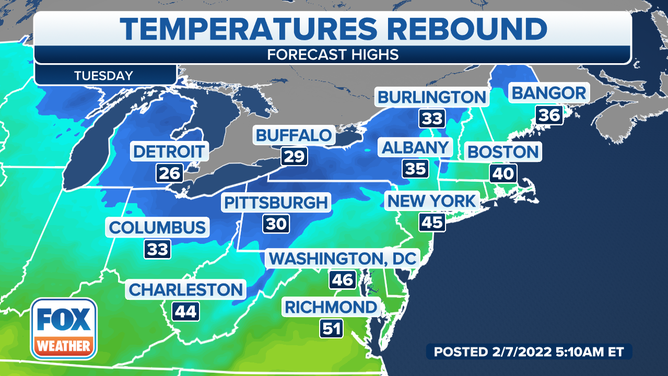 While it will remain colder from the Great Lakes into western Pennsylvania and upstate New York on Tuesday, people from the mid-Atlantic into New England will be getting a little taste of spring with temperatures in the 40s.
New York City will see a high temperature around 45 degrees, while Boston will be around 40 degrees. 
Maine and New Hampshire will be in the mid- to upper 30s.
Albany, Boston and New York City will again see temperatures in the 40s by the middle of the week, and some parts of the mid-Atlantic, like Washington and Richmond, Virginia, could get into the upper 50s during the day.
Northern New England will have another day of temperatures in the upper 30s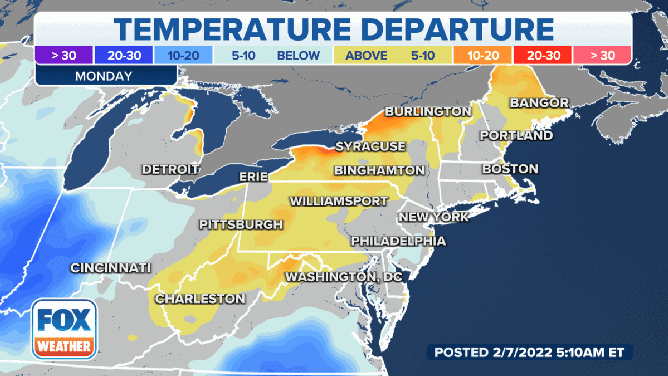 Starting off the week, temperatures will be around average for this time of year, but by the time we get into Wednesday, most areas from the Ohio and Tennessee valleys into the mid-Atlantic and Northeast will see temperatures 10 to 20 degrees above average.