Coastal storm brings icy wintry mix, slick travel to parts of East Coast on Monday
Roads could be icy from Philadelphia to New York City and parts of New England
A coastal storm is bringing an icy wintry mix to parts of the East Coast on Monday before heavy snow develops over northern New England Monday night into Tuesday.
Slick travel conditions caused by freezing drizzle and light freezing rain are possible over a broad area from the Delaware Valley to central New England on Monday.
The National Weather Service has issued Winter Weather Advisories for this region, where a light glaze of ice is possible, especially on untreated roads and walkways. Cities under an advisory include Philadelphia, New York City and Hartford, Connecticut.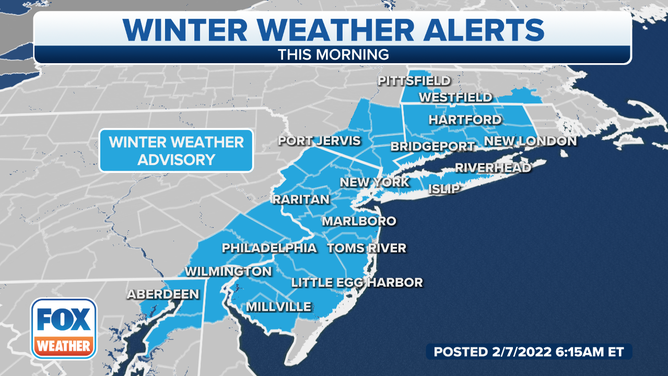 Freezing rain is also possible as far south as the Piedmont of North Carolina, where Winter Weather Advisories are in effect due to the potential for hazardous travel conditions during the Monday morning commute.
Durham, Chapel Hill and Winston-Salem, North Carolina, are all included in the advisory, but the city of Raleigh is expected to remain above freezing and only see plain rain.
SNOW, SLEET, FREEZING RAIN AND HAIL: WHAT'S THE DIFFERENCE?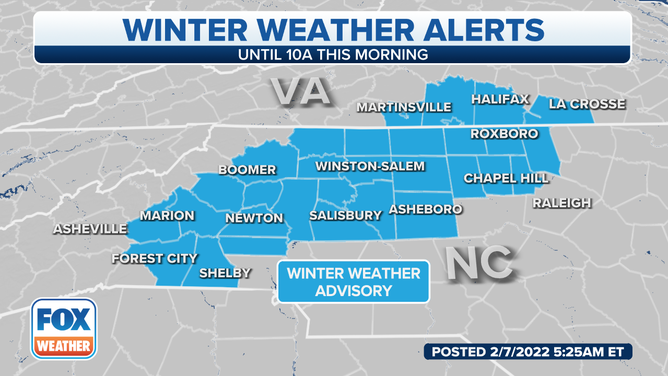 As the area of low pressure quickly organizes, heavy snow is expected to develop over parts of northern New England Monday night into Tuesday.
Winter Weather Advisories have been issued across the region to alert residents of the potential for several inches of snow.
Central Maine will see the heaviest snow from this system. More than 6 inches could pile up through Tuesday.
At least a few inches of snow is also likely over much of northern New England.
The coastal storm will pull away from northern New England on Tuesday night, with dry and milder weather returning to the region midweek.