Record heat headed for West Coast ahead of the Super Bowl
Fans gearing up for the Super Bowl in Southern California could feel temperatures flirting with 90 degrees by midweek
You may need to check your calendar to remember that it's still winter in the West this week. Temperatures will creep up toward record levels Thursday and Friday.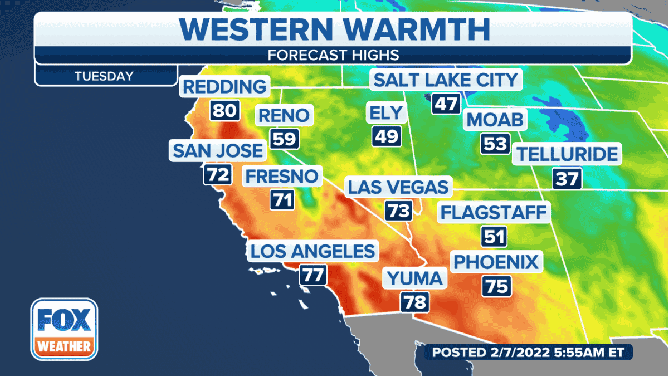 High pressure setting up over California not only brings in warmer temperatures from the south, but it also sets up the state for strong offshore winds known as Santa Ana winds. The wind accelerates and warms as it heads over and down the state's coastal ranges.
WHAT ARE THE SANTA ANA AND DIABLO WINDS?
By Tuesday, temperatures will soar across California, Nevada, Arizona and Oregon to 10 to 20 degrees warmer than average, with some areas reaching 20 to 30 degrees above average.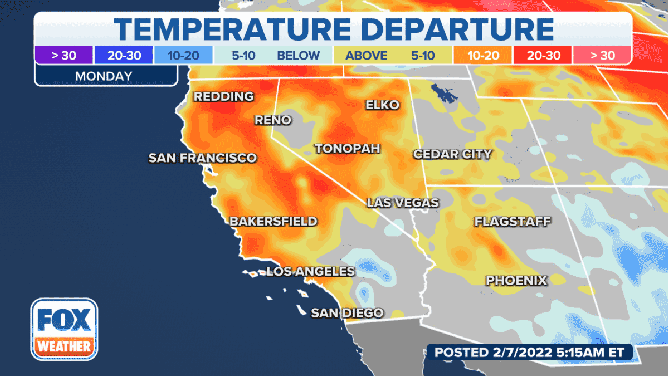 Come Thursday, most of California and southern Oregon will experience temperatures 20 to 30 degrees higher than average.
FOX Weather is keeping an eye on 20 cities that could approach or surpass record highs on Thursday, including Los Angeles, San Francisco, Redding and Medford.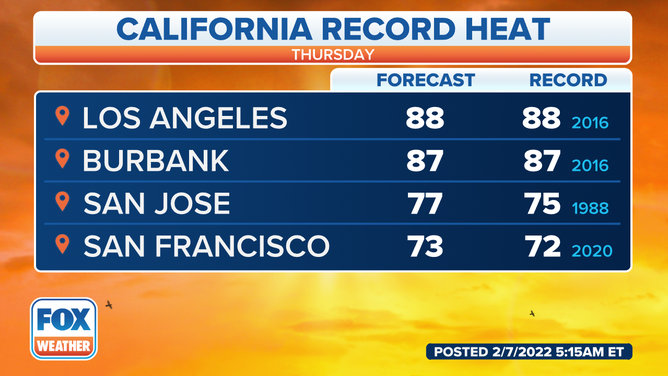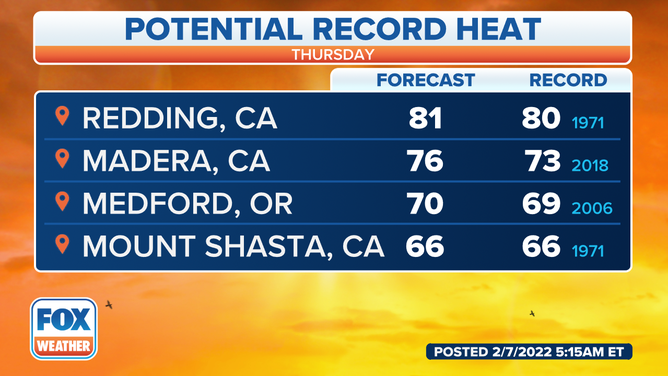 Fans headed to pre-Super Bowl festivities across Los Angeles County could face afternoon temperatures near 90 degrees. Temperatures will stay warm but moderate into the weekend.
High Wind Warnings and Wind Advisories are posted for portions of Southern California. Some wind-prone areas could experience gusts of 40 to 60 mph at times Monday through Wednesday.
Despite the low humidity, high winds and warm temperatures, the National Weather Service office in Los Angeles has not issued any Fire Weather Watches or Warnings. While weather conditions are favorable for wildfires, plants and grasses are still moist because of the record rainfall in December. 
LOS ANGELES RECORDS WETTEST DECEMBER IN 11 YEARS AND THIRD-WETTEST DECEMBER ON RECORD
December, January and February are usually the Golden State's wettest months, but rain has not been plentiful so far. If the dry trend continues, downtown San Francisco will be close to breaking its record for the most consecutive dry days during the rainy season, the NWS office in San Francisco noted in its forecast discussion. 
FOX Weather forecasts very dry conditions for much of the West over the next two weeks.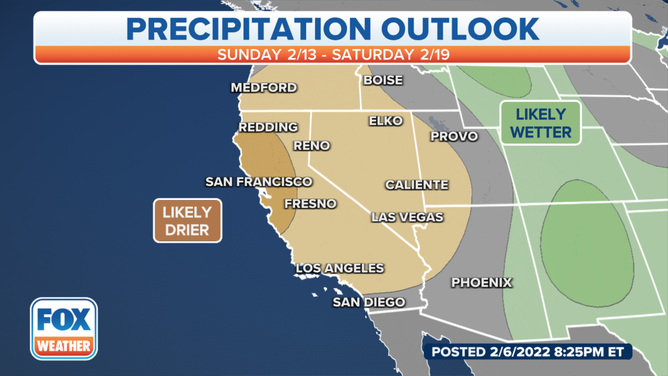 The lack of rain will likely exacerbate drought conditions across the western U.S.
JANUARY ENDS HOPES OF CONTINUED DROUGHT IMPROVEMENTS