Los Angeles records wettest December in 11 years and 3rd-wettest December on record
Downtown Los Angeles received a record 2.34 inches of rain Thursday, bringing the December total to 9.72 inches
LOS ANGELES – Downtown Los Angeles recorded record rainfall Thursday, which solidified December 2021 as the third-wettest December on record.
On Thursday, the National Weather Service measured a record 2.34 inches of rain in downtown L.A., which blew away the previous Dec. 30 record of 1.85 inches from 1936.
The rain vaulted December 2021 to the third-wettest December on record, with 9.72 inches of rain. The second-wettest December was in 2010 when Los Angeles received 10.23 inches of rain, according to the NWS. Records date back to 1871.
CALIFORNIA DELUGE BRINGS MASSIVE DROUGHT RELIEF TO THE GOLDEN STATE
Check out some notable 24-hour rainfall totals across the greater Los Angeles area:
Opid's Camp - 8.02 inches
San Gabriel Dam - 5.16 inches
Malibu - 4.86 inches
Thousand Oaks - 3.86 inches
Culver City - 3.63 inches
Santa Monica - 3.40 inches
HEAVY RAIN, MUDSLIDES TRIGGER EVACUATIONS IN SOUTHERN CALIFORNIA
An additional 1 to 2 inches of rain is forecast for downtown Los Angeles and the north side of the metro area through Friday morning. This region has already been saturated by rain since the Christmas weekend.

The series of December storms prompted Governor Gavin Newsom to issue a State of Emergency for Los Angeles, Orange and San Bernardino counties Thursday, along with 17 other counties across the state, which will allow access to emergency state and federal funds for cleanup, recovery and repair.
Meanwhile, with the arrival of another arctic air mass on Friday, the next round of heavy mountain snow will develop across the Intermountain West.
RECORD DECEMBER SNOWFALL REPORTED AT UC BERKELEY CENTRAL SIERRA SNOW LAB
The NWS has issued Winter Storm Watches, Winter Storm Warnings and Winter Weather Advisories for the higher elevations of the region.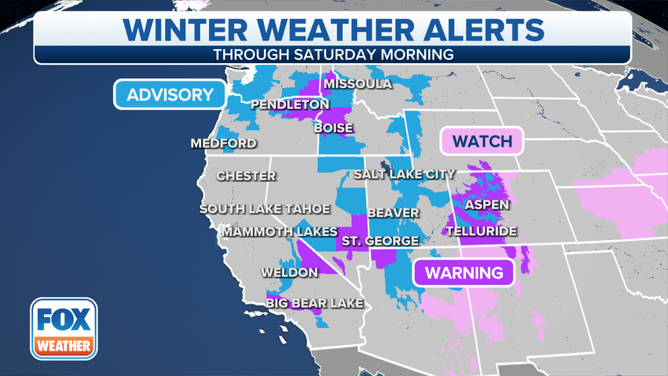 Mountain ranges such as the Cascades, Sawtooth, Wasatch and the central and southern Rockies will pick up an additional 1 to 2 feet of snow through Saturday morning, with totals exceeding 3 feet in the highest elevations of Utah and Colorado.
This snow will continue to build the much-needed snowpack, which is now near or above average throughout the West.