Record December snowfall reported at UC Berkeley Central Sierra Snow Lab
The lab at Donner Pass, California, received more than 16 feet of snow this month.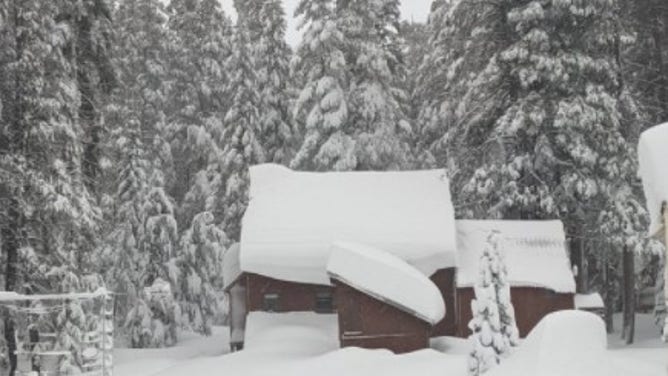 A series of storms dropped a record 202.1 inches of snow on the University of California, Berkeley Central Sierra Snow Lab in Soda Springs, California, near Lake Tahoe this month.
"It's the biggest December snowfall we've ever had," said Andrew Schwartz, Ph.D. and Lead Scientist at the lab. "Records go back to 1970, which coincidentally was the previous December on record at 179 inches." 
This month is now the third-snowiest month on record as well.  They are a long way out from the snowiest month on record, though, recorded in January 2017 with 238 inches of snow.
This season, the lab recorded 248 inches of snow.  All of last season (2020-21), the lab only received a total of 277 inches.
"We're hitting very, very close to surpassing last year's entire snowfall. We may even do that by the end of this month," said Schwartz. "The average snowfall for the entire season is 376 inches."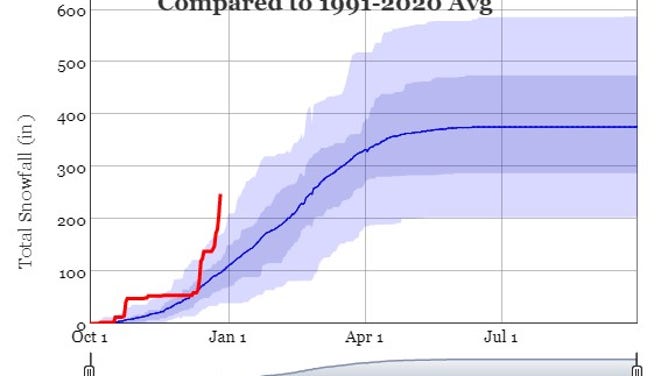 The lab had not seen average snowfall for the season since 2019, 2018 and 2017. Before that, 2011 was the last season.
Ski resorts in the area also reported feet of snow since Tuesday.
"Measuring the snow this morning was challenging," Schwartz said. "There was about three to three and a half feet of very, very fluffy powder, which is very uncharacteristic of Sierra snow."
Even with snowshoes, he said he spent 40 minutes walking 50 yards.
"You have to kind of take a step with the same shoes and then tamp it down five or six times to make sure that now compacted and then do the next one steps a pound five or six times because otherwise, you would just dig into the point where you became immobile," he said. 
Will the snow ease California's drought?
"Hopefully we're going to keep getting storms, but we're not quite out of the woods yet. We haven't gotten to a point where we can start talking about drought relief," warned Schwartz. 
California is in the second year of drought after a five-year drought between 2012-16.  
"December has been an awesome month. And if this pattern continues, then we will definitely have above average snowfall for the entire year, which will help us out with a drought," continued Schwartz. "But, if all of a sudden the snow stopped after this week, we'd still be below average and would actually contribute to the drought rather than helping."
After Monday's snow, two smaller storms will drop a few inches late Tuesday and again on Friday.