Parched West receives desperately needed rain, snow
More than 10 feet of snow reported on Green Mountain in California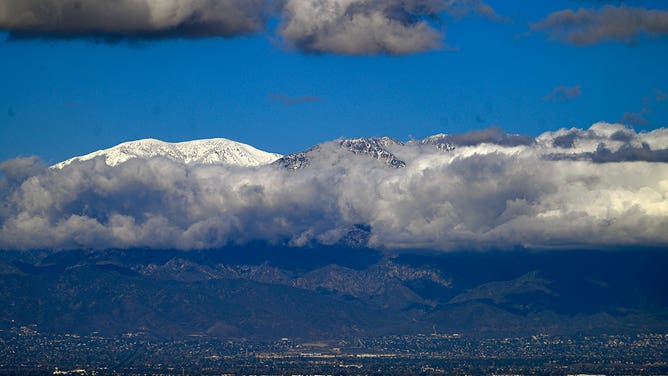 The drought-stricken West has been had rain and snow dumped on it for the past week thanks to a series of systems moving ashore.
Winter weather alerts are up Monday from Portland, Oregon, down the Sierra Mountains to parts of central California. That comes after heavy rain and snow fell across much of the region during the Christmas weekend.
Here is a closer look at just how much rain and snow have fallen.
Rainfall
Some of the heaviest rain has fallen across the interior of northern and central California. Nearly 8 inches of rain is estimated to have fallen during the past five days near Paradise, California, and nearly 5 inches of rain is estimated to have fallen in places near Fresno and just east of Los Angeles.
Coastal areas of the Golden State also got some heavy rain. Just south of the San Francisco Bay Area, as much as 8 inches of rain is estimated to have fallen.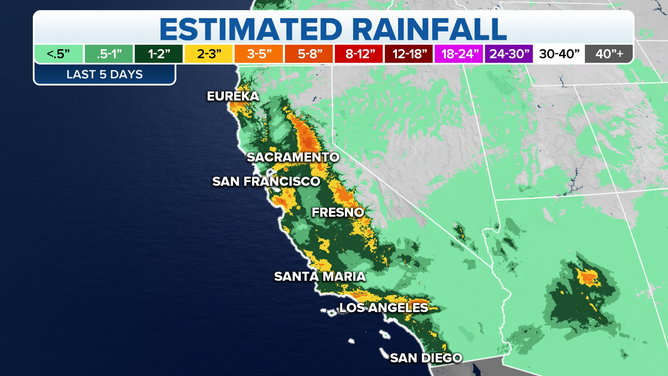 Snowfall
Tremendous amounts of snow have fallen across the Sierra Nevada Mountains during the past five days. The highest amount FOX Weather has seen so far is on Green Mountain in California where 10.6 feet of snow is estimated to have fallen since Wednesday.
More than 4 feet of snow is estimated to have fallen across the highest elevations of the Sierras from near Quincy to near South Lake Tahoe. Between 3 and 4 feet of snow is estimated to have fallen across the peaks in the southern parts of the range.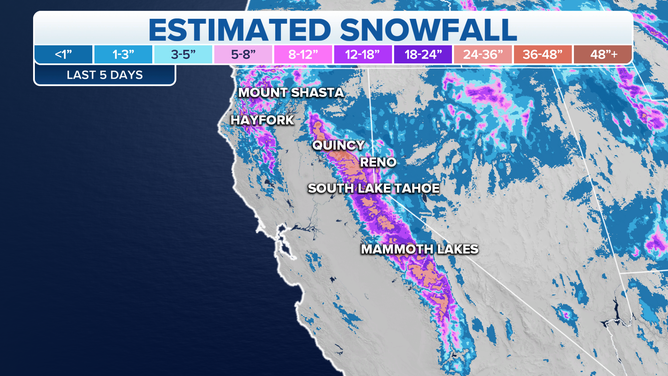 Impact on drought
The West, especially California, has been in a drought for year, and while any precipitation is welcome, the kind that helps put a dent in the dry spell is the best.
The latest Drought Monitor update shows much of California remains in the worst stages of drought.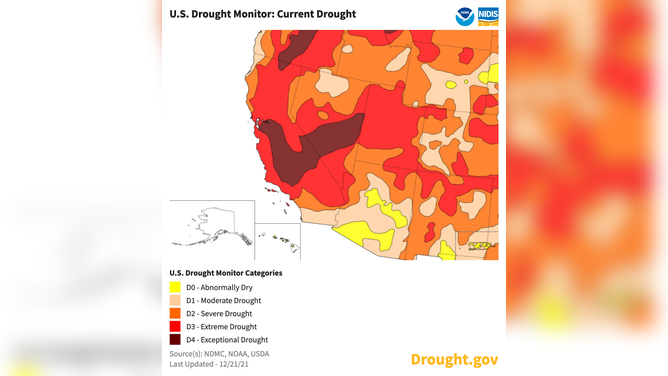 The drought monitor is updated every Thursday.
Heavy rain generally runs off into rivers and streams and doesn't soak into the ground where it can be stored. Snow pack is what much of the West depends on for its water supply most of the time.
THE US DROUGHT MONITOR EXPLAINED
According to the National Oceanic and Atmospheric Administration, parts of California and Nevada have received more than 200% of their average precipitation in the past 60 days.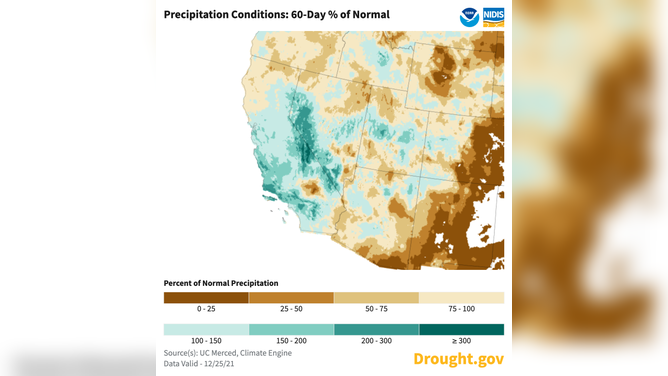 This latest bought of rain and snow is sure to bring some temporary relief to the parched region, but it remains to be seen what long-term effect this barrage of storms will have on the overall drought.
The good news is the forecast from the Climate Prediction Center issued in mid-December calls for some improvement in the drought heading into spring, and the precipitation forecast issued Sunday calls for likely above-average rainfall to continue into the first days of 2022.