Series of storms brings heavy snow to western US
Avalanche, blizzard warnings in effect for portions of western United States
Winter Weather Alerts remain in effect from the West Coast to the Upper Midwest as storms deliver snow.
According to the National Weather Service's Weather Prediction Center, a storm system over the western United States will track across the Intermountain West on Monday evening into Tuesday morning.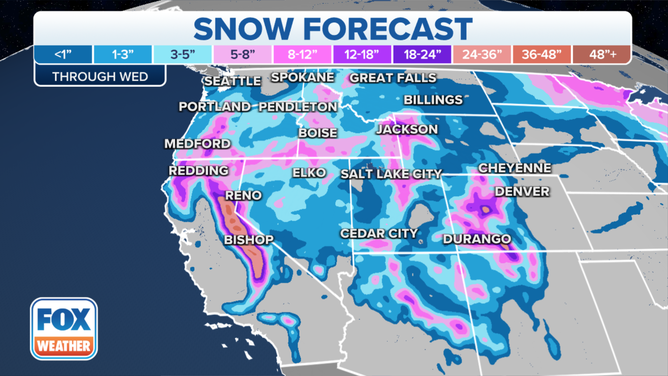 The Sierra Nevada Mountains are expected to receive another 1 to 2 feet of snow, with totals up to 3 feet in the highest elevations.
In the Wasatch and Colorado Rockies, snow totals will be between 8-12 inches, with some areas picking up an additional 2 feet of snow by the time the system moves out of the region.
This system will then head into the Plains by Tuesday, where a low-pressure system will strengthen and bring anywhere from a coating up to 6 inches of snow across the Upper Midwest.
Northern Plains/Upper Midwest
Not only are the Northern Plains dealing with frigid cold temperatures, but snowy conditions are also expected through Monday.
Along with the heavy snowfall rates, blowing snow will also reduce visibility, creating hazardous travel across the region.
Blizzard warnings are in effect for portions of North Dakota, including Wells, Foster, Kidder, Stutsman, Logan, La Moure, McIntosh, Dickey, Eddy, Nelson, Groggs, Steele, Barnes, Ransom and Sargent counties until 6 p.m. Central.
7 things you need to know about winter driving
The area is expected to receive an additional 1 to 3 inches of snow, with winds gusting as high as 45 mph.
Blizzard warnings are in effect through 6 p.m. Central for southern Lake and southern Cook counties in Minnesota. Carlton and southern St. Louis counties, including the city of Duluth, are also under a blizzard warning through 10 a.m. Central. 
Another 2-4 inches of snow is expected, along with winds gusting to around 35 mph.
Central Rockies
Heavy snow was a welcome sight for Utah ski resorts.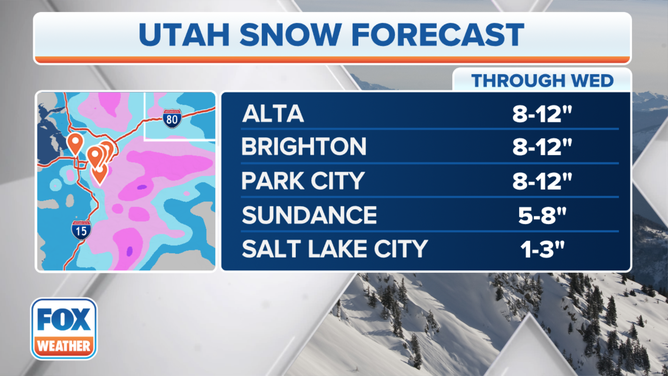 Up to a foot of new snow is expected in places like Alta, Brighton and Park City. Sundance will receive between 5-8 inches of new snow, while Salt Lake City could receive an additional 1-3 inches.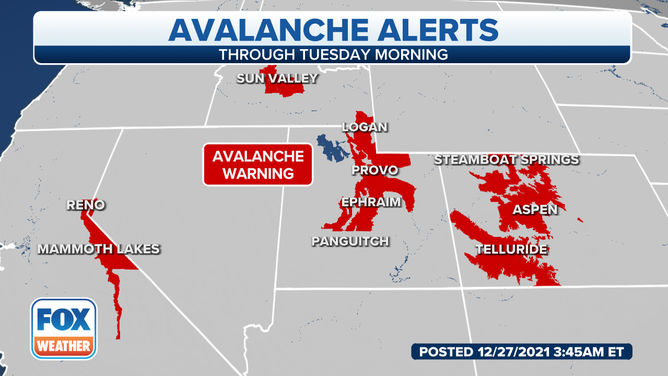 The current snowpack creates dangerous conditions for avalanches with all of the new snow and strong winds. Backcountry conditions are especially dangerous, and avalanches are expected in the mountains in California, Idaho, Utah and Colorado.
California
The Sierra Nevada Mountains have already picked up extensive snow over the past several days, and the National Weather Service says an additional 2-3 feet could fall through Wednesday.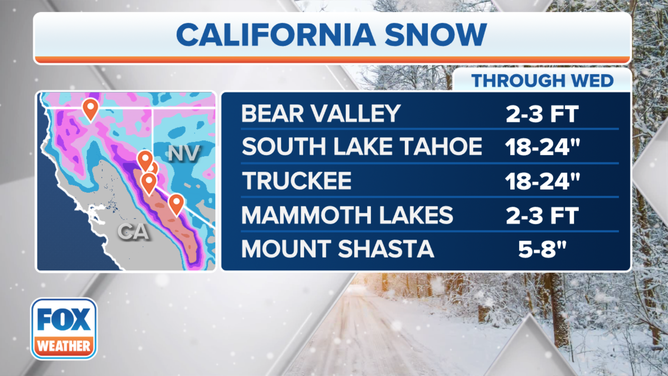 Bear Valley and Mammoth Lakes will likely see the highest snow totals, with another 2-3 feet expected. South Lake Tahoe and Truckee could also pick up another two feet of snow. Mount Shasta could receive between 5-8 inches of snow.
Pacific Northwest
Many areas in the Pacific Northwest that aren't used to seeing snow have seen significant snowfall. Other lower elevations in western Washington State, including Seattle, have seen snow.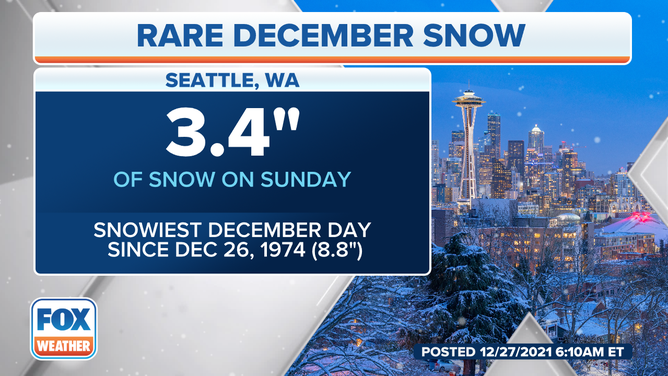 Seattle picked up nearly 3.5 inches of snow on Sunday. It was one of the snowiest December days since Dec. 26, 1974, when the city saw just under 9 inches of snow. December 1996 also saw a heavy snow but NOAA did not track snowfall amounts during that period.