Arctic blast delivers dangerously cold temperatures to parts of northern US
Some parts of Montana could see wind chill values of 40 below zero
The South is seeing record-breaking warmth, but potentially record-breaking cold is expected in parts of the northern United States.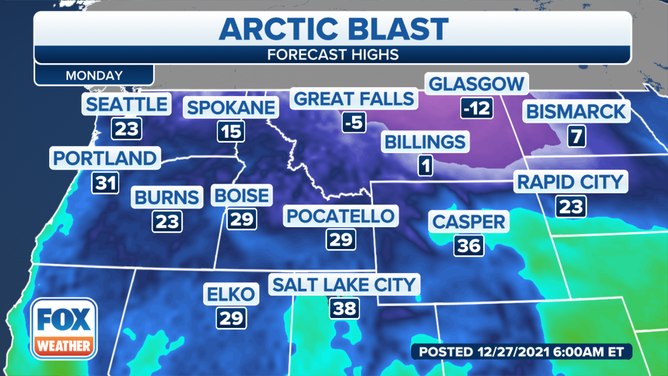 An arctic airmass and significant snow have overspread most of the Northern Plains and the northwestern U.S. as many areas struggle to make it above zero.
Portland, Oregon, will likely see temperatures around the freezing mark. Elsewhere across the Pacific Northwest, temperatures will be colder. Seattle reached only 23 degrees Monday, their coldest day since 1998, while farther east in Spokane, temperatures only made it to 16 degrees.
Temperatures will stay in the upper-20s in eastern Oregon and Idaho.
The coldest temperatures are expected in the Northern Plains on Monday. Daytime high temperatures in Montana and North Dakota will likely stay below zero.
Officials in those regions are urging residents to take action to prepare property and livestock for the frigid temperatures.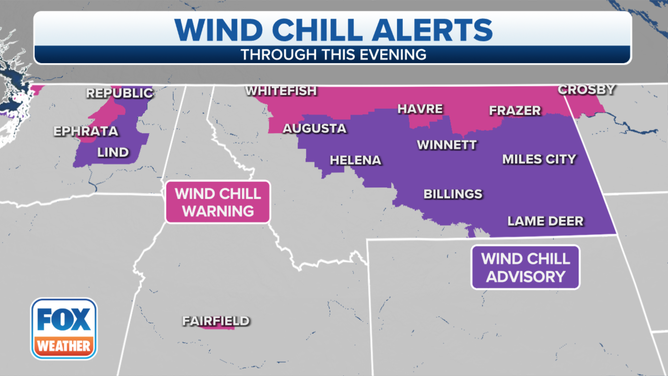 The National Weather Service says windy conditions will also lead to dangerously cold wind chills ranging as cold as -30 to -50 degrees, which has led to wind chill alerts to be issued across the region.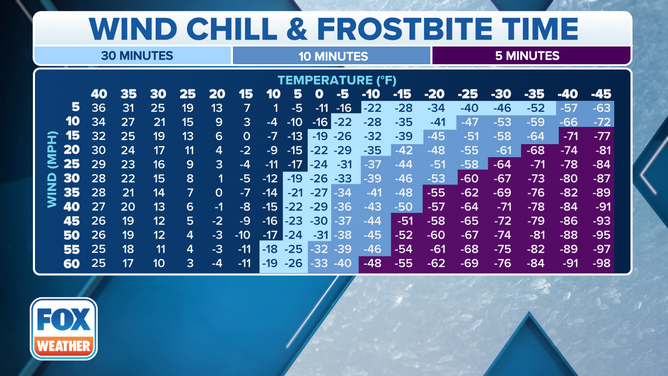 Wind chill warnings are in effect from northwestern North Dakota and across northern Montana through Tuesday morning. Most of central and eastern Montana is under a wind chill advisory due to the cold temperatures and gusty winds. Those advisories are also in effect until Tuesday morning.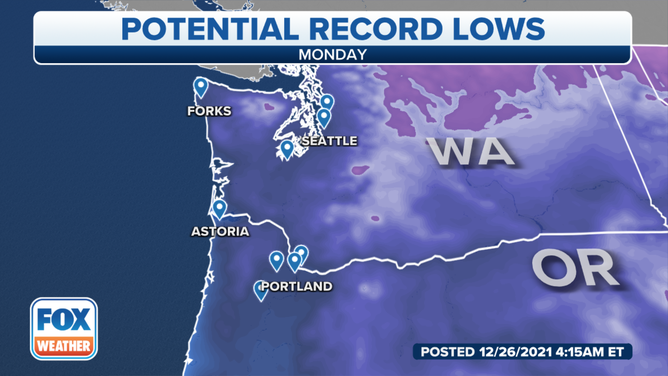 Some record low temperatures are also possible along the West Coast on Monday, including the Pacific Northwest, where metro areas, like Seattle and Portland, will struggle to get above freezing.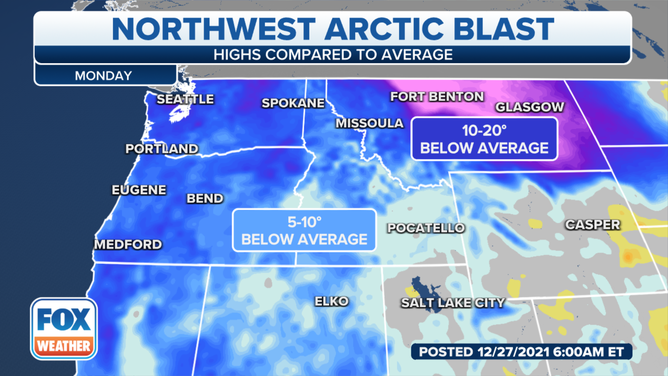 High temperatures this week will likely be stuck in the 20s around Seattle and Portland, with lows in the teens to even single digits in the outlying areas in Western Washington, especially communities near the Canadian border where arctic air flows from the Fraser River Valley.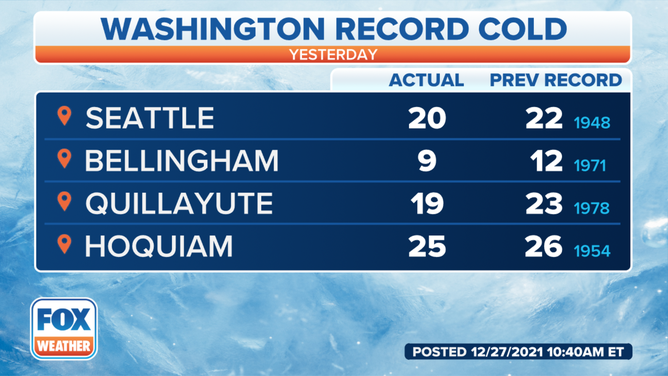 The frigid temperatures come one day after record cold was observed across Washington state on Sunday.
Seattle broke its old record low of 22 degrees set in 1948. It was 20 degrees there on Sunday. Bellingham was even colder at 9 degrees, breaking its old record of 12 degrees set in 1971.